Don't let this little book deceive you – Tristan Bancks' Detention packs a big punch! I'm so glad I picked up this book, I really think it's going to resonate with readers of all ages.
Detention is fast-paced and suspenseful – it reads like an episode of the TV show 24! I couldn't put it down and read it in one sitting. I ignored my phone when it buzzed, I didn't look up from the page when someone came in to ask me a question… call me rude but I'm going to blame Tristan Bancks for writing this great book instead!
The story follows two characters – Sima and Dan – flipping between their perspectives as their storylines rapidly become intertwined. Young Sima is an escaped refugee on the run – desperate to make her way to her uncle where she will be safe. She stumbles into the local school, where she comes face-to-face with Dan, a young boy who is now faced with a dilemma: does he help her or turn her in?
This story really struck a chord with me, as each character has been abandoned in some way. Dan has been abandoned by his parents, the dog Rosco abandoned by his owners, and Sima has been abandoned by the system, by humanity. She no longer trusts anyone because her life has been filled with people that taught her not to.
I really believe this book will be snapped up schools – and it should be! Bancks is exploring an important topic and Detention will help bring it to the forefront of people's minds.
---
Listen to our podcast on Detention with author Tristan Bancks!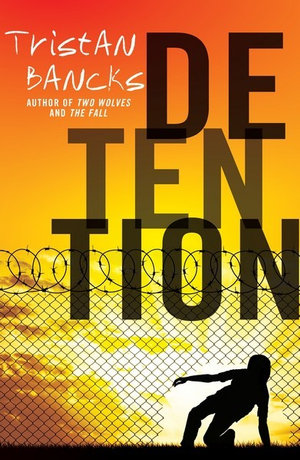 Detention
A daring escape. A school lockdown. A thrilling chase. What would you risk to save a life?
Sima and her family are pressed to the rough, cold ground among fifty others. They lie next to the tall fence designed to keep them in. The wires are cut one by one. When they make their escape, a guard raises the alarm. Shouting, smoke bombs, people tackled to the ground. In the chaos Sima loses her parents. Dad told her to run, so she does, hiding in a school and triggering a lockdown. A boy, Dan, finds her hiding in the toilet block.
What should he do? Help her? Dob her in? She's breaking the law, but is it right to lock kids up? And if he helps, should Sima trust him? Or run?
About the Contributor
Before entering the exciting world of books, Bronwyn served in the Royal Australian Air Force, travelled extensively and worked (still does!) as a barista on the weekends. Books are her true passion. Bronwyn's debut fantasy novel Relic is coming out in 2019 with indie publishing house Talem Press. They are to publish her entire trilogy called The Relic Trilogy. In her spare time, Bronwyn writes, reads and enjoys keeping fit (which she undoes by eating loads of chocolate) with Martial Arts and personal training. She can't answer what her favourite book is but she has a soft spot for Peter Pan (J.M Barrie), Outlander (Diana Gabaldon), Stardust (Neil Gaiman), The Illuminae Files (Jay Kristoff and Amie Kaufman) and Six of Crows (Leigh Bardugo). Fantasy, sci-fi and YA make up the majority of her bookshelves.
Follow Bronwyn: Twitter