Bowraville, a small town on the north coast of New South Wales, is an idyllic spot in the heart of the Nambucca Valley that has retained much of its old world charm.
It's also home to one of Australia's lesser known tragedies.
Between 1990 and 1991, three Aboriginal children went missing from Bowraville – Colleen Walker-Craig, Evelyn Greenup and Clinton Speedy-Duroux. Dismissed by the local authorities as merely having "gone walkabout," the families of the missing children insisted that something was wrong. Their suspicions proved to be correct: two bodies were eventually recovered but justice has not yet been served to the person responsible.
The only common thread linking the cases was the presence of one white man on the night of each disappearance, a man whom police have tried but failed to convict. After two unsuccessful attempts to get the separate disappearances and murders tried as one case, homicide detective Gary Jubelin reached out to BBC journalist Dan Box to ask him to conduct a deeper investigation.
Dan accepted and then spent some time getting to know the town and its people, in particular the families of the missing children, in order to try and get to the bottom of the case. He documented his findings, first in a podcast that went on to win a Walkley Award and now in a book – Bowraville. Dan came to Booktopia's head office to sign some copies of Bowraville and to sit down for a chat with Joel Naoum and myself to talk through the writing process and how he transformed the content of the podcast. According to Dan, this proved to be an incredibly hard task, given the sheer amount of material he had to go through.
"It got more and more difficult to tell the story because there was so much more doubt, so much more ambiguity." says Dan. "I thought I was certain what had happened, but by the end of the writing of the book I was far less certain that I knew what took place when those three kids were killed than I was at the beginning."
As such, Bowraville is both a compelling examination of the events of 1990-91 and an impassioned critique of the ways in which our justice system can fail vulnerable people, such as the Aboriginal community of Bowraville. It's also the story of how Dan found himself drawn further into the case and further over the line of journalistic neutrality, eventually becoming part of the story itself.
"I got far, far closer to this case than I ever meant to, than I'd ever done before, and emotionally… in terms of engaging with the people (police, the families) I was much much closer, I'd completely lost that objectivity that reporters like to say we have."
The content of his podcast (in particular, one episode where he interviewed the alleged killer) was called in as evidence by police, and it was a position that Dan had never before found himself in as a reporter. The case is certainly complicated, and is unlikely to be resolved anytime soon – recent efforts by the NSW government to bring the three murder cases together in one trial have since been opposed by the High Court.
For now, Dan and the readers of Bowraville can only speculate about what happened in the past and how it will come to affect the future of this case, if it has one at all.
"The truth is always more complicated than fiction," says Dan. "It would be so nice if this story had a neat beginning, a neat middle, and I wrapped the whole thing up with a little bow on it… but true crime doesn't work like that."
You can order a signed copy of Bowraville here (while stocks last) and listen to our podcast with Dan below.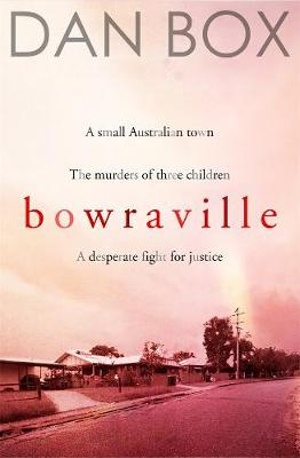 Bowraville
From the creator of the Walkley Award-winning podcast comes the story of a small Australian town, the murders of three children and a desperate fight for justice.
A true crime story cannot often be believed, at least at the beginning. In Bowraville, all three of the victims were Aboriginal. All three were killed within five months, between 1990 and 1991. The same white man was linked to each, but nobody was convicted. More than two decades later, homicide detective Gary Jubelin contacted Dan Box, asking him to pursue this serial killing...
About the Contributor
Olivia Fricot is the Editor of the Booktopian Blog. After finishing a soul-crushing law degree, she decided that life was much better with one's nose in a book and quickly defected to the world of Austen and Woolf. You can usually find her reading (obviously), baking, writing questionable tweets, and completing a Master's degree in English literature. Just don't ask about her thesis. Olivia is on Twitter and Instagram @livfricot - follow at your own risk.
Follow Olivia: Twitter