Good morning everybody!
You know the drill by now: I'm here to bring you the best bookish news stories from the past week, you're here to procrastinate at work.
Let's get to it!
It's Writers' Festival Season baby!
It's well and truly Writer's Festival season now – Emerging Writers' Festival kicked off last week in Melbourne and will be wrapping up this weekend (you can buy tickets to the closing event here), and there have also been several other exciting program announcements.
The Blue Mountains Writers' Festival (22-25 August) revealed its program earlier this week, which includes authors such as Stan Grant (Australia Day), Michelle de Kretser (The Life to Come), Melina Marchetta (The Place on Dalhousie), and Markus Zusak (Bridge of Clay). You can buy tickets and find more information here.
Brisbane Writers' Festival (5-8 September) also announced its program this week, with a line up featuring writers such as Benjamin Law (Growing Up Queer in Australia), Jasper Fforde (Early Riser), John Birmingham (Stranger Thingies), Leah Kaminsky (The Hollow Bones), and Jenna Guillaume (What I Like About Me). You can buy tickets and find more information here.
Finally, Melbourne Writers' Festival (30 August – 8 September) has announced the first round of international guests that will be attending the festival from 31 August to 1 September – Sonic Youth's Kim Gordon (Girl in a Band), Holocaust historian Deborah Lipstadt (Antisemitism: Here and Now), and Black Lives Matter activist and author DeRay McKesson (On the Other Side of Freedom). You can buy tickets and find more information here.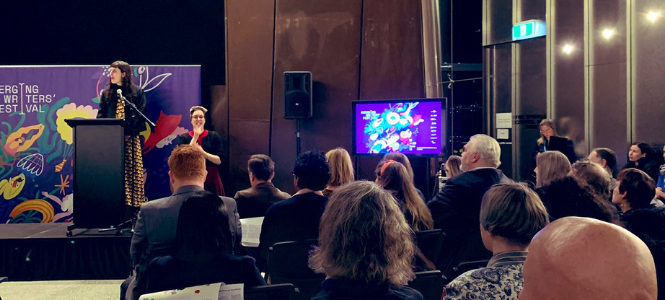 Beloved romance writer Judith Krantz dies aged 91
Judith Krantz, the American romance novelist behind books like Scruples and Princess Daisy, has died aged 91 from natural causes.
Krantz was born in New York City on 9 January, 1927, and graduated from Wellesley College with a B.A. in 1948. After working for a time as a fashion publicist and a journalist who wrote for publications like Cosmopolitan, Judith would go on to become one of the most beloved and bestselling romance authors of all time at the age of 50.
A novelist with a reputation for writing lavish 'sex-and-shopping' fantasies, Krantz's books failed to charm literary critics but they earned her a vast and loyal fanbase. Her steamy book Scruples is perhaps her most well-known, but she wrote 10 novels over the course of her life, selling over 85 million copies worldwide in more than 50 languages.
You can check out Judith's books here and read more about Judith's life here.
Thousands petition Netflix to cancel Amazon Prime's Good Omens series
OK, so this news isn't strictly book related, but it's so goddamn funny that I simply have to include it.
A petition that has amassed over 20,000 signatures was circulated by the US Foundation for a Christian Civilization last week, calling on Netflix to cancel their blasphemous adaptation of Neil Gaiman and Terry Pratchett's apocalyptic comedy novel Good Omens. They argued that the series, starring David Tennant and Michael Sheen, is "another step to make Satanism appear normal, light and acceptable."
The only problem is… Netflix didn't make Good Omens, Amazon did! Much hilarious banter went down on Twitter between the official Netflix and Amazon accounts, and the group has since amended their original petition.
Honestly, this sounds exactly like the kind of thing Crowley would do for a laugh… comedy just writes itself these days.
The winners of the Orwell Prize are announced
The Orwell Prize winners were announced earlier this week, celebrating the best political writing in the United Kingdom that most closely represents George Orwell's goal "to make political writing into an art."
The winners are:
The Orwell Prize for Political Fiction: Milkman by Anna Burns
The Orwell Prize for Political Writing: Say Nothing by Patrick Radden Keefe
The Orwell Prize for Exposing Britain's Social Evils: 'Behind County Lines' by Max Daly
The Orwell Prize for Journalism: Steve Bloomfield & Suzanne Moore
The prizes are awarded by the Orwell Foundation each year, with the support of George Orwell's family. This year's ceremony celebrated the 70th anniversary of the publication of Nineteen Eighty-Four and also marked the first time that the Orwell Prize for Political Fiction was awarded.
You can find more information about the Prize and the Orwell Foundation here.
Other interesting tidbits…
---
Thank you kindly for tuning in again – if you have any thoughts, burning questions, or you simply want to share what you're reading, then go nuts in the comments!
About the Contributor
Olivia Fricot is the Editor of the Booktopian Blog. After finishing a soul-crushing law degree, she decided that life was much better with one's nose in a book and quickly defected to the world of Austen and Woolf. You can usually find her reading (obviously), baking, writing questionable tweets, and completing a Master's degree in English literature. Just don't ask about her thesis. Olivia is on Twitter and Instagram @livfricot - follow at your own risk.
Follow Olivia: Twitter