It's safe to say that Matthew Evans, former vegetarian, owner of Fat Pig Farm, and TV host of Gourmet Farmer on SBS, knows a thing or two about meat.
He's experienced the realities of the Australian meat industry firsthand, and witnessed the seemingly endless debate about the ethics of meat consumption that plays out on the news and social media. It's a debate that's becoming more and more relevant today, given that Australians are now amongst the biggest consumers of meat worldwide.
Meat is cheaper, more convenient, and we're eating more of it than ever… but are we eating too much of it? Is eating meat unethical? Is it possible to have a diet that won't have an impact on animals? And is going vegan really better for the environment? These questions are at the heart of Matthew's book On Eating Meat, a fascinating and timely examination of the ethics of eating meat in our modern world.
Matthew really wanted to investigate the impacts of meat consumption on our environment, on the animals, and on the farmers who produce it, in order to find out how we can live in the most sustainable way.
We were lucky to have Matthew come and sign some copies of On Eating Meat and then sit down for a chat with Jo Lewin and Ben Hunter all about the book. It was clear to us that this is something that every person should read, whether you're committed to a meat-free diet or you're a diehard carnivore, because it really drives home the fact that everything in food production and consumption is connected.
"There is nothing you can eat that won't have an impact on animals," says Matthew.
Naturally, On Eating Meat is a book that's garnered quite a bit of pushback from people on both sides of the meat-eating debate, but Matthew insists that he's not here with any specific agenda. Instead, with this book he plans to give people all the tools and information they need so that they're empowered to make the best decision for them. Matthew acknowledges that we don't always have the ability and resources to make good food choices, but that we should make them when we can (but that we also shouldn't beat ourselves up when we don't).
"Food is your friend," says Matthew. "Don't treat food as your enemy."
You can listen to our podcast with Matthew below and you can pre-order a signed copy of On Eating Meat here!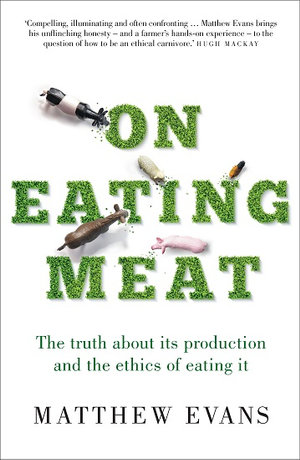 On Eating Meat
A scorching manifesto on the ethics of eating meat by the best placed person to write about it - farmer and chef Matthew Evans, aka The Gourmet Farmer.
How can 160,000 deaths in one day constitute a 'medium-sized operation'? Think beef is killing the world? What about asparagus farms? Or golf? Eat dairy? You'd better eat veal, too.
Going vegan might be all the rage, but the fact is the world has an ever-growing, insatiable appetite for meat - especially cheap meat. Former food critic and chef, now farmer and restaurateur Matthew Evans grapples with the thorny issues around the ways we produce and consume animals...
About the Contributor
Olivia Fricot is the Editor of the Booktopian Blog. After finishing a soul-crushing law degree, she decided that life was much better with one's nose in a book and quickly defected to the world of Austen and Woolf. You can usually find her reading (obviously), baking, writing questionable tweets, and completing a Master's degree in English literature. Just don't ask about her thesis. Olivia is on Twitter and Instagram @livfricot - follow at your own risk.
Follow Olivia: Twitter