Tristan Bancks is a born storyteller. A former actor on Home & Away, Tristan has bravely made the transition from screen to page and is now the award-winning author of books for kids and teens, including Two Wolves, The Fall, and the Tom Weekly series.
His latest book is Detention, a thrilling novel for teens that moves at a breakneck pace. It tells the story of a refugee, a young girl named Sima, whose escape from a local immigration detention centre forces a nearby school into lockdown. Scared and separated from her family, Sima hides in the school's toilet block where she is found by Dan, a student at the school who is forced to decide whether or not to turn her in. Tristan came to Booktopia's offices to sign copies of Detention and then to sit down for a chat with Bron Eley and Sarah McDuling about the book and how he came to write it.
Detention tears through its plot at a breakneck pace, and we simply had to ask how Tristan manages to write such a thrilling story so well. His answer? To be totally ruthless in your editing, and to not be afraid of paring back your words.
"I think I've become more and more ruthless in editing over time," he says.
As a writer, Tristan also likes to start with plot, to find the perfect tense situation to kickstart the action in a book and then develop the characters out of that situation. With Detention, Tristan got the idea when he was visiting a primary school on a book tour and had to participate in a fire drill, during which he got to talking with the teachers about lockdown drills. Having never heard of the concept before, it sowed the seeds for the perfect story.
"I just thought it was a good high pressure situation to put a group of characters in," Tristan says.
An article about a group of Vietnamese asylum seekers who escaped from a detention centre and disappeared also inspired Tristan to find his story, although he wanted to be careful when dealing with such a sensitive issue. It was very important that he balanced realism with good, respectful storytelling.
"I wanted this story to be hopeful but realistic," says Tristan, who was closely advised throughout the writing process by the NSW Service for the Treatment and Rehabilitation of Torture and Trauma Survivors (STARTTS), a non-profit organisation that provides refugees with psychological treatment and support. "I'd like to think that there is hope."
Listen to our podcast with Tristan Bancks below and pre-order yourself a signed copy of Detention here!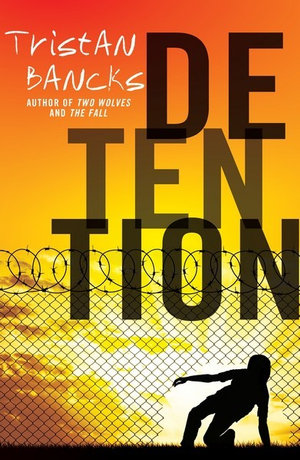 Detention
A daring escape. A school lockdown. A thrilling chase. What would you risk to save a life?
Sima and her family are pressed to the rough, cold ground among fifty others. They lie next to the tall fence designed to keep them in. The wires are cut one by one. When they make their escape, a guard raises the alarm. Shouting, smoke bombs, people tackled to the ground. In the chaos Sima loses her parents.
Dad told her to run, so she does, hiding in a school and triggering a lockdown. A boy, Dan, finds her hiding in the toilet block. What should he do? Help her? Dob her in? She's breaking the law, but is it right to lock kids up? And if he helps, should Sima trust him? Or run?...
About the Contributor
Olivia Fricot is the Editor of the Booktopian Blog. After finishing a soul-crushing law degree, she decided that life was much better with one's nose in a book and quickly defected to the world of Austen and Woolf. You can usually find her reading (obviously), baking, writing questionable tweets, and completing a Master's degree in English literature. Just don't ask about her thesis. Olivia is on Twitter and Instagram @livfricot - follow at your own risk.
Follow Olivia: Twitter