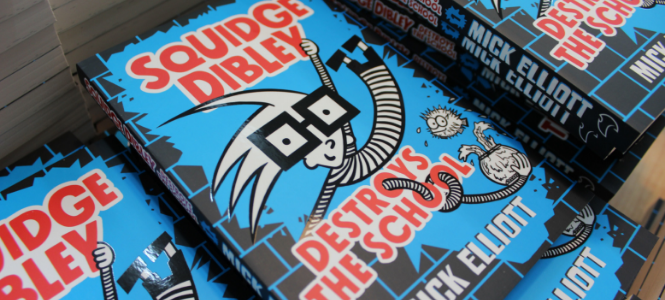 Mick Elliott is a man who wears a lot of hats – illustrator, TV producer for Nickelodeon, scriptwriter, animator, and (of course) children's book author.
Mick is the brains trust behind The Turners, a series of books about a kid who discovers that he's a shape-shifter right in the middle of school. Now, Mick is combining his love of illustration with his passion for writing for a brand new series for younger kids, starting with Squidge Dibley Destroys the School. It's about a kid called Squidge Dibley who joins the notoriously naughty Class 6PU at Craglands Primary School and proceeds to shake things up a bit.
"The book is about what happens when you put a kid like Squidge, who is complete chaos encapsulated, in a classroom which is run by a disciplinarian," says Mick.
Squidge is definitely on the weirder side, with a whole range of odd medical conditions plaguing his every move (for instance, he has a condition called Bungee Bones which makes him incredibly stretchy and bouncy). It makes this book hilariously fun, along with the illustrations by Mick on every page. Fair warning: it is also really gross – definitely too gross for adults.
"I deliberately pushed the gross-out humour in the book, but I wanted to ensure that it wasn't just gross-out humour for its own sake. There is real heart there, and characters that are relatable," Mick says.
This is one of those books that kids and adults alike will enjoy reading together, a concept that is very close to Mick's heart. This year, he is an ambassador for Australian Reading Hour, along with Sally Rippin and Matt Stanton, and he is excited to be supporting the cause. Like Matt Stanton, Mick will be releasing a mini book for the campaign – Squidge Dibley Destroys History – that will be available in September.
"My personal philosophy is: let's make books that connect with kids," says Mick. "Kids just love reading, let's not sort books into good books and bad books, let's just go: read. Whatever it is."
Squidge Dibley Destroys the School is perfect for fans of the Tom Gates, Diary of a Wimpy Kid, and Treehouse series, and you can now get yourself a signed copy today!
You can also listen to our podcast with Mick Elliott below (where Sarah and Olivia could barely speak because Mick had us in stitches!). Happy listening!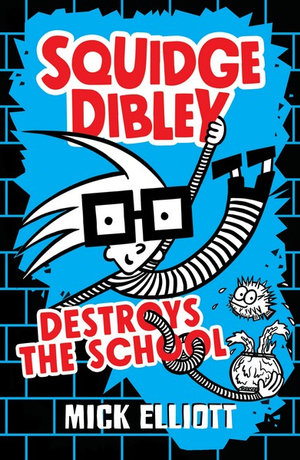 Squidge Dibley Destroys The School
Things are going downhill fast for class 6PU at Craglands South Primary School. They've changed teachers more times than most kids change their socks, and their latest one is so strict they aren't even allowed to sneeze. But just when it seems like the school term has been turned into a prison term, a new kid arrives.
A kid unlike any other kid at Craglands South.
A kid named Squidge Dibley.
He's small, quiet and strangely ... squidgy.
And he's about to change everything...
About the Contributor
Olivia Fricot is the Editor of the Booktopian Blog. After finishing a soul-crushing law degree, she decided that life was much better with one's nose in a book and quickly defected to the world of Austen and Woolf. You can usually find her reading (obviously), baking, writing questionable tweets, and completing a Master's degree in English literature. Just don't ask about her thesis. Olivia is on Twitter and Instagram @livfricot - follow at your own risk.
Follow Olivia: Twitter