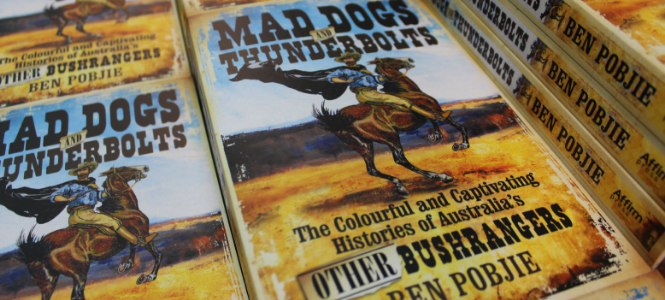 Australia has a long and notorious history of bushranging, of which we seem to be incredibly proud.
There were so many bushrangers who rose to infamy during Australia's colonial years – men and women, white and black, all linked by their decision to eschew the rigid rules and harsh conditions of settler society for a life of crime in the Australian bush.
So why do we only ever hear about Ned Kelly?
This is the question at the heart of Ben Pobjie's fascinating new book, Mad Dogs and Thunderbolts, which is an immensely enjoyable and colourful account of the lives of Australia's many other bushrangers.
"I just wanted to tell the stories of all the non-Kelly bushrangers which are, as stories go, just as interesting and just as cool and just as unlikely in many cases as Ned Kelly's, but don't get the publicity because Ned Kelly was a branding genius," says Ben.
Kelly's iconic headwear may have commanded Australia's attention, but the likes of Mad Dog Morgan, Captain Thunderbolt & Mary Ann Bugg, Matthew Brady, Ben Hall, and Captain Moonlite are all given equal attention in Ben's book, which is full of surprising and fascinating facts. For instance, did you know that the very first bushranger was an African convict named John Caesar?
"He basically invented bushranging, the whole idea of taking into the bush and living by picking off whoever you could," says Ben.
Like Ben's other books, Error Australis, Aussie Aussie Aussie, and Australia: What Happened?, Mad Dogs and Thunderbolts aims to untangle some of the mythology around Australian history, revealing truths that are a lot harsher but much more genuine. It makes for fascinating reading, and you can order a signed copy of the book right here.
And if you were wondering who Ben Pobjie's favourite bushranger is, you'll just have to listen to our podcast to find out! Have a listen below.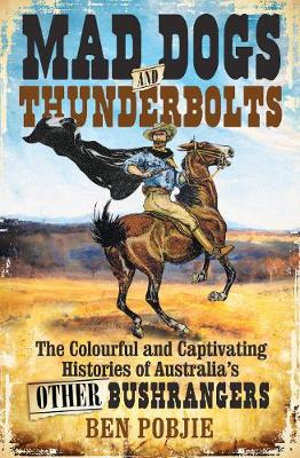 Mad Dogs and Thunderbolts
Ned Kelly's tin helmet looms large over Australia's bushranging past, but what about all the unsung outlaws of the Australian bush? What about Black Caesar, who escaped his tyrannous British overlords four times and indeed invented the great Australian tradition of bushranging? Or Mad Dog Morgan who set out to write his name in blood on history's ledger, the dynamic Captain Thunderbolt and his loyal wife Mary Ann Bugg, bushranging's greatest queen, and Matthew Brady, the gentleman bushranger, who showed us all the cilivised side of armed robbery?
In Mad Dogs and Thunderbolts Ben Pobjie celebrates the derring-do and revolutionary passion of all the wild colonial boys and girls who raided our towns and stole our hearts, all while wearing sensible headgear.
About the Contributor
Olivia Fricot is the Editor of the Booktopian Blog. After finishing a soul-crushing law degree, she decided that life was much better with one's nose in a book and quickly defected to the world of Austen and Woolf. You can usually find her reading (obviously), baking, writing questionable tweets, and completing a Master's degree in English literature. Just don't ask about her thesis. Olivia is on Twitter and Instagram @livfricot - follow at your own risk.
Follow Olivia: Twitter