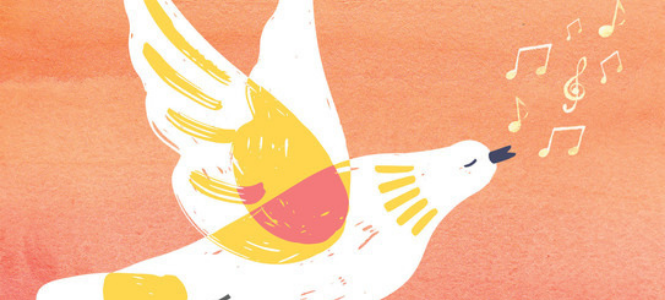 Ingrid Laguna is a writer, teacher and musician. She lives in Melbourne and teaches English to children and adults from all over the world, many of whom have refugee backgrounds. Songbird is her second book.
Today, Ingrid answers our Ten Terrifying Questions…
---
1. To begin with why don't you tell us a little bit about yourself – where were you born? Raised? Schooled?
I was born and raised in Sydney with a radiologist father and a ceramicist mother. I have two brothers and a sister. Mum says that when we were little, she sat herself inside the playpen hand-coiling clay into pots while we were all on the outside. She cooked by candlelight to pretend she was somewhere other than in a kitchen. Dad was always trying to learn an instrument but simply couldn't, no matter how many hours he practiced. He cranked Kris Kristofferson, Rod Steward, Greek dancing music and Nana Mouskouri.
We moved house regularly. When I was eleven, Dad decided he wanted a farm, so we moved to the Southern Highlands and I was made school captain at Exeter Primary School; there were thirty-five students in total. I had a short, rotund pony that refused to canter and a motorbike for rounding up cows before school in my nightie, a fake fur coat and gum boots.
Mum and Dad split when I was thirteen and I was shuffled to Canberra with Mum and my little brother. Mum was a mess. When I was fifteen, I ran away from home and school, to inner city Sydney. I felt lost and wore a lot of black. I stayed out late and ran amuck. I waitressed. At eighteen, I went to East Sydney Tech to finish high school doing two years in one. I caught a bus to Randwick High School to sit my exams with actual school kids. I knew no-one. I felt self-conscious and alone. I didn't make it to university until my late twenties.
2. What did you want to be when you were twelve, eighteen and thirty? And why?
At age twelve, I wanted to be a dancer. I loved to dance more than anything – ballet, contemporary, African. I loved it all. When I was eighteen, I roamed Europe with a backpack. I read books. I don't remember knowing what I wanted to be. I was drawn to live music and tuned in to the lyrics. When I was thirty, I wanted to be, and was, a singing, songwriting, djembe and conga playing musician.
3. What strongly held belief did you have when you were younger that you do not have now?
When I was younger, I believed I had unlimited time to get things right. Now I know there is not much time at all. And I'm still trying to work out what 'right' looks like.
4. What are three works of art – book or painting or piece of music, etc – that you can now say had a great effect on you and influenced your own development as a writer?
From my early years of reading – The Rainbow by D.H. Lawrence and One Hundred Years of Solitude by Gabriel Garcia Marquez.
Musically, when I first heard a Brazilian batucada band roving down Johnston street during the music festival, I danced and whooped from behind the bar where I was supposed to be serving drinks. From there, I took up hand-drumming with a frenzy. The batucada remains one of my favourite works of art.
5. Considering the innumerable artistic avenues open to you, why did you choose to write a book for younger people?
Since 2013, I've been teaching young people who have recently arrived in Australia at an intensive English Language School; many of my students come from refugee backgrounds. Their courage and resilience inspired me to write my middle-grade novel, Songbird.
6. Please tell us about your latest book…
Songbird is set in 2015. After fleeing Iraq, eleven-year-old Jamila, her mama and baby brother find themselves in a housing commission flat in an outer suburb of Melbourne. The story begins when Jamila has been at her new school for three weeks.
Jamila struggles to fit in. She misses her life-long best friend, Mina, who is still in Iraq. She worries for her baba, a journalist who has been jailed for his work before, who remains in hiding in Iraq. Mama knows less English than Jamila, and needs Jamila's help to go shopping, to go to appointments, to use public transport.
How can Jamila help Mama without missing so much school? How can she get through this waiting and not knowing about Baba? How will she make friends when Arabic is her real language, not English, and when she is one of only two girls to wear a hijab in her class?
Jamila has a gift – she can sing. In Baghdad, Mina used to call her Songbird. She can take her voice up high or down low, she can make it sad or rough or let the words out softly. When she joins the school choir, Jamila's spirit lifts. And when she has the chance to sing in front of the whole school, Jamila feels alive with excitement and hope. She can show Finn and Alice and Winnie, and her teacher Miss Dana, that while she can't do a very good presentation, her voice will sail to the hall ceiling and out the doors into the playground. The concert is her chance.
7. What do you hope kids will take away with them after reading your book?
After reading Songbird, I hope that kids will be better able to empathise with people who have come from backgrounds and experiences that are different from their own. I hope they can gain some insight into what it might be like to be forced to flee your home and your people for fear of your life. I hope they can imagine being separated from a parent or witnessing their parents' struggle or losing their best friend. I hope they will be reminded of the importance of kindness and compassion.
8. Who do you most admire in the realm of writing and why?
In writing for young people, I think Morris Gleitzman and Patrick Ness are masters of their craft. Zana Fraillion's The Bone Sparrow and Pax by Sara Pennypacker will always stay with me. In adult writing, most recently I have been engrossed in Trent Dalton's Boy Swallows Universe – a gripping plot, strong voice, complex characters, humour and well-placed cultural references. I was impressed by Chloe Hooper's The Arsonist – I found it thought-provoking and loved the fire-related imagery and nuanced characters. I am thoroughly enjoying Educated by Tara Westover – clear, concise telling of an incredible life story.
9. Many artists set themselves very ambitious goals. What are yours?
I want to keep pushing the edges of my writing, to find out what I can do. I want to be able to distil the words down to convey simple truths with as few words possible. I want to explore my writing potential and enjoy the ride.
10. What advice do you have for aspiring writers?
Read a lot. Write every day. Back yourself. Let the words fly out onto the page. Edit later. Give your characters lots of room. Be open to anything happening as you write. Be brave. Persevere.
Thank you for playing!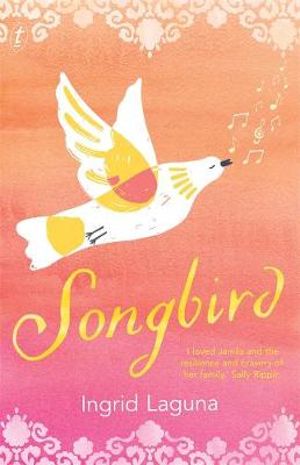 Songbird
Jamila has left her friends, her school and her home in Iraq, and now she has a new home. It's safe in Australia, but Jamila is finding it hard to settle in. She misses her best friend and worries for her dad's safety back in Iraq. It's hard to speak and write in English all day. And Jamila has a secret she wants to keep hidden.
When she joins the choir, Jamila begins to feel happy. Singing helps take her worries away. And singing will help her find her place in her new life, a place where she can shine.
Songbird is a tender story about belonging, about the importance of friendship and asking for help, and about the parts of our lives we keep concealed.
About the Contributor