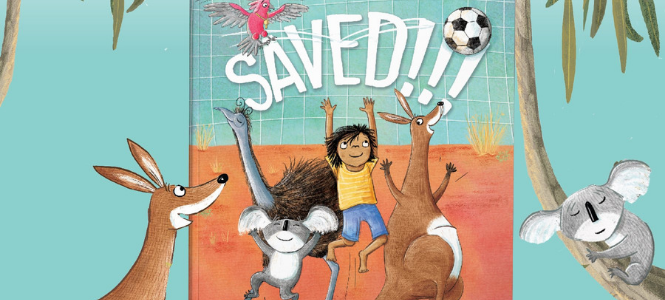 Lydia Williams is an Indigenous Australian soccer player. She is the first-choice goalkeeper for the Australian Matildas and also the author of Saved!!!, a picture book about a little girl living in the outback with her animal friends who learns all about self-belief, the joy to be had in sport, and the importance of persistence.
Today, she's on The Booktopian to share about the inspiration behind her amazing book!
---
When I was growing up as a young kid in outback Australia, playing sport was the best way to make friends outside of school, especially when I got to compete with them for fun. I tried so many sports and loved them all, but I wasn't the best at some.
My earliest memory of playing sport was actually in the bush with an AFL ball, kicking barefoot in the red dust of the Gibson desert. I had so much fun with my friends that being the best didn't matter at the time, but as I grew older I realised I had a sporting talent and I just needed to find the best sport and position that suited me.
Soccer became my favourite because I got to run around outside and I was never afraid of diving around and putting my body on the line. It then felt like a natural fit to become a goalkeeper. It took a lot of practice and time, but I definitely believe I made the right decision and got the right opportunities.
I remember watching Cathy Freeman running the 400m at the Sydney Olympics and thinking that I wanted to represent not only Australia, but the indigenous community in some way. I thought it was absolutely amazing! I still get goosebumps. Although it was a number of years before I got to achieve that, I will never forget the feeling of watching her, and she's definitely one of my sporting idols for what she's achieved.
With my picture book Saved!!! I want to inspire kids to dream big and to chase their goals with the self-belief that they can achieve anything. Even if that means as little as having fun with friends or as big as playing for Australia. Life is full of uncertainty, but I believe that as long as we have support from friends and family along the way, we can achieve anything.
I'm super excited about Saved!!!. I think it's such a different take on a children's book partly because it really resembles my own life story of not only sport, but also how I grew up in outback Australia and some of the challenges along the way.
In saying that, my favourite native Australian animal is definitely the kangaroo. I had two as pets growing up in the outback that we rescued on one of our many family journeys into the bush. One of the cool facts about them is that they can't hop backwards, which is funnily enough one of the things that motivates me. Always move and look forward in life!
---
Pre-order a copy of Saved!!! between May 20th to June 30th and you'll go in the draw to win a signed prize pack from Lydia Williams!*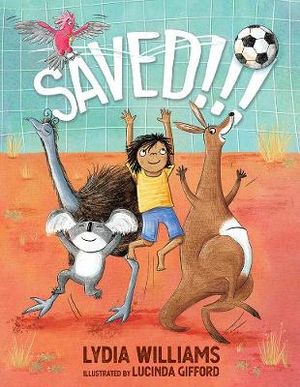 Saved!!!
Pre-order your copy for your chance to win!
Little Lydia learns to be the best that she can be as she competes in a variety of sports against very unusual competitors. An inspiring celebration of self-belief, the joy to be had in sport, and the importance of persistence.
Little Lydia loves sport. She lives in the outback and is friends with all the animals.
When she asks Emu, Kangaroo and Koala to play sport with her, she soon discovers that each of them has a special talent.
But does Lydia have a gift for sport too?
And if she does, how will she discover it?
A funny and triumphant picture book by Lydia Williams, goalkeeper for the Matildas.
About the Contributor