I remember picking up Nevernight, the first book in this epic series by Jay Kristoff, and being blown off my feet by the sheer madness of this story. It is amazing. Protagonist Mia Corvere doesn't give an inch in her quest for revenge, and it is an endless riot of blood, sexy times, sucker-punch plot lines, and laughter.
Those feelings continued in book two, Godsgrave, as Mr Kristoff proceeded to rip out my soul (again), stomp on it, and then somehow still manage to make me want more.
Enter Darkdawn, the epic conclusion to this unforgettable series. I knew I'd be in for a wild ride but wasn't exactly sure what Jay was going to do to us this time around.
To start, there is a lot of blood. TRUST. Come on Jay – give us a break! *cries*
Each time I picked up the book I was immediately lost in this rich and powerful world, drawn to cutthroat and passionate Mia. If I was ever to exact revenge on someone, I'd want to do it Mia Corvere style. She is a bad-ass who doesn't let up, not for one second. Like a few of the characters in the book also find, she is easy to fall in love with.
Then there's the rest of the team. Nothing makes a fantasy book like a band of unforgettable and lovable sidekicks. People to fall in love with, root for, cry for, and laugh with. Or, in Jay's mind, more characters to kill. I won't say any more but Jay how could you?!
Jay explores the interesting concept of what makes a family. Is it blood? Is it having been through an experience that forever bonds you? Mia is finally reunited with her long-lost little brother, who turns out to be a troublesome little sh*t. It was fascinating to watch Mia, a notoriously impatient and impulsive woman, face the challenge of learning how to handle him. Mia is the kind of person who, when confronted with a problem, would often just cut its throat. But (for obvious reasons) that won't do this time.
Throughout the series, we have watched Mia use her intriguing and powerful gift of stepping through shadows to her advantage, to defeat evil and to exact revenge. It's great to see that continue in Darkdawn and to see her powers grow. Mia, like any good protagonist, had a lot of learning to do and a long way to go before the end of the book.
Darkdawn and this entire series has earned itself a place of honour on my bookshelf. It is a story to admire, an adventure to dream of, a book that I will forever be recommending to everyone I know. Fearless, mad, magnetic… these are just a few words to describe Darkdawn, its heroine Mia Corvere, and indeed Jay Kristoff himself.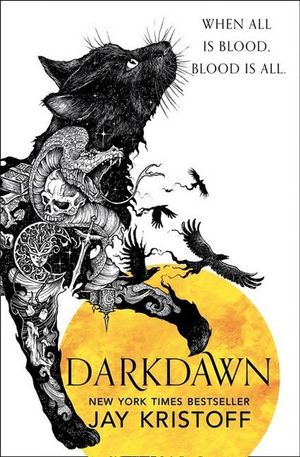 Darkdawn
The Nevernight Chronicles: Book 3
Mia Corvere, gladiatii, escaped slave and infamous assassin, is on the run.
After the greatest games in Godsgrave's history ended with the most audacious murders in the history of the Itreyan Republic, Mia finds herself pursued by Blades of the Red Church and soldiers of the Luminatii legion. She may never escape the City of Bridges and Bones alive. Her mentor Mercurio is now in the clutches of her enemies. Her own family wishes her dead. And her nemesis, Consul Julius Scaeva, stands but a breath from total dominance over the Republic...
About the Contributor
Before entering the exciting world of books, Bronwyn served in the Royal Australian Air Force, travelled extensively and worked (still does!) as a barista on the weekends. Books are her true passion. Bronwyn's debut fantasy novel Relic is coming out in 2019 with indie publishing house Talem Press. They are to publish her entire trilogy called The Relic Trilogy. In her spare time, Bronwyn writes, reads and enjoys keeping fit (which she undoes by eating loads of chocolate) with Martial Arts and personal training. She can't answer what her favourite book is but she has a soft spot for Peter Pan (J.M Barrie), Outlander (Diana Gabaldon), Stardust (Neil Gaiman), The Illuminae Files (Jay Kristoff and Amie Kaufman) and Six of Crows (Leigh Bardugo). Fantasy, sci-fi and YA make up the majority of her bookshelves.
Follow Bronwyn: Twitter