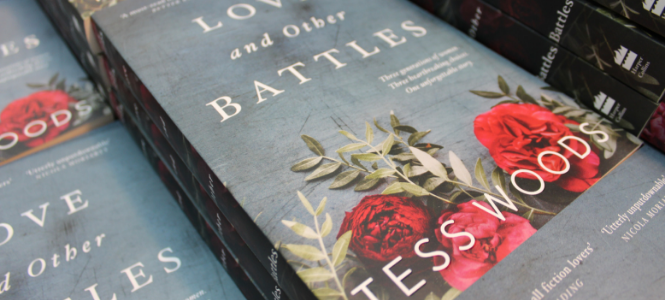 Calling all fans of The Notebook: we've got a simply gorgeous new book for you!
Love and Other Battles is the third novel from Perth-based author Tess Woods, and it's the kind of book that will make you swoon, cry, and laugh (and not necessarily in that order).
It's a generational saga, telling a story about three women that spans 50 years. There's the hippy matriarch Jess, her stubbornly independent daughter Jamie, and her granddaughter CJ, a 17 year old with a big heart and a singing voice to match.
"My struggle when I write is trying to make each character not all sound like me!" says Tess. "To bring different eras to life, to bring different ages to life, that's the part I find the hardest."
It's a struggle that certainly pays off; Love and Other Battles seamlessly takes the reader from Vietnam War-era Melbourne to the 90's (complete with all the Princess Di mania), to the present day. Over the course of this novel, each of these women experiences first love and heartache, and the difficulty of having your core beliefs challenged by the ones you love.
This is a book with a big heart, with three individual stories that entwine so beautifully. Where other authors might meticulously plan out such a multi-layered story, writing each one out individually, Tess writes them all as one glorious jumble.
"The story kind of reveals itself to me as I'm writing it, and I don't really have a destination of where it's going to go," laughs Tess.
Tess came in to Booktopia to sign a whole bunch of copies of Love and Other Battles, which you can pre-order right now. Then, while you wait ever so patiently for release day, you can listen to our podcast with Tess!
Booktopia's fiction expert Ben Hunter and myself sat down with Tess to have a nice long chat about the book – how she wrote it, who inspired it, and just how many chocolates are involved in the writing process (spoiler: lots!).
Listen below!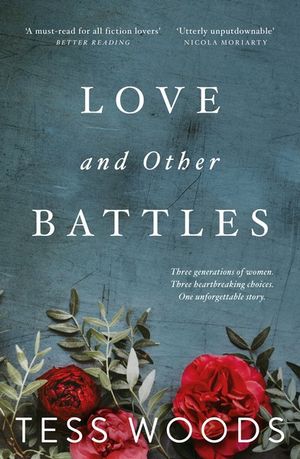 Love And Other Battles
Three generations of women. Three heartbreaking choices. One unforgettable story.
1969: Free-spirited hippie Jess James has no intention of falling for a soldier ... but perhaps some things are not in our power to stop.
1989: Jess's daughter, Jamie, dreams of a simple life - marriage, children, stability - then she meets a struggling musician and suddenly the future becomes wilder and complex.
2017: When Jamie's daughter, CJ, brings home trouble in the form of the coolest boy at school, the worlds of these three women turn upside down ... and the past returns to haunt them...
About the Contributor
Olivia Fricot is the Editor of the Booktopian Blog. After finishing a soul-crushing law degree, she decided that life was much better with one's nose in a book and quickly defected to the world of Austen and Woolf. You can usually find her reading (obviously), baking, writing questionable tweets, and completing a Master's degree in English literature. Just don't ask about her thesis. Olivia is on Twitter and Instagram @livfricot - follow at your own risk.
Follow Olivia: Twitter