Bernadette Schwerdt is the author of two best-selling business books, Secrets of Online Entrepreneurs and How to Build an Online Business.
She is one of Australia's top experts in workplace communications and helps senior executives and their teams become more influential and dynamic communicators. She is the founder of the Australian School of Copywriting and is the creator of a suite of copywriting courses that have launched the careers of some of the most successful advertising and marketing executives in the country.
Today we have an exclusive Q&A with Bernadette – read on!
---
You're a bestselling author and a public speaking and marketing coach, with an eye for great copy. How do you juggle so many hats at once?
I've always enjoyed variety in my working life so to juggle the three things that I love doing – speaking, writing and coaching, is a joy. The variety also suits my personality as I like calling upon the different parts of my personality that each role requires.
For example, when I'm on a stage and speaking to 500 people I have to switch on my 'performer's energy' and call upon my extrovert side to engage the audience and keep them entertained.
When I'm writing a book I may go for days without seeing anyone or even talking to anyone except my cat and perhaps my husband and son but other than that, I need to be in introvert mode so that I can order my thoughts and get them on the page.
So, each role requires different aspects of energy but there is a common thread running through everything I do and that's helping people become better communicators. It's a massively under-rated skill as we all assume that everyone can speak with clarity and communicate their ideas with confidence but that's not the case. Most people have never been trained in the art of communication and as a result bumble through it and hope that what they say connects.
More often than not, it doesn't and that's when problems occur and they start to seek out some techniques for being able to communicate more effectively. Just ask Bill Shorten what he's up to right now and I'd say he's looking into how their communications strategy went so disastrously awry. We only seek help when what we've always done doesn't work for us anymore.
You've recently launched a new podcast on the PodcastOne network based on your book How to Build an Online Business. Tell us about it!
My intention for the podcast was to bring the book to life and to go into deeper detail about how these extraordinary entrepreneurs took a passion and turned it into profit.
I had a plethora of guests to choose from so it was really hard to narrow the guest list down, but I decided to interview those who represented the core of each chapter and do a deep dive into their journey.
For example, the first chapter on 'how to be an entrepreneur' features Andre Eikmeir, the co-founder of online retailer Vinomofo. He has been very open about the rollercoaster ride of launching a startup and he gives some great tips on what to do and more importantly, what not to do.
Other chapters focus on how entrepreneurs can pitch their business to win a spot on an incubator and accelerator. A big black hole for a lot of entrepreneurs is how to navigate the tech element of building a website and taking a vision and making it work on a technical level so I invited one of the country's leading tech gurus to give us a step by step guide on how to build a website and get on page one of Google.
I didn't hold back in the interviews either. There were times when I thought 'should I be asking this' as it seemed to personal or too intrusive but I thought, if I'm thinking it then others are too which means it's a question that should be asked. The result was extraordinary as it's in those moments that we break open the reality of what it's like to build a startup. The heartbreak, the disappointment, the costs, the price they pay.
You say that "the secret to getting ahead is getting started." What is the most important thing that all entrepreneurs should know before starting out with a new online business?
The best advice I can give those starting out on the entrepreneurial journey is that you need to be okay with bumbling your way through the early days of your venture. By definition, starting something new is going to be difficult because you've never done it before. As a result, you'll feel untethered, uncertain, overwhelmed and nervous a good portion of the time.
When these feelings kick in, it can feel so uncomfortable that we decide we can't tolerate that level of unpleasantness and give up before we've even started. As a result, we never get to see the business idea flourish or the dreams come to life.
I did a TEDx talk called "How to bumble your way to success". More than a few friends asked me, 'Are you sure you want to get up on the world stage and identify as a bumbler? Is that really a value you want to be associated with?'
I did think hard about that but I very much believe that if we are to achieve anything of value, that's difficult, or new or important to us, we need to be able to give ourselves a 'buffer period' at the start and I call that period the 'bumbling stage'.
It's where we acknowledge that we're just bumbling through, that bumbling is part of the creative process and that if we can just get through that early stage, we will find a glimmer of something solid that we can hold onto that helps us break through to the next level of confidence.
What are some of your favourite books about online business management?
I really didn't want to like The Subtle of Art of Not Giving a F*ck because it seemed so obvious and blunt. But I secretly enjoyed it and dip into it occasionally when I need a pick me up or a dose of courage to do something outside my comfort zone.
I enjoyed The Google Story by David Vise. It's been out for a while but I found it incredibly valuable as it gives the back story of how Google came to be built and the challenges they had in the early days. Every entrepreneur I interviewed – from Matt Barrie (founder of Freelancer) to the founders of Canva know that getting on page one of Google is critical to success so it makes sense to have an historical understanding of what Google looks for and how to make it work for your own business. On a practical level, one of my online courses is 'How to Write SEO Copy' so it's essential I also understand how Google works.
Another oldie but a goldie is Getting Things Done by David Allen. The life of an entrepreneur can quickly descend into overwhelm and having a system for not just getting things done but finishing them is important and I found this book a valuable guide to breaking big projects into manageable tasks.
Who do you most admire in the world of online business and/or marketing?
On one hand I admire people like Elon Musk; people who go hard and fast and really put everything on the line. I read his biography and the amount of risk he took when launching Tesla and SpaceX was ridiculous. People like him have this enormous capacity to endure stress and uncertainty and I admire that.
On the other hand, I very much admire entrepreneurs who know what success means to them and are willing to forgo some of the pomp and grandeur that comes with public adulation to say, "You know what? I want to run my own business, choose my hours of work, be present with my partner and children, shut off the world at the end of the day and just enjoy what I have without needing to be always on the lookout for more, more, more'. It takes a lot of courage to say 'I have enough' and not compare yourself with others who may be conquering the world but possibly at the same time, losing what is truly important to them.
What is the best piece of advice you have ever received (professional or otherwise)?
Paul Greenberg, the co-founder of Deal Direct and the executive chairman of NORA is a pretty seasoned entrepreneur and he is a big believer that to be a successful entrepreneur you must 'know thyself'. I am pretty sure he lifted it from Socrates but why Paul believes this to be important, and why I also believe it's such an important piece of wisdom is because it is the foundation from which all decisions get made.
For example, at the start of a business journey, it's very important to work out what you want from it and to do that you need to interrogate your own motivations, dreams and be cognizant of the resources you have at your disposal – time, money, energy etc. and to work within those constraints. If you're 21, footloose and fancy free you can afford to take a risk, plunge in boots and all and go for it because you have little to lose and much to gain.
If you're 47, married with 2 kids and a mortgage, then starting up something risky and having to criss-cross the planet on your own coin drumming up investors – that's going to come at a cost. That's not to say you shouldn't do it but just know at the outset what your dreams are likely to cost you and to work out if the squeeze is worth the juice.
What's the one piece of advice that you wish more entrepreneurs would take?
Be brave and ask for help at every stage. Lots of people are open to helping but need to be asked. I had a young man find me on LinkedIn and asked me for some advice. I was more than happy to help and we've ended up mates and we've both benefited from the exchange. He was stoked that I was helping him but I said 'I've had help from people who have nothing to gain from helping me so why wouldn't I return that favour and help others coming up the line who need help from me?'. A well placed phone call, an introduction, a piece of advice. It's not hard to be helpful.
And finally, what's up next for you?
I'm writing a novel. I've had a ball writing non-fiction and getting familiar with the whole publishing process so now I'm going out on a limb and bumbling my way to writing a full novel. I was recently accepted into the Faber Writing Academy and am getting some wonderful tutoring from very experienced authors. I'm really loving the creative process of writing what I like without having to get permission to quote people! It's just me unleashing my flights of fancy and seeing where they land.
Thanks Bernadette!
---
Listen to How to Build an Online Business on PodcastOne Australia here!
---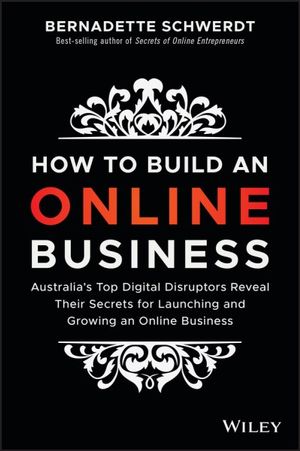 How to Build an Online Business
Australia's Top Digital Disruptors Reveal Their Secrets for Launching and Growing an Online Business
The ultimate guide to launching and growing an online business
You've got a crazy idea, a hobby, a business or special expertise. You want to take it online, and you want to it be a money-making success. But what do you do next? Using a simple 5-step approach, best-selling author and digital marketing specialist Bernadette Schwerdt uncovers the inside tips and tricks that Australia's most successful online entrepreneurs use to build their multi-million dollar businesses...
About the Contributor