Alex Rance may be off the AFL field this season but he's bouncing back in quite a different way – the beloved star of the Richmond Tigers is back with a brand new picture book for kids!
Rabbit's Hop is the gorgeous follow-up to last year's bestseller, Tiger's Roar, and it sees the return of the lovable Jack Rabbit, one of the key characters from the first book.
In this book, Jack Rabbit leaves the comfort of Rabbit Island to go on a grand adventure to Big Island to visit his friend Roo. Along the way, he meets so many different animals and overcomes all of his fears to become the very best Rabbit he can be.
Rabbit's Hop is a fun little story with a big heart that shows kids just how far you can go if you show a little determination and kindness. Even better, Alex has teamed up once again with Shane McG, the award-winning illustrator of Tiger's Roar, to bring life and colour to Jack Rabbit's world.
Alex came into Booktopia's offices last week to sign a whole bunch of copies of Rabbit's Hop that will be bouncing their way to the shelves of some very lucky kids very soon. For a limited time only, if you pre-order a copy of Rabbit's Hop, you'll receive a copy signed by Alex Rance himself! You'll want to hurry though – this offer is only available while stocks last (and they're going fast!).
So what are you waiting for? Hop to it!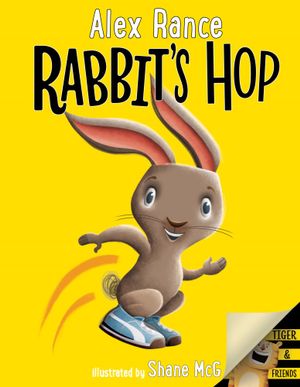 Rabbit's Hop
Jack Rabbit loved Rabbit Island. He loved his friends and family and all the little rabbits. He loved being the best at hopping and chomping and (nearly the best) at zigzagging.
But Jack Rabbit was restless. So when his cousin Roo invites him to Big Island, he's very excited - and a little bit scared. Can he overcome all the challenges and get to Big Island and become the best Rabbit he can be?
A wonderfully entertaining picture book about self-belief, determination, being kind and having fun.
About the Contributor
Olivia Fricot is the Editor of the Booktopian Blog. After finishing a soul-crushing law degree, she decided that life was much better with one's nose in a book and quickly defected to the world of Austen and Woolf. You can usually find her reading (obviously), baking, writing questionable tweets, and completing a Master's degree in English literature. Just don't ask about her thesis. Olivia is on Twitter and Instagram @livfricot - follow at your own risk.
Follow Olivia: Twitter