The team of booklovers behind Booktopia do an awful lot of reading in their spare time. Today, we thought we'd each share the books that we've read and loved in the past month.
Scroll down to see the best books we read in May!
---
Olivia Fricot – Senior Content Producer
Gingerbread by Helen Oyeyemi
Why I loved it: Gingerbread is a bewitching twist on the tale of Hansel and Gretel, leaning heavily into its sharp and sinister undertones to explore the relationship between a woman and her teenage daughter. This story is weird and a little bit beastly, but Helen Oyeyemi is an astonishingly good writer who writes quick and clever sentences that leave you with no time to ponder the strangeness of it all. I really loved this and think it's perfect for fans of Naomi Novik's Uprooted.
Synopsis: Perdita Lee may appear your average British schoolgirl; Harriet Lee may seem just a working mother trying to penetrate the school social hierarchy; but there are signs that they might not be as normal as they think they are. For one thing, they share a gold-painted, seventh-floor flat with some surprisingly verbal vegetation. And then there's the gingerbread they make…
---
Jo Lewin – Head of Trade Books
The Farm by Joanne Ramos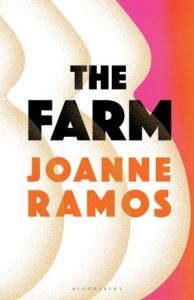 Why I loved it: This one's for fans of The Handmaid's Tale, Never Let Me Go and The Natural Way of Things. Big comparisons, I hear you say? True, but warranted by the gutsy subject matter of this important book. In the not too distant future, women rent out their wombs to the super rich in exchange for luxury accommodation, healthcare, and a life-changing paycheck. But once you become a donor there's no going back. There are strict rules over the way the women can use their own bodies, and there's a premium placed on skin colour…
Synopsis: Ambitious businesswoman Mae Yu runs Golden Oaks – a luxury retreat transforming the fertility economy – where women get the very best of everything, so long as they play by the rules.
Jane is a young immigrant in search of a better future. Stuck living in a cramped dorm with her baby daughter and shrewd aunt Ate, she sees an unmissable chance to change her life. But at what cost?
---
Ben Hunter – Fiction Category Manager
Frankissstein: A Love Story by Jeanette Winterson
Why I loved it: Frankissstein is a volatile little novel that only the brilliant of brain Jeanette Winterson could have executed properly. Its genre and gender-bending metanarrative recreates Mary Shelley and her Frankenstein in the present day with the post-modern Prometheus being a kind of fusion of the human mind with the AI singularity. Winterson has created a rich and unrelenting comedy with the power to move and challenge readers (I'll never be able to forget Lord Byron recast as an American sexbot merchant).
Synopsis: On the rain-swept shores of Lake Geneva in 1815, nineteen-year-old Mary Shelley writes a story about creating artificial human life that will resonate through the centuries. In post-Brexit Britain, a young transgender doctor called Ry is falling in love – against their better judgement – with Victor Stein, a celebrated professor leading the public debate around AI. Meanwhile, Ron Lord, a businessman on a mission to redistribute sex, is set to make his fortune launching a new generation of sex dolls produced for mass-market consumption. And across the Atlantic, in Phoenix, Arizona, a cryogenics facility houses dozens of bodies of men and women who are medically and legally dead, but waiting to come back to life…
---
Joel Naoum – Non-Fiction Category Manager
Three Women by Lisa Taddeo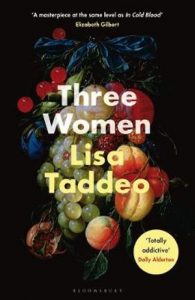 Why I loved it: This is an emotional rollercoaster of a book. It reads like the best fiction, but is actually meticulously researched non-fiction. The author worked with three women over nine years and has put together a compelling, engaging, and searing account of their lives and how their stories glance off and interact with the realities of contemporary life. There are quotes aplenty from celebrities, authors, and others about this book so I won't try to compete with them, but I can guarantee this is one you won't regret reading.
Synopsis: All Lina wanted was to be desired. How did she end up in a marriage with two children and a husband who wouldn't touch her? All Maggie wanted was to be understood. How did she end up in a relationship with her teacher and then in court, a hated pariah in her small town? All Sloane wanted was to be admired. How did she end up a sexual object of men, including her husband, who liked to watch her have sex with other men and women?
Three Women is a record of unmet needs, unspoken thoughts, disappointments, hopes and unrelenting obsessions.
---
Sarah McDuling – Kids & YA Category Manager
It Sounded Better In My Head by Nina Kenwood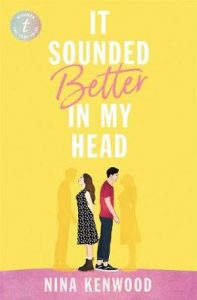 Why I loved it: I really can't praise this book enough – I absolutely loved it and fell for the main character, Natalie, like a ton of bricks! It Sounded Better In My Head is deeply tender coming-of age story about first love, friendship, and the all the horrifying awkwardness of navigating young adulthood. Thrumming with wonderfully nuanced and vividly depicted emotion, this book will make your heart soar, while also making you laugh. Packed full of wry humour and an utterly lovable cast of characters – including one of the most achingly vulnerable and deeply relatable narrators I have encountered in a long time – this book is a delight to read and I am already looking forward to whatever Nina Kenwood writes next!
Synopsis: When her parents announce their impending separation, Natalie can't understand why no one is fighting or at least mildly upset. Then Zach and Lucy, her two best friends, hook up, leaving her feeling slightly miffed and decidedly awkward. She'd always imagined she would end up with Zach one day-in the version of her life that played out like a TV show, with just the right amount of banter, pining and meaningful looks. Now everything has changed and nothing is quite making sense.
Until an unexpected romance comes along and shakes things up even further.
---
Bronwyn Eley – Social Media Coordinator
Darkdawn by Jay Kristoff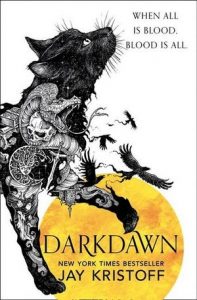 Why I loved it: The Nevernight Chronicles is a fast-paced, cut-throat, passionate, and hilarious series from bestselling author Jay Kristoff! I was lucky enough to get an advanced copy of the third and final (cry) book in the series – Darkdawn. Things do not slow down in this book! It is just as thrilling as the previous two in the series and was full of plot twists that I didn't see coming, Jay's iconic humour, and awesome character development. A must read!
Synopsis: Mia Corvere, gladiatii, escaped slave, and infamous assassin, is on the run. Pursued by Blades of the Red Church and soldiers of the Luminatii legion, she may never escape the City of Bridges and Bones alive. Her mentor Mercurio is now in the clutches of her enemies. Her own family wishes her dead. And her nemesis, Consul Julius Scaeva, stands but a breath from total dominance over the Republic.
But beneath the city, a dark secret awaits. Together with her lover Ashlinn, brother Jonnen, and a mysterious benefactor returned from beyond the veil of death, she must undertake a perilous journey across the Republic, seeking the final answer to the riddle of her life. Truedark approaches. Night is falling on the Republic for perhaps the final time…
---
Rob O'Hearn – Academic Category Manager
In Love With the World: What a Buddhist Monk Can Teach You About Living from Nearly Dying by Yongey Mingyur Rinpoche, with Helen Tworkov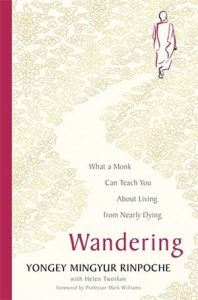 Why I loved it: I've read over a hundred books by Tibetan Buddhist teachers but nothing quite like this. The quote of praise by George Saunders on the cover was a sure indicator that this might be special, and it is. Yongey Mingur Rinpoche is recognised as a reincarnated high lama, and is the exalted Abbot of a highly respected monastery. In 2011, he secretly slipped away in the night, beginning four years travelling on foot as a mendicant monk. His resulting experiences are humbling and compelling, bringing him close to death and both challenging and reaffirming his Buddhism. Buddhists will recognise the teachings and sutras woven into the narrative, others will simply enjoy the enquiring mind of a philosopher challenged by the real. This is an illuminating and immensely readable autobiography, uplifting and unforgettable.
Synopsis: Yongey Mingyur Rinpoche's experience begins the night he has chosen to embark on a four-year wandering retreat, slipping past the monastery gates. Alone for the first time in his life, he sets out into the unknown. His initial motivation is to step away from his life of privilege and to explore the deepest, most hidden aspects of his being, but what he discovers throughout his retreat – about himself and about the world around us – comes to define his meditation practice and teaching…
About the Contributor
Olivia Fricot is the Editor of the Booktopian Blog. After finishing a soul-crushing law degree, she decided that life was much better with one's nose in a book and quickly defected to the world of Austen and Woolf. You can usually find her reading (obviously), baking, writing questionable tweets, and completing a Master's degree in English literature. Just don't ask about her thesis. Olivia is on Twitter and Instagram @livfricot - follow at your own risk.
Follow Olivia: Twitter