Everybody get your barbaric yawps at the ready: it's time to round up all the best book news of the week!
It's a bittersweet mix of news this time around, as we say goodbye to a children's book legend but also celebrate 200 years of a legendary American poet.
Settle in and scroll down…
The world mourns Judith Kerr
Beloved children's author Judith Kerr passed away last week aged 95, after a brief period of illness. Kerr was the author of such books as When Hitler Stole Pink Rabbit and The Tiger Who Came to Tea, as well as her series about Mog the Cat.
Charlie Redmayne, the CEO of Kerr's UK publisher HarperCollins, said, "Judith Kerr was a wonderful and inspiring person who was much loved by everyone at HarperCollins. She was a brilliantly talented artist and storyteller who has left us an extraordinary body of work."
Read our post on Judith Kerr here.
Boy Swallows Universe to be adapted for stage; Goodwood to be developed for television
Queensland Theatre has announced that it will stage an adaptation of Trent Dalton's Boy Swallows Universe directed by Tim McGarry, in a co-production with the 2020 Brisbane Festival.
Artistic Director of Queensland theatre Sam Strong said, "Trent's book is absolutely ripe for adapting to the stage: featuring larger-than-life characters, an effortless combination of magic realism and crime-thriller, unforgettable set pieces written with a cinematic visual flair, and dialogue that just leaps off the page… I cannot wait to direct this landmark Brisbane story on a Queensland Theatre stage."
Read more about this here.
Holly Throsby's 2018 novel Goodwood has gone into development for a television series by ABC Studios. The series will be written by Alison Bell and Sarah Scheller (The Letdown), and produced by Claudia Carvan and Alice Bell.
Author Holly Throsby said, "One of the central themes of Goodwood is the relationships between people, especially between strong women. It is so fitting, and an absolute dream for me, to have such an incredible group of women in charge of bringing my book to life on screen."
Read more about this here.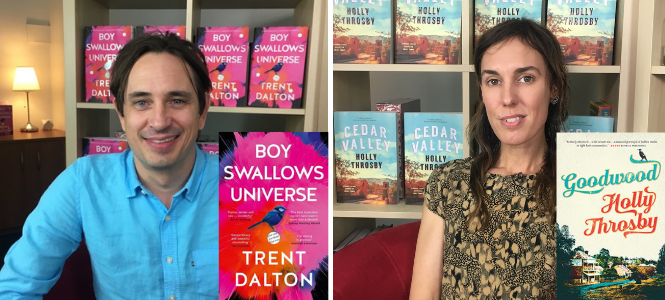 Walt Whitman turns 200!
This week marks the bicentenary of the birth of Walt Whitman, who was born on May 31, 1819, in Long Island, New York.
Often called the father of free verse, Whitman was one of the truly essential American poets. He left behind a monumental body of work that was an ecstatic celebration of individuality, freedom, sexuality, and nationhood. His works include Leaves of Grass (1855), a volume which contains some of his most famous poems like "I Sing the Body Electric" and "Song of Myself," and Drum-Taps (1865), which contains "When Lilacs Last in the Dooryard Bloom'd," his elegy for President Lincoln.
I'll be rounding up some of my favourite Whitman poems on the blog later this week, but by all means feel free to sound your own barbaric yawp over the roofs of the world on Friday, should the mood take you.
The ABA announces its 2019 finalists for Bookseller of the Year
The Australian Booksellers Association has announced its 2019 finalists for bookseller of the year!
The finalists for bookseller of the year are:
Desiree Boardman (Readings Hawthorn)
Suzie Bull (Farrells Bookshop)
Sarina Gale (The Sun Bookshop)
John Mitchell (The Bookroom Collective)
Linda Tassone (Jeffreys Books)
The finalists for young bookseller of the year are:
Kate Adams (Better Read Than Dead)
Eadie Allen (The Sun Bookshop)
Michael Earp (The Little Bookroom)
Aisling Lawless (Dymocks Joondalup)
Simon McDonald (Potts Point Bookshop)
The lucky winners will be announced in Melbourne during the ABA Conference on 23 June – congratulations to everybody nominated!
Read more here.

Other interesting tidbits…
Last week, I reported on the export ban of a copy of Lady Chatterley's Lover (the same copy used by the judge in the book's 1960 obscenity trial). A GoFundMe campaign has kicked into gear to raise enough money to keep the book in the UK, with authors like Neil Gaiman stepping up to support the cause. So far, it's raised £18,505 of its £56,250 goal – if you'd like to donate yourself, click here.
If you've ever handed in an essay with an argument that you knew wasn't quite watertight, take a moment to be thankful that you're not Naomi Wolf. The American author and former political adviser discovered that the central argument of her new book (that dozens of men were executed for sodomy in Britain from 1857 onward) is based on a misinterpretation of the term "death recorded". In case that doesn't sound bad enough, Wolf discovered the error while she was on air with BBC broadcaster Matthew Sweet, and I'm going to have to stop writing about this now because it's making me paranoid about my thesis.
---
Thanks for reading – stay tuned for more next week!
About the Contributor
Olivia Fricot is the Editor of the Booktopian Blog. After finishing a soul-crushing law degree, she decided that life was much better with one's nose in a book and quickly defected to the world of Austen and Woolf. You can usually find her reading (obviously), baking, writing questionable tweets, and completing a Master's degree in English literature. Just don't ask about her thesis. Olivia is on Twitter and Instagram @livfricot - follow at your own risk.
Follow Olivia: Twitter