On the blog today is the dynamic mother-daughter duo P.C. and Kristin Cast, here to talk about their latest novel, The Dysasters.
P.C. Cast is a #1 New York Times and USA Today bestselling author, with more than 20 million copies in print in over 40 countries. Ms. Cast lives in Oregon surrounded by beloved cats, dogs, horses and family. Kristin Cast is a #1 New York Times and #1 USA Today bestselling author who teamed with her mother to write the wildly successful House of Night series.
Tell us about your book, The Dysasters!
PC: I love the new world Kristin and I have created! With House of Night Kristin was my frontline editor, but I did all the writing and for the majority of the series the plotting and brainstorming as well. For The Dysasters our process was completely different. From the beginning Kristin and I brainstormed and created the world, the plot, and the characters together. Actually, the idea for the series was Kristin's! She envisioned an entirely new YA superhero multiverse based on connecting our heroes to the elements. I was excited from the moment she told me the idea (and insisted she write it with me!).
K: The Dysasters is all about what would happen if a group of teens was genetically modified to control the elements. It's so much fun to write!
If you could hang out with a fictional character from any book (including your own!) who would it be and why?
PC: I love this question, but it's so hard to answer! (How to narrow it down???) Okay, I'll go for my long time favourite world. I'd LOVE to hang out with Lessa from Anne McCaffrey's brilliant Dragonriders of Pern series – especially if I could imprint with a dragon of my own! Who wouldn't want to fly their own dragon? As to my books, I'd better say that I want to hang out with the grandpa in The Dysasters, Linus Bowen, as he's based verrrrry closely on my dad!
K: I want to say either Bones from Jeaniene Frost's Night Huntress novels or Aric from Kresley Cole's Arcana Chronicles, but the only reasons I can think of are sexytime ones, so…
What are your words to live by?
PC: "If they give you ruled paper, write the other way." – Juan Ramon Jimenez.
K: "Change your thoughts and you change your world." – Norman Vincent Peale.
What do you hope readers will discover in The Dysasters?
PC: An awesome new superhero adventure that is filled with unique characters and lots of action!
K: That you can create your own family and it doesn't have to be based on blood.
If you were planning a literary dinner party, which three authors (dead or alive) would you invite?
PC: This is easy! I'd invite three of my author besties: Gena Showalter, Kresley Cole, and Karen Marie Moning. (There better be plenty of wine!) And Kristin would be invited, too!
K: I'm such an introvert that the thought of having a dinner party makes me want to cry and chew my nails to tiny nubbins. But I would overcome my introvertness and have a super interesting dinner party with Gillian Flynn, Shakespeare, and Mindy Kaling.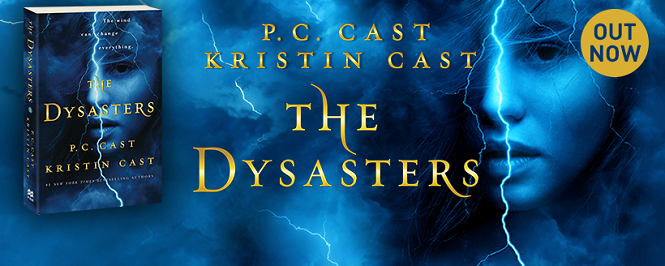 Which books do you have on your TBR pile right now?
PC: I'm reading Dean Koontz's The Silent Corner and I have an advanced copy of Hafsah Faizal's debut YA, We Hunt the Flame, to dive into next.
K: I'm currently reading Vicious by V.E. Schwab. It is absolutely delicious! My TBR pile consists of This Cruel Design by Emily Suveda, A Gathering of Shadows by V.E. Schwab, You by Caroline Kepnes, and I'll Give You the Sun by Jandy Nelson.
Do you have any unusual writing and/or reading habits?
PC: I'm not sure if this is very unusual, but I always begin writing about 10 pages behind where I left off the day before. I reread and as I do I rewrite/revise, which puts me immediately into the heart of whatever world I'm writing.
K: I like to be in a busier area when I write, like a coffeeshop or restaurant, but I have to have my Bose noise cancelling headphones – have to.
If The Dysasters had a theme song, what would it be?
PC: I'm trying to be clever and think of something that involves the elements and the only song that keeps playing through my head is a blast from my teenage past, "Dust in the Wind" by Kansas. I'm sure Kristin's answer will be better…
K: No theme song comes to mind, but I do hear Billie Eilish's "Ocean Eyes" pretty much every time I write a scene with Bastien and Charlotte.
If The Dysasters was adapted for the screen, which actors would you like to see cast as the main characters?
PC: I'm not sure about the teenagers, but for Cora I'd choose Viola Davis – for G-pa I'd choose Michael Douglas – for Dr. Stewart I'd love Laurence Fishburne – for Eve it'd have to be the fantastic Shaunette Renée Wilson.
K: No young actors pop out at me but the adult actors PC mentioned are the people we discussed when creating the characters, so I've seen Viola Davis and Laurence Fishburne as Cora and Dr. Stewart from the very beginning.
What's up next for you?
PC: In October the third of the House of Night Other World books, Forgotten, releases and next February the second Dysasters book, Rage of Storms releases – then soon after that the first Dysasters graphic novel will be published! We're super excited about that! And right now I'm in the research/brainstorming phase of my next YA series, which is going to take me back to my Celtic roots with a YA historical and a touch of magic added. Stay tuned for much more soon!
K: On October 1st, 2020, a couple months after the Dysasters graphic novel releases, the first book in my new series hits shelves! The Key is a young adult series set in the near future after a massive pandemic spread by touch has nearly decimated the human race. I am absolutely obsessed with this world and these characters and I cannot wait until this novel is out!
Thank you guys!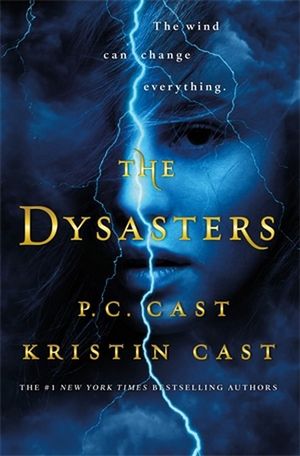 The Dysasters
P. C. and Kristin Cast, the #1 New York Times bestselling authors of the House of Night phenomenon, return to the scene with The Dysasters - the first action-packed novel in a new paranormal fantasy series.
Adoptive daughter of a gifted scientist, Foster Stewart doesn't live a 'normal' life, (not that she'd want to). But controlling cloud formations and seeing airwaves aren't things most eighteen-year-olds can do.
Small town star quarterback and quintessential dreamy boy next door, Tate "Nighthawk" Taylor has never thought about his "extra" abilities. Sure, his night vision comes in handy during games, but who wouldn't want that extra edge?
About the Contributor
Olivia Fricot is the Editor of the Booktopian Blog. After finishing a soul-crushing law degree, she decided that life was much better with one's nose in a book and quickly defected to the world of Austen and Woolf. You can usually find her reading (obviously), baking, writing questionable tweets, and completing a Master's degree in English literature. Just don't ask about her thesis. Olivia is on Twitter and Instagram @livfricot - follow at your own risk.
Follow Olivia: Twitter