Laura Bloom is the co-author of the Dream Riders series, along with Jesse Blackadder. She grew up in Sydney, reading constantly and dreaming of becoming a writer. Now she lives in a small country town with her family and lots of animals, writing novels for children and adults.
Today, Laura answers the Ten Terrifying Questions…
---
1. To begin with – why don't you tell us a little about where you were born? Raised? Schooled?
I was born in inner city Sydney, in the same hospital my mother and grandmother were born in; and raised in the same area, as well. I was the youngest of three siblings, as well as of my large extended family, and so I always had a sense of being 'alone in the crowd', as well as being, for a long time, 'the baby'. I spent my infant years with my family in a remote village in Papua New Guinea, where apparently my first sentences were in Pidgin. I can't remember it anymore, sadly, except for a few choice words about how, if I don't get to a toilet right now, there's going to be a disaster!
This sense of being an outsider looking in was heightened by my then going to five schools in very different parts of Sydney, and for a final year, in Germany. I learned how similarly groups behave, no matter where they are, but also that – while it's true that you can never escape yourself – a lot depends on the context.
2. What did you want to be when you were 12, 18 and 30.
For as long as I can remember I wanted to be a writer. I also wanted to be – at 12: a choreographer, because I love dancing; at 18, a world traveller, because, well, it's obvious! And at 30, a filmmaker. That dream didn't work out, but I think that's where the strong sense of dramatic and visual storytelling in my fiction, which readers often comment upon, comes from.
3. What strongly held belief did you have when you were younger that you do not have now?
I suffered from depression a lot when I was younger – and still do, sometimes, now. I no longer believe as I used to, though, that these episodes are random, and that one day I might have one which never ends.
Now I know that if I live in a certain way, and follow certain habits, that it's not going to be as bad as it otherwise might be, and that it definitely won't last forever.
What this might mean on an average day is that I'll exercise and spend at least four or five hours alone, preferably working on a book, and in the company of my animals. I'll email back and forth with close friends, and cook something lovely to eat with my family. I also aim to be well fed, and not too hot, and not too cold, at all times! It sounds so simple, but it's taken a lot of trial and error to get here.
4. What are three works of art – book or painting or piece of music etc – that you can now say had a great effect on you and influenced your own development as a writer?
One: Six Little Preludes, by J.S. Bach. These are a series of simple piano pieces which I learned to play when I was twelve. I hadn't really liked piano up until then – even though I began when I was five – and these were a revelation. The way Bach interweaves different lines of melody and creates such a haunting, yet measured effect, feels deeply comforting, and mysteriously energising at the same time. Learning to play these pieces gave me an insight into how simple great art can be, and how valuable it is – at any level of skill or enthusiasm – to engage with it.
Two: The Long Winter by Laura Ingalls Wilder. My dad read the Little House series to me when I was very young, and it's what first made me want to become a writer. In this particular book, Wilder is writing about a time of exceptional hardship, and yet, without sugar coating anything, she somehow manages to entertain and uplift her reader at the same time. It didn't surprise me to learn later that this is the most popular of her many successful books. I also love generally the way she writes about children and animals – as though they're real people (I know that doesn't quite make sense!) and with no sense of them somehow being 'less than' or inferior.
Three: Through A Window by Jane Goodall. I read this book about Goodall's life's work studying and living among chimpanzees, when I was a young woman, and it brought so many of my experiences, and questions, into focus.
The way she gave the primates names – who before then had only ever been given numbers; and entered into their world with such commitment and empathy, and yet was always listening to and valuing her own responses, was so validating and inspiring to me, as a human and as a writer. The impact her work has had on the world since then has been extraordinary, and yet also heartbreaking in that, as a species, we still haven't 'woken up'.
5. Considering the innumerable artistic avenues open to you, why did you choose to write a children's book?
The place where my stories come from doesn't say 'now this is a kids book' and 'this is an adult book'. It's just the way this particular story came to me – in terms of what it's about and the voice it's in – which made it clear.
6. Please tell us about your latest book…
Frankie is the first book in the Dream Riders series for readers aged between 8 – 12, which I am co-writing with Jesse Blackadder. It follows the lives of four very different young teens and the horses they love, as they enter the magical world of the Pocket of Dreams equestrian centre. There they learn how to ride without saddles or bridles, using only skill and rapport to connect with their horses. It's a skill they will have to draw on in every aspect of their lives, as they face their own joys, adventures and challenges.
While this series is definitely for horse lovers, it's also for every child who is interested in how we connect with animals and humans.
7. What do you hope kids will take away with them after reading your book?
I hope they'll come away feeling inspired about what can happen when we focus on how something feels, instead of how it looks; and keen to read the next book in the series – Storm.
8. Who do you most admire in the realm of writing and why?
That's like asking me to pick my favourite flavour of ice cream! Right now I am feeling very inspired by the work of Judy Blume, who was writing for young readers in the 1970s but is still massively popular now. Her books for children are so honest and realistic, and yet entertaining and moreish at the same time. This is what I would love to achieve.
9. Many artists set themselves very ambitious goals. What are yours?
To carry my reader away on a journey which delights, intrigues, and moves them, and leaves them feeling satisfied and inspired at the end.
10. What advice do you have for aspiring writers?
Progress doesn't necessarily happen in a predictable way, or at a consistent pace. Give yourself credit for every step you take in the direction of becoming a writer.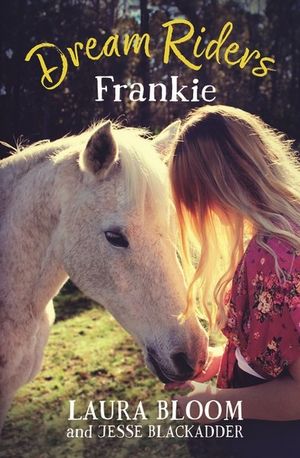 Dream Riders: Frankie
Without a saddle or bridle, all that's left is the truth. Dream Riders is an exciting new middle-grade series about horses, friendship and being true to yourself.
Frankie's dream is more like a nightmare when her new horse turns out to be Zen – a shaggy, disobedient clown of a pony, who will totally wreck her chances of fitting in at Pony Club in her new town. Zen is everything Frankie doesn't want – until the magnetic horse whisperer Shannon shows her just what Zen could be if ridden freely. Natural horsemanship opens up a whole new way of riding and a whole new world of connection between Zen and Frankie...
About the Contributor