Anyone who knows me knows how obsessed I am with The Arthurian Legend! Anything to do with King Arthur, Merlin, Camelot, the Knights of the Round Table… count me in.
So when I heard there was a gender-flipped King Arthur retelling set in space with a diverse cast of characters… I nearly fell over with excitement.
As a huge YA (and sci-fi) fan, I think it's safe to say that Once & Future is EXACTLY what the community wants right now. Power-house people doing incredible things… and I'm not just talking about the protagonist Ari. I'm talking about the authors Amy Rose Capetta and Cori McCarthy!
What really hooked me straight away was the wonderful diversity and representation in this book. I fell so hard for the fun-loving and adventurous protagonists, the madcap humour, and all the non-stop action!
Now let's get to the Arthurian plot. Once & Future has such a fresh and fun twist on the legend, proving that it is not only a classic legend but a timeless one too.
Our protagonist is a young woman called Ari, an immigrant fighting for her place in a world that won't accept her. Ari also happens to be the forty-second reincarnation of King Arthur.
Stop. What?
One day Ari finds a sword stuck in an ancient willow tree, and when she pulls it out she ignites what becomes one of the most thrilling and game-changing King Arthur reincarnations to date. How do we know this? Merlin, of course!
When the sword is pulled from captivity, Merlin awakes to come and help his new King Arthur defeat a big and powerful evil. For Ari, this is the cruel and oppressive government that plagues their galaxy.
I think my favourite part was the ending because I just didn't see it coming! All I will say is that I'm DYING to know what happens next.
Once & Future is a humorous, enterprising, and refreshing read. I dare you not to love it!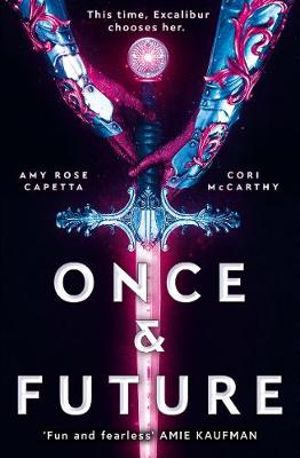 Once & Future
Ari Helix has been an illegal immigrant in the galaxies for as long as she can remember. But when her spaceship crashes on Old Earth and she pulls a magic sword from an ancient willow, her destiny becomes set in stone.
As the forty-second reincarnation of King Arthur she must save humanity from tearing itself apart, with only the help of an adolescent wizard named Merlin.
This female king must battle for her right to be herself, take down totalitarian governments and unite the world. How hard could that be?
About the Contributor
Before entering the exciting world of books, Bronwyn served in the Royal Australian Air Force, travelled extensively and worked (still does!) as a barista on the weekends. Books are her true passion. Bronwyn's debut fantasy novel Relic is coming out in 2019 with indie publishing house Talem Press. They are to publish her entire trilogy called The Relic Trilogy. In her spare time, Bronwyn writes, reads and enjoys keeping fit (which she undoes by eating loads of chocolate) with Martial Arts and personal training. She can't answer what her favourite book is but she has a soft spot for Peter Pan (J.M Barrie), Outlander (Diana Gabaldon), Stardust (Neil Gaiman), The Illuminae Files (Jay Kristoff and Amie Kaufman) and Six of Crows (Leigh Bardugo). Fantasy, sci-fi and YA make up the majority of her bookshelves.
Follow Bronwyn: Twitter