To anyone on the outside, Georgina Dent was living her dream life.
She was a bright student who studied law and managed to land an amazing job at a prestigious firm after graduating with excellent marks. She was also living in Sydney with her adoring boyfriend and by all accounts couldn't be happier.
On the inside, however, it was a very different story.
Georgie was a born worrier, whose particular brand of perfectionism tended to take the form of harsh self-criticism.
"I was really mean to myself all the time and I didn't think anything I did was good enough," she said.
To make matters worse, Georgie was diagnosed with Chrohn's disease at the age of nineteen, and then endometriosis not long afterwards. Both conditions would come to have a huge impact on her life.
Before long, Georgie was having to take multiple sick days after experiencing episodes of dizziness that left her unable to walk, in a work environment that was already stressful and cutthroat.
She eventually became unemployed, moved back into her parents' home, and had a nervous breakdown that resulted in an extended stay in a psychiatric hospital. It was then that Georgie finally had to face the fact that her mental health was having a devastating impact on her physical health.
"I was really living with unsustainable pressure," she said.
Twelve years later, Georgie has come an unbelievably long way, and is able to manage her condition after receiving the support she so desperately needed. A short time ago, she decided that she wanted to tell her story and her book Breaking Badly: How I Worried Myself Sick was born. It's a heartfelt and bracing memoir that looks directly at the realities of living with ill health, both physical and mental.
"I actually didn't think there was another way to live, I thought everybody had the same voices that I had in my head," said Georgie.
"It wasn't until really when I fell apart and had some very intensive therapy that I came to realise that being terrified all the time and berating yourself constantly is actually not the way everyone has to live and, better than that, you can actually change it."
After having poor experiences with doctors who didn't take her seriously, it took the kindness and understanding of a 70-year-old doctor in her hometown of Lismore for Georgie to feel that her pain was finally being acknowledged. It became a vital catalyst for her determination to get better.
"That was the first time I had an inkling of hope that something could help me," she said.
Georgie now works as a journalist and editor, and is a passionate advocate for gender equality. She married her boyfriend and has three children, all girls, and she hopes that this book can help to broaden the conversation around mental health that is finally flourishing.
"It is ultimately a story of hope and of what is possible."
Georgie was at Booktopia this morning signing some copies of Breaking Badly before sitting down to chat with Booktopia's Joel Naoum and Olivia Fricot all about the book – have a listen!
Limited signed copies of Breaking Badly are available to pre-order now – you can find them here.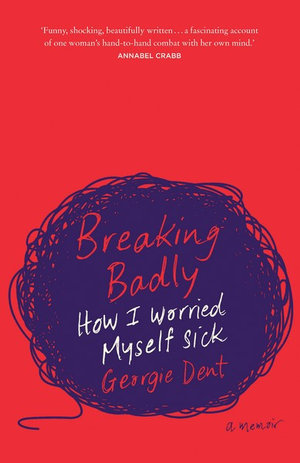 Breaking Badly
At 24, life was good for Georgie Dent. After graduating with top marks she landed her dream job at a prestigious Sydney law firm and moved in with a boyfriend she adored. She had the world at her feet and no right to break. But she did. Badly. Within a year Georgie was unemployed, back living with her parents and suffering such crippling anxiety that she ended up in a psychiatric hospital.
Breaking Badly is the story of a nervous breakdown in slow motion, a life that fell apart and what it took to put it back together again. Brutally honest and warmly engaging, it's a must-read for anyone who sometimes feels close to the edge.
About the Contributor
Olivia Fricot is the Editor of the Booktopian Blog. After finishing a soul-crushing law degree, Olivia decided that life was much better with one's nose in a book and quickly defected to the world of Austen and Woolf. You can usually find her reading (obviously), baking, writing questionable tweets, and completing a Master's degree in English literature. Just don't ask about her thesis. Olivia is on Twitter and Instagram @livfricot - follow at your own risk.
Follow Olivia: Twitter