Let me just start by saying that I had super high expectations going into We Hunt the Flame because of all the amazing reviews I've seen around for this book. I'm so glad to report that this incredible debut novel by Hafsah Faizal did not disappoint! It was really hard to put down and, when I had to (life, sigh), I found my mind wandering back to the zumra (aka the gang) and their adventures.
The story revolves around Zafira and Nasir. Zafira is a legendary Hunter, revered throughout the land… but no one knows this 'Hunter' is a actually a Huntress. Zafira is more than the Huntress – she is a legendary woman. Fearless, strong, bold… a woman for women to admire.
I've always had a bit of a soft spot for brooding men, so there was no way I wasn't going to love Prince Nasir Ghameq. Nasir presents a dilemma for the reader: he is an assassin. A murderer. Cold-blooded and cold-hearted. But is he? Often the biggest bully in the playground has been bullied mercilessly themselves and the same rings true for Nasir. His suffering has taught him to withdraw from love, friendship, hope, and happiness. Nasir is such a dark character but we start to see cracks forming – thanks to the zumra!
Speaking of the zumra, what's an epic fantasy adventure without lovable and colourful sidekicks?! I fell in love with this gang so easily, but in saying that the rest of the zumra are just as powerful as Zafira and Nasir. Altair, Kifah, and Benyamin all have amazing agency and presence. They're the kind of people I would trust to save the world… so it's a good thing that that's exactly what they set out to do!
The zumra have a very important mission: to find a lost artifact that will restore magic to the land, destroy the cursed Arz forest, and rid their world of evils they don't even know exist yet. They don't start out as a team either. Zafira believes she will be finding this lost artifact all on her own, but when she enters the Sharr – a wasteland filled with nightmarish creatures – she is forced into an unlikely alliance with Nasir, Altair, Kifah, and Benyamin.
Hafsah Faizal also throws in some amazing plot twists that I didn't see coming – which makes it all the more fun!
Passionate, powerful and poignant, with a rich and luscious setting inspired by ancient Arabia to boot, We Hunt the Flame is a killer read and definitely one you won't forget anytime soon.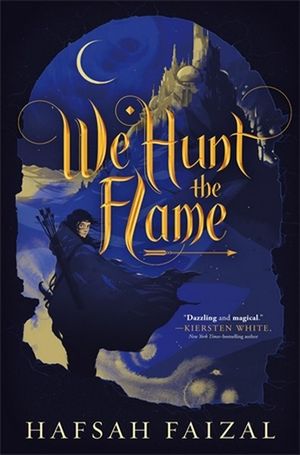 We Hunt the Flame
Zafira is the Hunter, disguising herself as a man to brave the cursed forest of the Arz to feed her people. Nasir is the Prince of Death, assassinating those foolish enough to defy his autocratic father, the king. If Zafira was exposed as a girl, her achievements would be rejected; if Nasir displayed compassion, his father would brutally punish him.
War is brewing in Arawiya, and when Zafira embarks on a quest to uncover an artifact that can restore magic and stop the Arz, Nasir is sent by the king on a similar mission: retrieve the artifact and kill the Hunter. But an ancient evil stirs-and the prize they seek poses a threat greater than either can imagine. Set in a rich world inspired by ancient Arabia, We Hunt the Flame is a story of conquering fear and taking identity into your own hands...
About the Contributor
Before entering the exciting world of books, Bronwyn served in the Royal Australian Air Force, travelled extensively and worked (still does!) as a barista on the weekends. Books are her true passion. Bronwyn's debut fantasy novel Relic is coming out in 2019 with indie publishing house Talem Press. They are to publish her entire trilogy called The Relic Trilogy. In her spare time, Bronwyn writes, reads and enjoys keeping fit (which she undoes by eating loads of chocolate) with Martial Arts and personal training. She can't answer what her favourite book is but she has a soft spot for Peter Pan (J.M Barrie), Outlander (Diana Gabaldon), Stardust (Neil Gaiman), The Illuminae Files (Jay Kristoff and Amie Kaufman) and Six of Crows (Leigh Bardugo). Fantasy, sci-fi and YA make up the majority of her bookshelves.
Follow Bronwyn: Twitter