As a little nine-year-old girl, book characters like Matilda, Madeline, and Hermione Granger were practically my heroes. Had Alice-Miranda Highton-Smith-Kennington-Jones been around, I'm absolutely positive that I would have adored her too.
This bright and plucky little girl, as I'm sure you know, is the main character of the Alice-Miranda series by Jacqueline Harvey – a series that is now up to its 18th book. In these books, readers follow schoolgirl Alice-Miranda on her adventures at Winchesterfield-Downsfordvale Academy for Proper Young Ladies, as she solves mysteries and gets into all sorts of mischief. Alice-Miranda Keeps the Beat is the latest book in the series and it sees the titular heroine deal with quirky school-room politics as she tries to organise a fundraising music festival.
These books are well and truly adored by Aussie kids of all ages, and for good reason – they're smart, they're funny, and they're super enjoyable. Jacqueline, however, never dreamed that the series would be as successful as it is, or that its fans would be so enthusiastic. She revealed that she gets emails every day from young fans, all containing adoration for the series and suggestions for where Alice-Miranda should go next. Last year, she even received an email from a teenage fan who revealed that she took time out from her HSC studies by re-reading the entire Alice-Miranda series!
"I couldn't have imagined the sheer dedication of the Alice-Miranda readership," she said.
Yesterday, Jacqueline came to Booktopia's head office to sign some copies of Alice-Miranda Keeps the Beat, and to sit down for a chat with Sarah McDuling and myself. We talked all about the Alice-Miranda series, especially the upcoming animated TV movie adaptation that will be hitting Aussie screens before long. We then talked about how important it is for boys to read books about girls, what Jacqueline's writing right now, and loads more – have a listen below!
You can also pre-order your signed copy of Alice-Miranda Keeps the Beat here (signed copies won't last long, so get in quick!).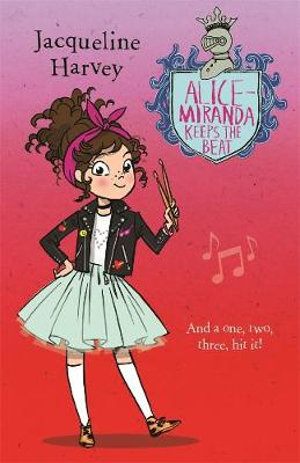 Alice-Miranda Keeps the Beat
And a one, two, three, hit it!
A disaster in Winchesterfield village sees Alice-Miranda and her friends in the middle of the action. The devastating result is a family left without a home, but after a suggestion from a surprising place, the girls make big plans to help. It seems a festival is on the cards!
At school, there's tension in the air with the arrival of a new teacher and a tussle for power between some of the existing staff. There are secrets aplenty too – though some are more dangerous than others. Can Alice-Miranda decipher fact from fiction and ensure the festival's success?
About the Contributor
Olivia Fricot is the Editor of the Booktopian Blog. After finishing a soul-crushing law degree, Olivia decided that life was much better with one's nose in a book and quickly defected to the world of Austen and Woolf. You can usually find her reading (obviously), baking, writing questionable tweets, and completing a Master's degree in English literature. Just don't ask about her thesis. Olivia is on Twitter and Instagram @livfricot - follow at your own risk.
Follow Olivia: Twitter