Get ready for a delightful story! If you're after a fun, heart-warming and grand adventure (for you or the kids) then you don't need to keep looking. Starfell by Dominique Valente is the book you're looking for!
This book is perfect for anyone who has ever felt unworthy, less-than, overlooked, forgotten or ordinary. Willow Moss might be a witch, but she's the least powerful witch in her family. Willow has spent her life being overlooked and mocked for her 'useless' magical ability – the ability to find lost items. Cruelly teased by her older sisters, Willow struggles with powerful feelings of inadequacy. Her only ally is her unusual Grandma 'Granny Floss', who is also mocked by the family.
Then one day, an extremely powerful witch called Moreg Vaine comes to visit Willow, asking for her help. Moreg explains that last Tuesday has gone missing (that's right, the whole day) and she needs Willow's help to find it!
I love this premise. It is so unusual, fun and mysterious. What happened to Tuesday? Why does no-one remember? What happened on that fateful day and, most importantly, who took it away?
Moreg and Willow embark on an amazing journey filled with dragons, trolls, flying broomsticks and monsters under the bed.
Side note: Oswin is my favourite character! Adamant that he really is a scary monster (he is most certainly NOT part-cat), Oswin mutters bitter and comical commentary from inside a bag the whole journey. He's almost like the little devil on Willow's shoulder. He's great. Great.
What I love about this story is it shows Willow (and the readers) that no matter how alone we feel, we are never really alone. Along the way, Willows meets all different types of people and species. No matter their physical differences, they all have something in common: they are segregated from their communities in some way. They, too, feel like they are alone. Unusual. Different. Unworthy. Not to mention that they all are missing Tuesday too!
So Willow picks up team members throughout her journey and together they try to solve the mystery of the missing Tuesday!
Diabolical twists, laugh-out-loud humour and heart-warming friendships await you in Starfell!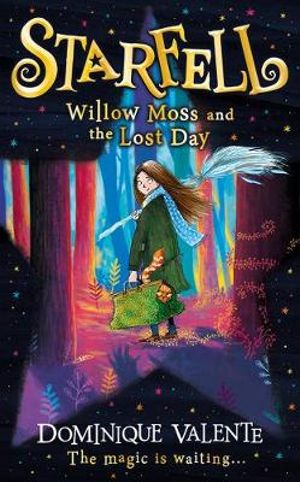 Starfell
Willow Moss and the Lost Day
The most spellbinding new children's fantasy series of 2019, with beautiful black-and-white inside illustrations by Sarah Warburton. Perfect for fans of Cressida Cowell and Nevermoor.
Willow Moss, the youngest and least powerful sister in a family of witches, has a magical ability for finding lost things – like keys, or socks, or wooden teeth. Useful, but not exactly exciting . . .
Then the most powerful witch in the world of Starfell turns up at Willow's door and asks for her help. A whole day – last Tuesday to be precise – has gone missing. Completely. And, without it, the whole universe could unravel.
Now Willow holds the fate of Starfell in her rather unremarkable hands . . . Can she save the day – by finding the lost one?
Step into Starfell, a world crackling with warmth, wit and magic.
About the Contributor
Before entering the exciting world of books, Bronwyn served in the Royal Australian Air Force, travelled extensively and worked (still does!) as a barista on the weekends. Books are her true passion. Bronwyn's debut fantasy novel Relic is coming out in 2019 with indie publishing house Talem Press. They are to publish her entire trilogy called The Relic Trilogy. In her spare time, Bronwyn writes, reads and enjoys keeping fit (which she undoes by eating loads of chocolate) with Martial Arts and personal training. She can't answer what her favourite book is but she has a soft spot for Peter Pan (J.M Barrie), Outlander (Diana Gabaldon), Stardust (Neil Gaiman), The Illuminae Files (Jay Kristoff and Amie Kaufman) and Six of Crows (Leigh Bardugo). Fantasy, sci-fi and YA make up the majority of her bookshelves.
Follow Bronwyn: Twitter