This is one of those books that really hits the ground running – literally!
We first meet Lena, one of our main protagonists, on the run for her life. Condemned as a mage in a city that abhors magic, Lena has no choice but to flee, to find the only people that will help her: those with powers like hers. Meanwhile, our other protagonist Constance is trying to get back into the city, having fled years before when her own powers emerged.
First of all, I love the mystery of this story! The city is shrouded in a powerful and terrifying storm, which the powers-that-be believe is the work of a mage. Constance arrives in the midst of a literal witch-hunt to find the source of the storm. As the reader, you are just as in the dark as they are, but Constance seems to know more than she lets on. It was this mystery that drove me to fly through this book.
What is Constance looking for? What will happen to the good people inside the city? Will Lena discover more about herself and her unusual powers?
Constance and Lena meet briefly in the forest at the beginning of the novel, completely unaware of their importance to one another, and you just know that the climax of the story rests on their reunion. Jumping back and forth between the perspectives of Constance and Lena throughout the book had me itching for them to join forces!
With a fascinating magic system, powerful female leads and fast-paced action, We Are Blood and Thunder by Kesia Lupo is a must-have for any fantasy lover's bookshelf!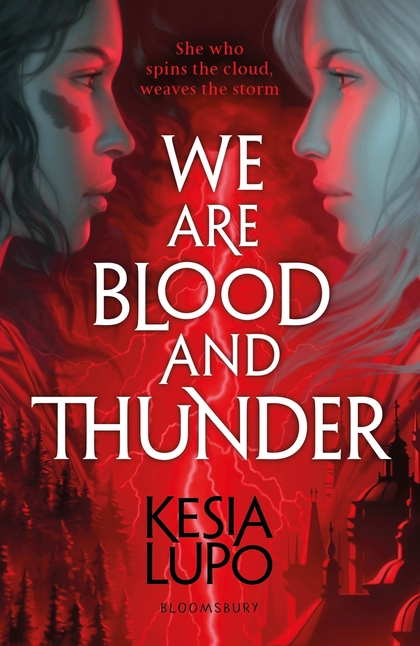 We Are Blood and Thunder
A stunning and original YA fantasy from a fantastic new talent. Perfect for fans of Leigh Bardugo and Laini Taylor
In a sealed-off city, a young woman, Lena, is running for her life. She has been sentenced to death and her only way to survive is to trust those she has been brought up to fear – those with magic. On the other side of the locked gates is a masked lady, Constance, determined to find a way back in. Years ago she escaped before her own powers were discovered. But now she won't hide who she is any longer...
About the Contributor
Before entering the exciting world of books, Bronwyn served in the Royal Australian Air Force, travelled extensively and worked (still does!) as a barista on the weekends. Books are her true passion. Bronwyn's debut fantasy novel Relic is coming out in 2019 with indie publishing house Talem Press. They are to publish her entire trilogy called The Relic Trilogy. In her spare time, Bronwyn writes, reads and enjoys keeping fit (which she undoes by eating loads of chocolate) with Martial Arts and personal training. She can't answer what her favourite book is but she has a soft spot for Peter Pan (J.M Barrie), Outlander (Diana Gabaldon), Stardust (Neil Gaiman), The Illuminae Files (Jay Kristoff and Amie Kaufman) and Six of Crows (Leigh Bardugo). Fantasy, sci-fi and YA make up the majority of her bookshelves.
Follow Bronwyn: Twitter