Tony Birch, the acclaimed author of such books as Blood, Ghost River, and Common People, is back with a compelling new novel, The White Girl.
It's the story of an indigenous woman, Odette Brown, and her granddaughter Sissy, who live on the outskirts of a rural town in south eastern Australia in 1963, a time when the removal of indigenous children from their families was still very much enforced under the Aboriginal Protection Act (1869). When new policeman Sergeant Lowe comes to town, determined to uphold the Act to the letter, Odette must make some difficult choices in order to protect the granddaughter she loves so much.
It's a compelling book about the capacity of the human spirit for courage under duress, but it's also an important story about a dark period of Australian history told by an indigenous voice.
The White Girl is the result of meticulous historical research, thanks to Birch's background as an academic researching legislation on Aboriginal identity and family removal. This research materialises in the book through the careful revelation of insightful details – in one scene, Odette is legally required to ask for permission from the police to leave the town and travel to the city. The novel maintains the compelling narrative propulsion of good storytelling but it tells its story with empathy and care, something which Birch was careful to achieve.
"There's an inability as a nation to see ourselves as we really are. If fiction can open up a discussion which provides a more honest assessment of ourselves as a nation… I think it's doing very good work." Birch said.
Being a historian, however, he is wary of people treating fiction books as if they are doing the work of rigorous historical research.
"I don't fall back on the excuse of 'it's only fiction'… Fiction has a very particular role in the intellectual and cultural discussion that we need to have… to get to a more responsible, ethical understanding of who we are and where we want to go."
What Birch ultimately hopes for is that readers come away from The White Girl with a greater understanding of and compassion for the experiences of indigenous people living under the Aboriginal Protection Act. Having read the book myself, I can say with certainty that he has succeeded.
Tony Birch came in to Booktopia's head office to sign copies of The White Girl and to sit down for a chat with myself and Ben Hunter, which ended up being a fascinating discussion about the history of the treatment of Aboriginal people, how to write a convincing villain like Sergeant Lowe, and the responsibility of being a writer of fiction that deals with real and horrifying events. Listen below!
The White Girl is released on 4 June – pre-order your copy here.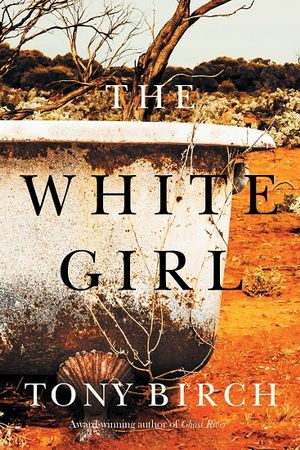 The White Girl
Odette Brown has lived her whole life on the fringes of a small country town. Raising her granddaughter Sissy on her own, Odette has managed to stay under the radar of the welfare authorities who are removing Aboriginal children from their communities. When the menacing Sergeant Lowe arrives in town, determined to fully enforce the law, any freedom that Odette and Sissy enjoy comes under grave threat. Odette must make an impossible choice to protect her family.
In The White Girl, Tony Birch has created memorable characters whose capacity for love and courage are a timely reminder of the endurance of the human spirit.
About the Contributor
Olivia Fricot is the Editor of the Booktopian Blog. After finishing a soul-crushing law degree, Olivia decided that life was much better with one's nose in a book and quickly defected to the world of Austen and Woolf. You can usually find her reading (obviously), baking, writing questionable tweets, and completing a Master's degree in English literature. Just don't ask about her thesis. Olivia is on Twitter and Instagram @livfricot - follow at your own risk.
Follow Olivia: Twitter