"I've never been in fashion and I'm not about to start." says Sarah Perry.
It's a wonderful declaration of self-confidence from an author who has just held an entire room spellbound at her panel at the Sydney Writers' Festival like it was no big deal. We're now sitting in a cosy little office upstairs somewhere at Carriageworks, where I'm chatting to her about our mutual love of Gothic fiction, the ethics of consuming and creating art, and, of course, her latest novel Melmoth.
So, what is Melmoth? It's a modern, multi-faceted story based on the 1820 Gothic novel by Charles Maturin called Melmoth the Wanderer, about a figure who is cursed to wander the earth for all eternity bearing witness to the world and all of its evils. Sarah's novel has threads in many different times and places that it weaves together to create a story centred around the novel's self-punishing protagonist Helen Franklin. Helen is a woman trying to atone for something terrible she did many years ago, and who discovers an unsettling ancient manuscript telling the story of Melmoth.
Melmoth is a true Gothic horror story with a modern twist, leaning into all of the sensibilities of the genre for a reading experience that is deliciously sensory. While reading it, you might find yourself looking over your shoulder more often than usual, or giving that pile of washing in the corner a second glance, convinced for just a second that it was Melmoth standing there.
I loved it when I first read it and I thoroughly enjoyed revisiting it now. More than anything I was struck by how timely it seems, as if right now is the perfect time to bring this haunting 19th century figure to life, and this was completely Sarah's intention.
"Melmoth is my way of insisting that literature can matter and a way of addressing what's happening around us." she said.
This book is the third in Sarah Perry's unofficial Gothic trilogy, comprised of After Me Comes the Flood and the bestselling The Essex Serpent, and it shares all of the elements which made her first two books so brilliant and which made Sarah herself so beloved by her readers.
This adoration continues to surprise the author, who jokes that her books are quite old-fashioned in the sense of the way they're written (with beautifully flowing cadences and rhythm, borrowed from the Bible verses she read as a child), and the heavy concepts they address. The idea of belief is central to many of her novels – belief in a higher power, belief in a supernatural entity, belief in science – and it's a topic very close to Sarah's heart. She had a deeply religious upbringing which came to shape her entire worldview as an adult, even after drifting away from the church. Perry is a natural storyteller, though, and her novels never feel preachy or condescending.
"I would find it very difficult and I think it would be futile to write against who I am." she says, and her books are all the richer for it.
Sarah also revealed the exciting news that she is working on something new. It's a more personal work for the author, who sees herself as tying up the loose ends of a vast Gothic project.
"I feel like I've investigated the sensation and now I want to move on… but at the same time I think I'm always going to be a little bit haunted by that feeling."
Consider me excited – listen to my chat with Sarah Perry below!
Melmoth is available now.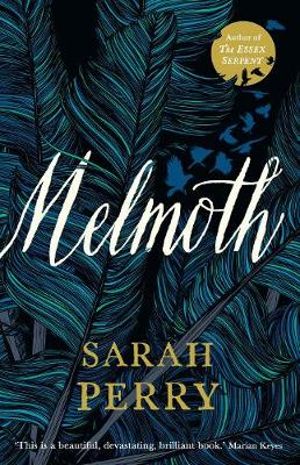 Melmoth
Twenty years ago Helen Franklin did something she cannot forgive herself for, and she has spent every day since barricading herself against its memory. But the sheltered life she has crafted for herself is about to change.
A strange manuscript has come into her possession, and its contents have the power to unravel every strand of her fragile safety net. It is filled with testimonies from the darkest chapters of human history, which all record sightings of a tall, silent woman in black, with unblinking eyes and bleeding feet: Melmoth, the loneliest being in the world. Condemned to walk the Earth forever, she tries to beguile the guilty and lure them away for a lifetime wandering alongside her...
About the Contributor
Olivia Fricot is the Editor of the Booktopian Blog. After finishing a soul-crushing law degree, Olivia decided that life was much better with one's nose in a book and quickly defected to the world of Austen and Woolf. You can usually find her reading (obviously), baking, writing questionable tweets, and completing a Master's degree in English literature. Just don't ask about her thesis. Olivia is on Twitter and Instagram @livfricot - follow at your own risk.
Follow Olivia: Twitter