How far would you run to escape your life?
This is the question at the heart of Fatima Bhutto's new novel, The Runaways, a searing portrayal of three young people searching for meaning and identity in Pakistan and the U.K. while the spectre of radicalism looms over them.
Anita Rose and Monty live in the same city, Karachi, yet are worlds apart. Monty is the son of one of the richest businessmen in the city, while Anita Rose lives in the slums with her mother and brother. Meanwhile, in Portsmouth, young Sunny is the lonely son of an immigrant from India who is pulled into the dangerous thrall of his charismatic cousin Oz.
In the words of the author, they are three vulnerable characters who make terrible decisions and end up somewhere they never thought they would.
"The Runaways is a novel about what people don't understand about radicalism, but more specifically what they don't understand about the radicalised." Bhutto says.
Part of what makes The Runaways so compelling is its exploration of culture and the ways in which it mixes with dangerous ideas in the minds of the vulnerable. The way that the characters consume pop culture in particular is a fascinating part of the novel, emblematic of not only how all-consuming Western culture is but also of how it functions as a kind of shared language for young people all over the world. Bhutto's characters use Tinder, listen to Frank Ocean, use Samsung phones, and crave to be named like Western movie stars, all in the name of finding some semblance of meaning in their lives.
It's a fascinating and haunting novel, and we consider ourselves incredibly lucky to have had Fatima visit Booktopia earlier this week. She took some time from her busy schedule at the Sydney Writers' Festival to sign some copies of The Runaways and sit down for a podcast with myself and Booktopia's fiction specialist Ben Hunter – listen below.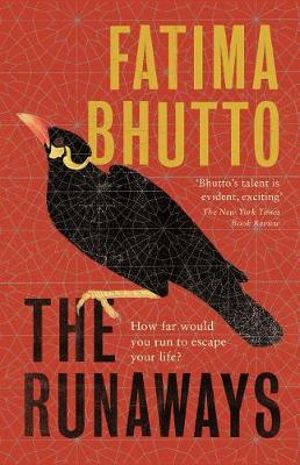 The Runaways
How far would you run to escape your life?
Anita lives in Karachi's biggest slum. Her mother is a maalish wali, paid to massage the tired bones of rich women. But Anita's life will change forever when she meets her elderly neighbour, a man whose shelves of books promise an escape to a different world.
On the other side of Karachi lives Monty, whose father owns half the city and expects great things of him. But when a beautiful and rebellious girl joins his school, Monty will find his life going in a very different direction...
About the Contributor
Olivia Fricot is the Editor of the Booktopian Blog. After finishing a soul-crushing law degree, Olivia decided that life was much better with one's nose in a book and quickly defected to the world of Austen and Woolf. You can usually find her reading (obviously), baking, writing questionable tweets, and completing a Master's degree in English literature. Just don't ask about her thesis. Olivia is on Twitter and Instagram @livfricot - follow at your own risk.
Follow Olivia: Twitter