Calling all Alex Rider fans: Anthony Horowitz's bestselling action adventure series for kids has a brand new addition: Alex Rider: Secret Weapon!
This book is an essential collection of seven explosive Alex Rider stories, three of which are brand new and have never been seen before. Die-hard fans of the series are absolutely going to love this book, but it's also the perfect place for readers who are new to the series to start.
This book comes hot on the heels of the news that British actor Otto Farrant (War and Peace, Mrs Wilson) will take on the role of the legendary superspy Alex Rider in the upcoming TV series based on the books.
This eight-part series, commissioned by Eleventh Hour Films and Sony Pictures Television and helmed by Guy Burt, will begin with the second book in the series, Point Blanc. In this book, Alex Rider must infiltrate an exclusive school for rich kid rebels in order to discover the truth about the "accidental" deaths of two powerful men (click here for more info).
The series will be here before you know it, as will the 12th Alex Rider novel, Nightshade (due for release later this year). In the meantime, you can read an excerpt from Alex Rider: Secret Weapon below or browse the rest of the series here.
Alex Rider: Secret Weapon is out now.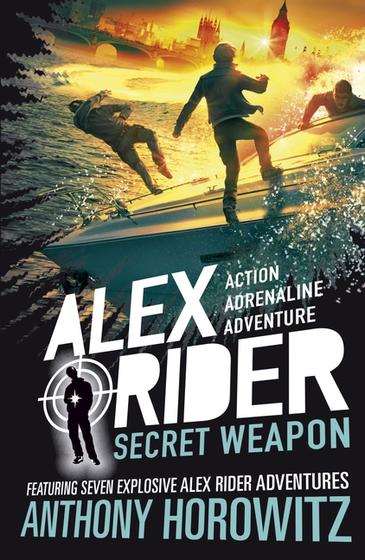 Alex Rider: Secret Weapon
Alex Rider: Book 3.5
An essential collection of seven explosive Alex Rider stories by number one bestselling author, Anthony Horowitz.
Ever since MI6 recognised his potential, Alex Rider has constantly been thrust into the line of danger. From a routine visit to the dentist that turns into a chase through the streets of London, to a school trip with a deadly twist, no day has ever been ordinary for the teenage super-spy. This collection of seven thrilling adventures features familiar and new assailants from the best-loved world of Alex Rider, and also includes three, brand new and action-packed adventures...
About the Contributor
Olivia Fricot is the Editor of the Booktopian Blog. After finishing a soul-crushing law degree, Olivia decided that life was much better with one's nose in a book and quickly defected to the world of Austen and Woolf. You can usually find her reading (obviously), baking, writing questionable tweets, and completing a Master's degree in English literature. Just don't ask about her thesis. Olivia is on Twitter and Instagram @livfricot - follow at your own risk.
Follow Olivia: Twitter