Gravity is the Thing is one of those rare and beautiful books that manages to find the perfect balance between heartwarming and heartbreaking.
This is a book about grief and loss, but it is also a book by Jaclyn Moriarty, which means that literally every page is infused with gentle off-beat humour, sharp intelligence, and vivid emotion. While reading this book, I felt my eyes pricking with tears, even as I was laughing out loud. That's honestly one of my favourite things about Gravity is the Thing. It didn't just give me all the emotions… it gave me all the emotions simultaneously.
This wonderful book presents readers with a highly original and unexpected story. In fact, I'm reluctant to give too much detail because a) spoilers! and b) I honestly feel that it's better to go into this story without knowing what to expect. If you know too much, you might get the mistaken impression that this is a far-fetched or unbelievable tale. Nothing could be further from the truth.
One thing I have always loved about Jaclyn Moriarty's books is that she has a marvellous talent for making the most unexpected and unlikely events feel totally grounded in reality. This is true of her Ashbury/Brookfield series of YA novels, as well as her YA fantasy series, and her most recent middle grade series. All of these books are full of unpredictable plot twists, highly idiosyncratic characters, and some incredible leaps of imagination (all wrapped up in layers of delightful charm and humour). At the same time, they are all stories that feel completely true to life because they are anchored by such complex and deftly drawn characters.
Which brings us to Gravity is the Thing. It's the story of a woman called Abigail, who carries a lot of pain and unanswered questions. Her brother has been missing since she was a teenager and she lives in the shadow of not knowing what happened to him. She is also struggling to process the breakdown of her marriage while raising her young son and running her own business. Since around the same time her brother disappeared, Abigail has been receiving chapters of a mysterious self help book called The Guidebook. The story begins with Abigail setting out for a all-expenses-paid retreat which promises to finally reveal the truth behind The Guidebook – exactly who wrote it and why they have been sending chapters to her for all these years.
And that's all I will say about the plot because honestly, that's probably more than you need to know!
This is Jaclyn Moriarty's adult fiction debut (not counting I Have a Bed Made of Buttermilk Pancakes which is one of those magical books that defies restriction to a single genre/age range) and it is simply a delight to read – uplifting, beautiful, deeply moving, and incredibly insightful. It's also funny and sweet and original and very clever! Have I used up all the adjectives yet? Well too bad, because this book deserves them all!!
---
Gravity is the Thing is available now.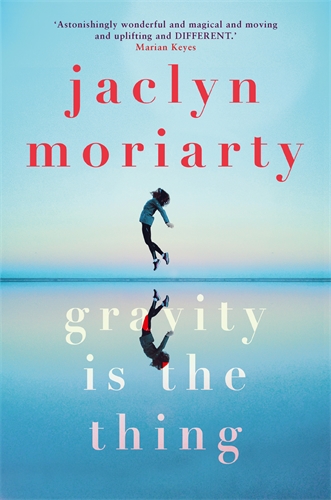 Gravity is the Thing
Abigail Sorensen has spent her life trying to unwrap the events of 1990.
It was the year she started receiving random chapters from a self-help book called The Guidebook in the post. It was also the year Robert, her brother, disappeared on the eve of her sixteenth birthday. She believes the absurdity of The Guidebook and the mystery of her brother's disappearance must be connected.
Now thirty-five, owner of The Happiness Café and mother of four-year-old Oscar, Abigail has been invited to learn the truth behind The Guidebook at an all-expenses-paid retreat. What she finds will be unexpected, life-affirming, and heartbreaking.
A story with extraordinary heart, warmth and wisdom.
About the Contributor
Sarah McDuling is Booktopia's Category Manager for Children's and Young Adult Books. She has been in the bookselling game for almost a decade and a dedicated booklover since birth (potentially longer). At her happiest when reading a book, Sarah also enjoys talking/writing/tweeting about books. In her spare time, she often likes to buy a lot of books and take photographs of books. You can follow her on Twitter and Instragram @sarahmcduling
Follow Sarah: Twitter