I could kiss this book. I'm Fine (and other lies) was such an unexpected wonder, as its central subject was not really on my radar.
That subject is postnatal depression, a condition that is experienced by more than 1 in 5 new mums in Australia each year. Before reading I'm Fine I knew very little of this condition, and although that statistic suggests that clearly some of my friends and relatives have suffered from it, I am oblivious as to whom. This brilliant and incredibly candid book woke me up, making me reappraise all the mothers in my life and wonder how many struggle to cope and how they could have been helped.
This is not a dry book offering self-help and useless facts, but a memoir of a harrowing experience described with honesty and humour. It is perhaps also a cautionary account of a trip to hell. New mums expect parenthood to be joyful bliss, and the fog of postnatal depression with its confusion and resentment can overwhelm. It is hard enough to cope with acute mental illness, but it is harder to do so whilst everyone is gushing about how happy you must be.
I'm Fine (And Other Lies) engages you immediately. Debut writer Megan Blandford can write, and she does so very well indeed. Describing herself as "more of a practical-minded, straight shooting sort," Megan says she was "born with a blunt tongue that held back no honesty." And so she delivers a spectacularly frank book that lets sunlight into all the dark places. Perhaps the power of her story is the contrast of her in-charge multitasking personal style unexpectedly meeting a condition she cannot understand, yet alone conquer. Megan is a problem-solver, a person in control. Postnatal depression is her black swan, a threat to her ability to balance everything, have everything or even handle the day. How will she cope?
This story is raw and very personal. Blandford does not wax lyrical about her pain but confesses her every fault and offers the survivor's truth to your judgement. As the title suggests, she is facing the lies. She is not selling herself for approval, and is blunt about how she has lashed out at her husband and family. As she describes her depression she tells it as a dialogue, her depressed doubting self heckling down every moment of positive help or chance. Therein lies some of the best writing on depression that I've ever encountered.
Much of her depression is also exacerbated by those around her, from strangers in the park to her relatives and neighbours. Up against the conditional support of others who'd rather not hear your problems (or so you suspect), there is the pressure to be 'up' with it and perfectly in control.
Society expects the quick fix, and is intolerant of uncomfortable truths. Mothers should have it all, and we only applaud the aspirant trophy life. Thank god for those who are supportive – Megan's husband Steve and her mother in particular are heroes.
In this book there is no fat narrative padding, no indulgent pain-porn or wallowing in the suffering. Instead it is reportage from a trip you'd rather not go on. Thankfully what we are gifted is of great value: things that helped, precious moments of insight, and the joy of breakthrough. The author skilfully and succinctly observes her journey through depression, offering just the right amount of vivid episodes and clear snapshots. There is advice on healing and warnings but there is no glib didacticism. The hope of Megan's recovery through small steps is all the more precious and resonant because of this humility.
I'm Fine (and other lies) leaves you with this thought: the secret to coping is to not hide. This book seemingly hides nothing, showing everything plain regardless of narrative arc. But it is more than a horror tale. This is also an uplifting love story, a tribute to the joys and sorrows of marriage and family, and to those that just help others.
As a testament to the strength and fragility of mothers ( and the burdens they carry in plain sight that we choose not to see), perhaps I'm Fine is the Mother's Day read we all owe ourselves. Beautifully written, moving and powerful, it is a challenge to the stigma of not just postnatal depression, but all mental illness. I am so very glad I read this uplifting book and I look forward to more writing from Megan Blandford.
---
I'm Fine (and other lies) is available now.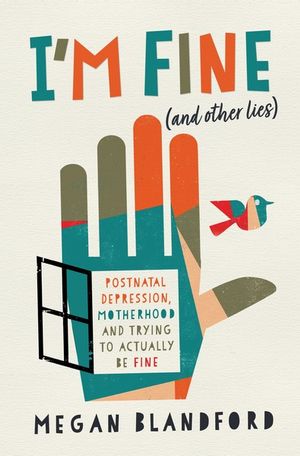 I'm Fine (and other lies)
Postnatal depression, motherhood, and trying to actually be fine
With her career down the toilet, a husband who was never home, a baby screaming non-stop and her cries for help falling on deaf ears, Megan Blandford spent years saying, "I'm fine".
Spoiler alert (not really): she wasn't fine.
Megan sank into postnatal depression and anxiety, with a highly negative inner voice leading the charge in the battle for better mental health. Until Megan faced a life-changing question: What if the enemy inside isn't the enemy after all?...
About the Contributor
Robert O'Hearn is the non-fiction specialist at Booktopia HQ. He has been a bookseller for over three decades and can't seem to stop. He is an aspiring apiarist and likes playing Joy Division songs on mandolin. He is generally harmless.
Follow Robert: Twitter