As one of Australia's most prominent and popular storytellers, Peter FitzSimons is in the business of captivating readers with incredible true stories. His books are history as good old-fashioned storytelling, putting life and soul into tales of human triumph in the face of adversity, and his latest book, The Catalpa Rescue, is no different.
It tells the fascinating story of the rescue of 6 Irish political prisoners from Fremantle Prison in Western Australia in 1874. Enraged by their unjust imprisonment, members of the Clan-na-Gael (agitators for Irish freedom) led by exiled Irishman John Devoy hatched a daring escape plan for these men from half a world away in New York City. It's an underdog tale of Irish victory that is so fantastic it can scarcely be believed – and most Australians don't even know that it happened!
According to Peter, this is a story that "has Hollywood written all over it," and it's certainly cinematic in scope. It's a thrilling and triumphant adventure but also an incredibly moving love story, one that Peter is determined to bring to Aussie readers.
"I was weeping when I put it together and worked out what happened in the end." Peter says.
It's crystal clear to his readers that Peter FitzSimons has an undeniable love of the richness and diversity of Australian history. It's tragic, inspirational, romantic, and exotic all at once, and more and more Australians are coming to know and appreciate it thanks to Peter.
We were lucky enough to have him come to Booktopia's head office yesterday to sign hundreds of copies of The Catalpa Rescue, before sitting down with us to have a good long chat about the book.
Listen to our podcast below to hear all about how Peter delved into his own Irish family history for this book, how Western Australia has all of the best-kept historical secrets, and also to hear a few hints about his next project…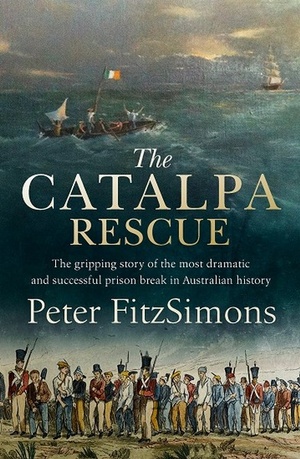 The Catalpa Rescue
The incredible true story of one of the most extraordinary and inspirational prison breaks in Australian history.
New York, 1874. Members of the Clan-na-Gael - agitators for Irish freedom from the English yoke - hatch a daring plan to free six Irish political prisoners from the most remote prison in the British Empire, Fremantle Prison in Western Australia. Under the guise of a whale hunt, Captain Anthony sets sail on the Catalpa to rescue the men from the stone walls of this hell on Earth known to the inmates as a 'living tomb'. What follows is one of history's most stirring sagas that splices Irish, American, British and Australian history together in its climactic moment...
About the Contributor
Olivia Fricot is the Editor of the Booktopian Blog. After finishing a soul-crushing law degree, Olivia decided that life was much better with one's nose in a book and quickly defected to the world of Austen and Woolf. You can usually find her reading (obviously), baking, writing questionable tweets, and completing a Master's degree in English literature. Just don't ask about her thesis. Olivia is on Twitter and Instagram @livfricot - follow at your own risk.
Follow Olivia: Twitter