On the blog today is Victoria Purman, an award-nominated, bestselling Australian author. Her previous books include The Three Miss Allens (2016) and The Last of the Bonegilla Girls (2018). Today is the release day for her latest novel, The Land Girls, which is a moving story of love, loss, and survival amongst the women of the Australian Women's Land Army.
Victoria has worked in and around the Adelaide media for nearly thirty years as an ABC television and radio journalist, a speechwriter to a premier, political adviser, editor, media adviser, and private-sector communications consultant. She is also a regular guest at writers' festivals, and has been nominated for a number of readers choice awards.
Today Victoria answers our Ten Terrifying Questions…
---
1. To begin with, why don't you tell us a little bit about yourself – where were you born? Raised? Schooled?
I'm an Adelaide gal, born and bred, but I'm a first generation Australia with European parents (see The Last of the Bonegilla Girls for that story!) I studied journalism at university and started my working life as an ABC journalist.
Since then, I've written for a living in all kinds of ways, from speeches to media releases and communications campaigns. My first book was published by Harlequin in 2013 and what a wild ride it's been since then. The Land Girls is my eighth single title with them.
2. What did you want to be when you were twelve, eighteen and thirty? And why?
At twelve, I wanted to be one of The Jordanaires, Elvis Presley's back-up singers. Never mind that they were a world away and all men. My mum was a huge Elvis fan and it rubbed off on me, clearly. At eighteen, I wanted to be a journalist. And at thirty I wanted to be a novelist, but I had no idea back then about how to make that come true.
3. What strongly held belief did you have at eighteen that you do not have now?
At eighteen, I was convinced I would never have children because they would get in the way of a career and my aim to change the world. (I'd just read Miles Franklin's My Brilliant Career). Now I have three adult sons and yes, Miles was right about them getting in the way of a career, but I wouldn't change a thing. I'm a firm believer in the fact that you can have it all, just not at the same time.
4. What were three works of art – book or painting or piece of music, etc – you can now say had a great effect on you and influenced your own development as a writer?
Harper Lee's To Kill a Mockingbird was seminal to me as a child. She taught me that it was right to fight for injustice. Joni Mitchell's album Blue taught me about the power of lyrics and ABBA's "Dancing Queen" taught me the importance of having fun.
5. Considering the innumerable artistic avenues open to you, why did you choose to write a novel?
I have always loved reading and words and books. I tried to learn the piano but found reading music impossible, and I can't draw. Words are powerful. They can tell stories. They can fight for justice. They can make people laugh or cry. I'm a word gal through and through.
6. Please tell us about your latest novel…
The Land Girls brings to life the little-known stories of the women who joined the Australian Women's Land Army in World War Two.
More than 6,000 women answered the call to 'do it for the boys', and they left cities and jobs and all the comforts and familiarities of home to move to the country to farms and orchards to do the work once done by men. They believed themselves to be ordinary women, only doing what duty demanded, and through their efforts, Australia was able to keep its citizens and its troops fed. They worked in shearing sheds, to herd sheep and class wool. On farms all over the country, they picked grapes and potatoes and oranges and cherries and onions. When Australia was forced to create a flax industry, because European flax supplies had been so severely disrupted, they harvested flax.
These women not only discovered a new-found sense of freedom, but among the other Land Girls, they met friends they turned to in their darkest hours. For they had loved ones fighting abroad too, and suffered their own grief and losses. After the war, their work and sacrifices were largely forgotten, and I hope my book brings their adventures, toil and sacrifices to light.
7. What do you hope people take away with them after reading your work?
I hope readers finish the last page in awe of the incredible contribution the Land Girls made to Australia's war effort, and then ask the question – why didn't I know about these women and the thousands of others who made history who are missing from our stories about ourselves and the development of our nation?
8. Who do you most admire in the realm of writing and why?
I am a huge fan of Nora Roberts and not only for her writing, which I think is always under-rated and overlooked because she's a woman and she writes romance. She's a brilliant storyteller. She's supportive of other writers (especially in the recent #CopyPasteCris plagiarism scandal) and she tells it like it is. She's never afraid to defend herself from haters, she's fierce and her work ethic if off the charts. She says the secret to success is "get your ass in the chair" and I couldn't agree more.
More broadly, I admire the brilliant booksellers I've met over the years. It's never easy running a small business but they do it for the love of books and for that, I'll be forever grateful to them.
9. Many artists set themselves very ambitious goals. What are yours?
While I might flippantly say I'd love to make the New York Times bestseller list one day, my real goal is a more grounded one. I hope to be able to continue writing books that tell the untold stories of incredible Australian women who've been overlooked by history.
10. What advice do you give aspiring writers?
I regularly present workshops and my first piece of advice is: read. Read some more. And then read something else. Go to workshops. Seek out writing organisations and groups and immerse yourself in the writing world. Find people who write what you want to write and learn from them. And then get typing. Be patient. Don't forget to be a good, kind and generous person along the way. And always aim to get better.
Thank you for playing!
---
The Land Girls is out now.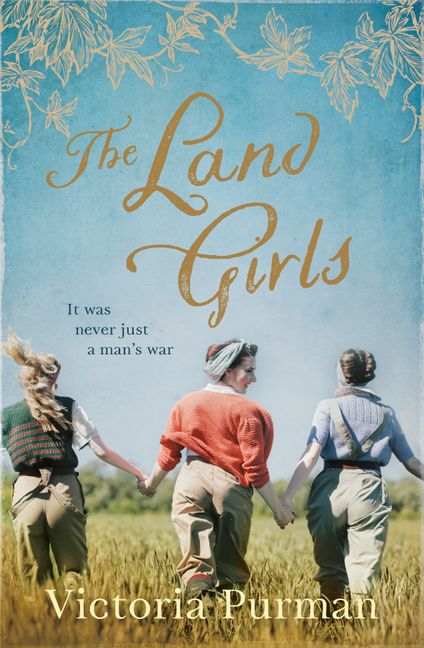 The Land Girls
It was never just a man's war...
Melbourne,1942. War has engulfed Europe and now the Pacific, and Australia is fighting for its future. For spinster Flora Atkins, however, nothing much has changed. Tending her dull office job and beloved brother and father, as well as knitting socks for the troops, leaves her relatively content. Then one day a stranger gives her brother a white feather and Flora's anger propels her out of her safe life and into the vineyards of the idyllic Mildura countryside, a member of the Australian Women's Land Army...
About the Contributor