There are few things that Booktopians love more than tea and good books by legendary authors.
So, when Bloomsbury Australia asked if Sarah McDuling and I would like to have tea with Sarah J. Maas (high tea at the gorgeous tea room in Queen Victoria Building, to be precise) we simply couldn't say no.
Along we went – and it was just as magical as you'd expect.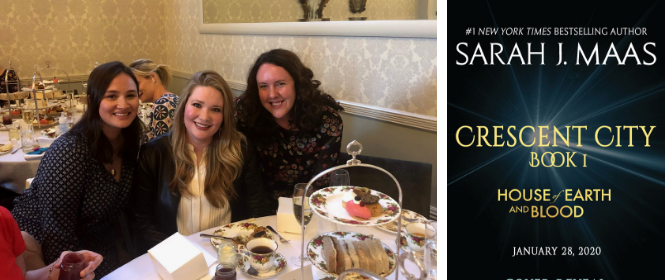 In case you haven't heard, Sarah J. Maas has a brand new series starting soon, and we were among the lucky few Aussie booksellers who had the chance to see her in person and hear all about it. Over champagne, tea, and approximately 1,000 scones, we got our first glimpse into the magical new world of the Crescent City series from the queen herself.
Crescent City is an urban fantasy series for adults, and by the sounds of things it's going to be a little darker and grittier than anything you've seen from Sarah J. Maas before. It will be kicking off with House of Earth and Blood, in which a brutal murder ignites the wild and dangerous city of Lunathion, and it will rest on a fallen angel and a young woman (half-Fae, half-human, and 100% trouble) to solve the case.
There will be magic, danger, and banter a-plenty – and since it's Sarah J. Maas, it goes without saying that the romance will be off the charts.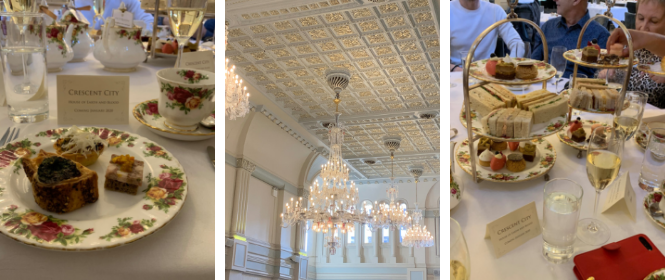 Sarah spoke with so much obvious passion and excitement about her new series, she had all the booksellers in attendance hanging on her every word. It was abundantly clear to all of us that the Crescent City series is going to present readers with a complex and enchanting new world full of colourful new characters.
We heard all about Bryce Quinlan, the main character who sounds like she's going to be just as strong-willed, kickass, and brazen as we have come to expect from all of Sarah J. Maas' heroines. We also heard some intriguing details about a brooding and mysterious fallen angel, a playboy prince with a loyal crew of whisky-drinking friends, and so many tantalising tidbits about this new world – such as the fact that it will have modern technology!
It's going to be a long wait until January 2020, but you can pre-order your copy of House of Earth and Blood now.
The House of Earth and Blood
Crescent City: Book 1
#1 New York Times bestselling author Sarah J. Maas launches her brand-new CRESCENT CITY series with House of Earth and Blood: the story of half-Fae and half-human Bryce Quinlan as she seeks revenge in a contemporary fantasy world of magic, danger, and searing romance.
Half-Fae, half-human Bryce Quinlan loves her life. By day, she works for an antiquities dealer, selling barely legal magical artifacts, and by night, she parties with her friends, savoring every pleasure Lunathion - otherwise known as Crescent City - has to offer. But it all comes crumbling down when a ruthless murder shakes the very foundations of the city - and Bryce's world...
About the Contributor
Olivia Fricot is Booktopia's newest Senior Content Producer and Editor of the Booktopian Blog. After finishing a soul-crushing law degree, Olivia decided that life was much better with one's nose in a book and quickly defected to the world of Austen and Woolf. You can usually find her reading (obviously), baking, writing questionable tweets, and completing a Master's degree in English literature. Just don't ask about her thesis. Olivia is on Twitter and Instagram @livfricot - follow at your own risk.
Follow Olivia: Twitter