Vicki Laveau-Harvie has taken home the coveted Stella Prize for 2019 for her memoir The Erratics.
Described as "memoir wielded as weapon" The Erratics is a clever and acerbic recount of a hellish mother-daughter relationship unlike anything you've ever read before.
The Chair of the Stella Prize Judging Panel, Louise Swinn, praised the book's cleverness in its exploration of traumatic themes, saying that "Despite the dark subject matter, this book has a smile at its core, and Laveau-Harvie shows constant wit when depicting some harrowing times."
In her acceptance speech, Vicki Laveau-Harvie praised The Stella Prize for its work in amplifying the voices of women:
"This is a time when speaking truth seems more important than ever. These are times when the powerful seem determined to make words mean what they want them to mean ('exonerated' now meaning 'not enough evidence to convict'). We hear phrases like 'alternative facts', and 'fake narrative', and wonder how those are even semantically possible. This prize rewards women who write truth – historical, political, and the truth of the heart and the soul: the truth of individuals, of each of us, and the truth of the world we live in."
You can read Vicki's acceptance speech here.
Our reviewer, non-fiction specialist Joel Naoum, had nothing but high praise for The Erratics – read his review below.
---
Review by Joel Naoum
The synopsis of The Erratics is a relatively familiar one. Estranged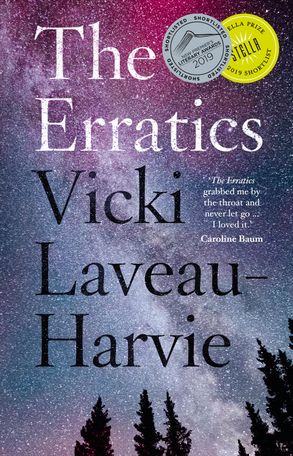 middle- aged children return to their home to deal with ageing, ill parents and try to make plans for their future. But The Erratics shines when the story comes into focus and the texture becomes apparent.
These parents are not like other parents. Laveau-Harvie's mother, in particular, jumps off the page even though she appears in far fewer scenes than any of the other characters. A towering presence that casts a long shadow over the psychological lives of her children and husband, she's clearly a sociopath – a compulsive liar, an agent of manipulation, a malevolent force. When the sisters arrive home to deal with her broken hip they find that their mother is slowly starving their father to death, and yet without her their father doesn't seem to know how to behave or what to do with himself.
This family home is not like other family homes. Set on an isolated property on the prairies of Alberta in Canada, the house is a massive, sprawling affair. It's full of curios, antiques and other treasures that their mother has hoarded over the years. They suspect the bunker is full of toxic chemicals and dare not enter. In the winter the pipes freeze and their mother threatens visitors (including her own children) with a Kalashnikov rifle.
This is not a story like other stories, and Laveau-Harvie is not a typical narrator. In her coldly distant and surprisingly hilarious style she reels out this tale of family relationships, ageing, nostalgia, and home in a way that cannot fail to grip its readers, while reminding them that ultimately this very particular family is not unique.
We all have parents, secrets and lines we will not cross. We all love people who treat us poorly, and treat those who love us worse than we should. For that reason, The Erratics is a compulsive read – ideally finished in a single, long rainy afternoon with something hot to drink and a very thick blanket.
---
The Erratics is available now – buy it here.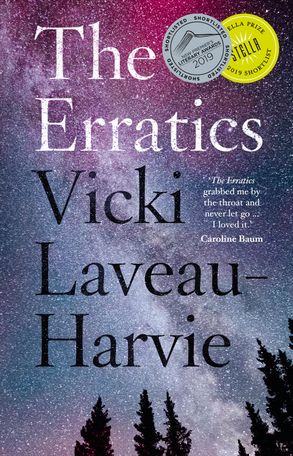 The Erratics
Dark, sharp, blackly funny and powerful, this is memoir, wielded as weapon, with the tightly compressed energy of an explosive device.
'We've been disowned and disinherited: there's not changing it, I say. When something bad happens to them, we'll know soon enough and we'll deal with it together. I don't realise it at the time, but when I say that, I imply I care. I imply there may be something to be salvaged. I misspeak. But I'm flying out anyway. Blood calls to blood; what can I tell you.'
This is a memoir about a dysfunctional family, about a mother and her daughters. But make no mistake. This is like no mother-daughter relationship you know...
About the Contributor
Olivia Fricot is Booktopia's newest Senior Content Producer and Editor of the Booktopian Blog. After finishing a soul-crushing law degree, Olivia decided that life was much better with one's nose in a book and quickly defected to the world of Austen and Woolf. You can usually find her reading (obviously), baking, writing questionable tweets, and completing a Master's degree in English literature. Just don't ask about her thesis. Olivia is on Twitter and Instagram @livfricot - follow at your own risk.
Follow Olivia: Twitter