Review by Bronwyn Eley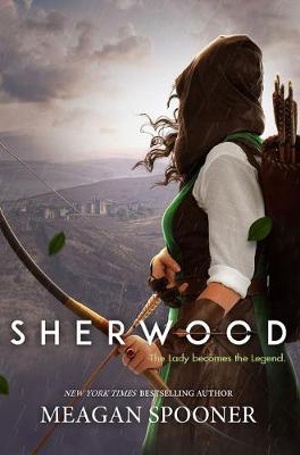 As a long-time fan of Meagan Spooner, I have to say I was super excited for her new novel Sherwood. I am thrilled to say that, as always, Spooner continues to deliver epic adventure stories full of heart.
As you've probably guessed, this is a Robin Hood re-telling. After the success of her Beauty and the Beast retelling, Hunted, I was eager for another one and our protagonist this time around is just as kick-ass as I hoped she would be.
This isn't the Robin Hood you think you know.
You all remember Marian, right? The true love of the famous Robin Hood. Well, in this story she is Robin Hood. Her betrothed, Robin of Locksley, is dead and even though she never intended it, she becomes the fabled Robin Hood.
Marian is a character to admire. She is a woman trapped in a stifling environment, where duty and expectations dominate her life. When Robin dies, she is distraught to lose her best friend and betrothed. Her grief ignites a fire in her that was always there and it is Marian's spirit that resonated so strongly with me. She is a powerhouse woman, with a gut of steel and killer aim.
The injustices being done to her people are what drives Marian to become Robin Hood. Steal from the rich and give to the poor, right? Marian is from a time and place where women are meant to sit quietly and wait for the men to make their lives interesting or worthwhile. Marian had always been out-of-place in such an environment and it was fantastic to see her come into her own.
Spooner really knows how to transport her readers into a electrifying world full of adventure and soul. Gripping, enchanting and rousing, Sherwood is an unputdownable feminist retelling of a much-loved tale.
---
Review by Sarah McDuling
I was over the moon when I first heard that Meagan Spooner was writing a gender-flipped retelling of Robin Hood. Her Beauty and the Beast retelling, Hunted, has a special place on my bookshelf (when it's not on my bedside table during one of many re-reads). I count her amongst my favourite writers of fairytale retellings, alongside authors like Kate Forsyth, Robin McKinley, Naomi Novik, and Juliet Marillier.
So, obviously I went into Sherwood with some high expectations. I was ready to be enchanted and amazed, but I was not quite ready for the depth and complexity of emotion in this lovely book. I just was not prepared for all the feelings!
Meagan Spooner writes so beautifully. There is a subtle kind of elegance to her prose. Her writing has a powerful yet graceful quality that always leaves me feeling a bit in awe of her skill as a storyteller. Her books feel like instant classics.
Those looking for a familiar retelling might be a little taken aback when they realise that Sherwood is set after the death of Robin Hood.(That's not a spoiler, I promise. It says as much literally in the first sentence of the blurb!) It's Marian who is the true hero of this story… and what a hero!
Robin of Locksley was Marian's beloved childhood friend long before he became her fiance. After his death, she feels completely bereft. And yet when the reprehensible Guy of Gisborne arrives, intent on taking Robin's place, Marian disguises herself as Robin in order to stand against corruption and fight for what she believes in.
Marian is a total badass queen. Taller, stronger and more skilled with a bow than Robin ever was, she is a powerhouse feminist hero and I loved every second of her story. I loved her heartbreaking memories of Robin. I admired her bravery, relished her strength, and cheered for her every step of the way.
Sherwood also explores some pretty intriguing ideas about how best to go about the business of changing the world. Is striking out in open defiance of evil always the best course of action, or are some battles best fought behind enemy lines? What is the difference between a rebellion and a revolution?
And the romance! Oh my goodness, the romance in this book is epic. There are essentially two love stories in Sherwood. The touching childhood-friendship-turned-first-love romance between Marian and Robin runs throughout the book in memories and flashbacks. However, this is also a story about finding new love in the wake of grief, perhaps in the most unexpected of places, and wow! There is a truly wonderful slow burn romance in Sherwood that many won't see coming, but I defy anyone not to cheer for this unlikely couple by the end of the book!
Full of sweeping emotions, fraught with danger and suspense, Sherwood is an unforgettable and inspiring new take on a beloved story.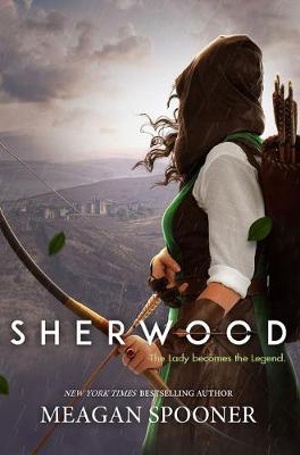 Sherwood
Robin of Locksley is dead.
Maid Marian doesn't know how she'll go on, but the people of Locksley town, persecuted by the Sheriff of Nottingham, need a protector. And the dreadful Guy of Gisborne, the Sheriff's right hand, wishes to step into Robin's shoes as Lord of Locksley and Marian's fiancé.
Who is there to stop them?
Marian never meant to tread in Robin's footsteps—never intended to stand as a beacon of hope to those awaiting his triumphant return. But with a sweep of his green cloak and the flash of her sword, Marian makes the choice to become her own hero: Robin Hood.
About the Contributor
Before entering the exciting world of books, Bronwyn served in the Royal Australian Air Force, travelled extensively and worked (still does!) as a barista on the weekends. Books are her true passion. Bronwyn's debut fantasy novel Relic is coming out in 2019 with indie publishing house Talem Press. They are to publish her entire trilogy called The Relic Trilogy. In her spare time, Bronwyn writes, reads and enjoys keeping fit (which she undoes by eating loads of chocolate) with Martial Arts and personal training. She can't answer what her favourite book is but she has a soft spot for Peter Pan (J.M Barrie), Outlander (Diana Gabaldon), Stardust (Neil Gaiman), The Illuminae Files (Jay Kristoff and Amie Kaufman) and Six of Crows (Leigh Bardugo). Fantasy, sci-fi and YA make up the majority of her bookshelves.