Calling all fans of superstar duo Amie Kaufman and Jay Kristoff: we have SIGNED copies of their latest sci-fi YA novel, Aurora Rising.
Set in an intergalactic military school in the year 2380, Aurora Rising is the first book in a series about a rag-tag team of cadets who find themselves in trouble when squad leader Tyler Jones rescues a girl from inter-dimensional space. Her name is Aurora Jie-Lin O'Malley, and she might just be the trigger for a war that was millions of years in the making…
Basically, Aurora Rising is the John Hughes-esque space adventure you never knew you needed until you heard it would be written by Jay and Amie. If you loved the duo's Illuminae trilogy then you need a signed copy of this book in your life.
Be warned though, signed copies are strictly limited – once they're gone, they're GONE people.
EVERYBODY PANIC.
(or, y'know, just go on and buy a copy ASAP.)
If you're not totally convinced by now that you want in on this, then allow me to direct you to a fresh new rave review from Booktopia's social media queen, Bron Eley.
---
Review by Bron Eley
You know that sensation when you look up at the rollercoaster, at all the ups and downs and twirls, and you think 'I'm in for a ride'? Then you get in the seat and immediately, you're off! Up up up you go, and then your stomach falls away as the world spins into a blur and you feel absolutely alive?
That's what it feels like to read a book written by Amie Kaufman and Jay Kristoff.
There's a reason I lost my mind ever so slightly when I saw the advanced copy of Aurora Rising arrive in the office. I knew I was in for an unforgettable ride with what I suspected was about to become my new favourite squad.
Amie and Jay have a way of making me want to get my own squad together and go out into the 'verse and kick some ass while saving the world. Each and every one of the characters in Aurora Rising is my new best friend. If I had to pick a favourite… wait, I can't.
Perfect and orderly Tyler, kick-ass and daring Cat, suave and sexy Scarlett, strange and unnerving Zila, jokester Fin, and intense and deadly Kal. And, of course, the enigma that is Auri. I absolutely love her storyline! I don't want to spoil anything but let's just say she looks extremely good for how old she is and she has abilities that I could only ever dream of having.
Here is a squad on a mission – completely unintentionally, of course. Thanks Ty and Auri. But what I love most is the camaraderie of Squad 312, how they back their Alpha without question or hesitation (ok, maybe a little hesitation.)
Especially, our hot-shot pilot Cat. I love the way Cat flies up your nose with her opinion – there's no holding back! Reading her chapters was like a breath of fresh air and I really felt for her painful unrequited love dilemma.
Reading Aurora Rising took me back to the days when I was first getting into science-fiction. To the days of Stargate SG-1 and Firefly, when everything was new and exciting and a complete and utter wonder to my young eyes. Sci-fi has been my home ever since, so for Amie and Jay to be able to take me back to that feeling is a wonder in itself! Reading Aurora Rising felt like I was going on that first wild rollercoaster ride again.
All of the Squad's squabbles, jokes, and meaningful moments hit close to home, reminding me of what makes friendships so important. Amie and Jay write fantastic, out-of-this-world, unforgettable adventures served up alongside heartwarming friendships and a never-ending stream of water-through-your-nose humour.
All I have left to say is: may I pretty please, with a galactic-sized cherry on top, have the next book STAT?!
---
You can also check out our YA and Kids expert Sarah McDuling's review here.
Get to it!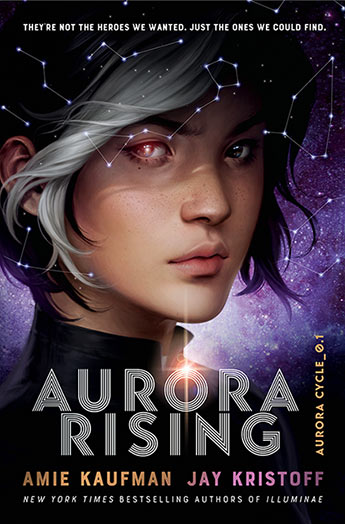 Aurora Rising
Aurora Cycle_0.1
The year is 2380, and the graduating cadets of Aurora Academy are being assigned their first missions. Star pupil Tyler Jones is ready to recruit the squad of his dreams, but his own boneheaded heroism sees him stuck with the dregs nobody else in the Academy would touch . . .
A cocky diplomat with a black belt in sarcasm
A sociopath scientist with a fondness for shooting her bunkmates
A smart-ass techwiz with the galaxy's biggest chip on his shoulder
An alien warrior with anger management issues
A tomboy pilot who's totally not into him, in case you were wondering
And Ty's squad isn't even his biggest problem--that'd be Aurora Jie-Lin O'Malley, the girl he's just rescued from interdimensional space. Trapped in cryo-sleep for two centuries, Auri is a girl out of time and out of her depth. But she could be the catalyst that starts a war millions of years in the making, and Tyler's squad of losers, discipline-cases and misfits might just be the last hope for the entire galaxy.
NOBODY PANIC.
About the Contributor
Olivia Fricot is Booktopia's newest Senior Content Producer and Editor of the Booktopian Blog. After finishing a soul-crushing law degree, Olivia decided that life was much better with one's nose in a book and quickly defected to the world of Austen and Woolf. You can usually find her reading (obviously), baking, writing questionable tweets, and completing a Master's degree in English literature. Just don't ask about her thesis. Olivia is on Twitter and Instagram @livfricot - follow at your own risk.
Follow Olivia: Twitter