A great story is built on even greater characters, and nobody knows this better than Melina Marchetta.
This is, after all, the author who brought us such beloved books as Looking for Alibrandi and Saving Francesca, books that have shaped our cultural landscape in ways too numerous to count. Entire generations of readers have grown up alongside Melina's books, and the characters who inhabit them can seem as real as our own friends and relatives.
This is a testament to the power of Melina's storytelling, which is as prominent as ever in her new novel The Place on Dalhousie. It tells the story of Rosie and Martha Gennaro, the daughter and second wife of the late Seb Gennaro, and the house on Dalhousie Street that they both lay claim to. These women are caught up in a stand-off that runs much deeper than the foundations of the house, which forces them to reckon with the emotional power of the past and the uncertainty of the future, making for a compelling story about love, loss, and what it truly means to belong.
While it is far from being a sequel, The Place on Dalhousie does continue the story of particular characters from Melina's previous novels. Melina is certainly familiar with the pressure of returning to the world of a character beloved by fans, but she doesn't let it get in the way of good writing – no character comes back in a book unless it is 100% right.
"I say this to almost all the characters in a way: come to me with a story." Melina says.
It's this kind of loving care and attention given by Melina to the integrity of her stories that has our reviewer, Sarah McDuling, singing her praises. In her review of The Place on Dalhousie, Sarah says:
"There's nothing quite like that moment in a Melina Marchetta book when all the threads of the story come together in a series of almost magical coincidences. Whether she is writing young adult fiction, adult fiction or fantasy, you will usually encounter a few unexpected connections and long buried secrets woven through the plotlines of Marchetta's books. Some might call it a recurring theme of destiny and/or coincidence. Others might call it a very faint hint of magical realism. I prefer to call it perfect storytelling. Every time you come to the end of a Melina Marchetta book, there is a feeling of pitch-perfect rightness. It's so absolutely flawless you almost want to applaud!"
Sarah and I sat down with Melina this week to sign copies of The Place on Dalhousie, and to have a nice long chat about the book and all things writing-related. Settle down with a coffee and have a listen below!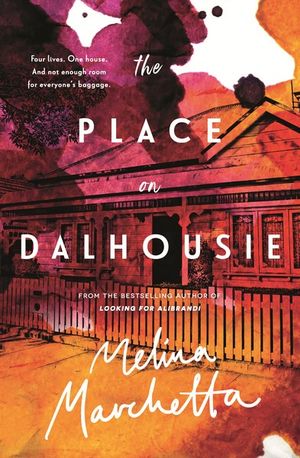 The Place On Dalhousie
'You look the type to break your father's heart.'
'Yeah, but he broke mine first.'
When Rosie Gennaro first meets Jimmy Hailler, she has walked away from life in Sydney, leaving behind the place on Dalhousie that her father, Seb, painstakingly rebuilt for his family but never saw completed. Two years later, Rosie returns to the house and living there is Martha, whom Seb Gennaro married less than a year after the death of Rosie's mother. Martha is struggling to fulfil Seb's dream, while Rosie is coming to terms with new responsibilities. And so begins a stand-off between two women who refuse to move out of the home they both lay claim to...
About the Contributor
Olivia Fricot is Booktopia's newest Senior Content Producer and Editor of the Booktopian Blog. After finishing a soul-crushing law degree, Olivia decided that life was much better with one's nose in a book and quickly defected to the world of Austen and Woolf. You can usually find her reading (obviously), baking, writing questionable tweets, and completing a Master's degree in English literature. Just don't ask about her thesis. Olivia is on Twitter and Instagram @livfricot - follow at your own risk.
Follow Olivia: Twitter