I've always been a big fan of time-travel stories and anything related to the end of the world, but Matthew Reilly really shook up my expectations with his new novel The Secret Runners of New York. It's a fresh, fun, and adventure-filled story that really got me thinking (as end of the world stories so often do).
Reilly did a fantastic job of setting up a very intricate and unfamiliar world in a very short amount of time – before ripping it all to shreds. Just opening a Matthew Reilly book means you're in for a wild ride, but I was excited by how much the feel of the book could change at every big reveal.
In this book you'll follow Skye Rogers, a girl who steps on eggshells and keeps her head down, and whose twin brother, Red, is identical to her in looks only. When they move to an elite school in Manhattan, Skye keeps to herself while Red slots in rather nicely with a preppy, downright horrible group of young NYC natives… who are all ignoring the impending apocalypse.
This is a world in which the apocalypse has been predicted – and it's coming very soon. Like typical humans, some people react very seriously by prepping their doomsday bunkers while others flat-out ignore it, believing the world will continue to revolve around them. Then there are the dangerous few who use it as their excuse to do what they like, whether they believe in it or not.
I was really struck by how life was continuing pretty much as normal for this elite culture in New York. Especially when you find out that the kids Red has fallen in with know that the threat is real. How? The secret lies in a dark tunnel…
I don't want to spoil it for anyone but I will say that I was unable to put this book down. Something about it just drew me in and I found myself morbidly curious to see what was going to happen to Skye, Red, and all the rest. Was this horribly predicted end actually going to wipe out most of the world's population? Who would survive and what would they be surviving for?
What can I say? It's fast-paced, action-packed, and compulsively readable – it's a classic Matthew Reilly!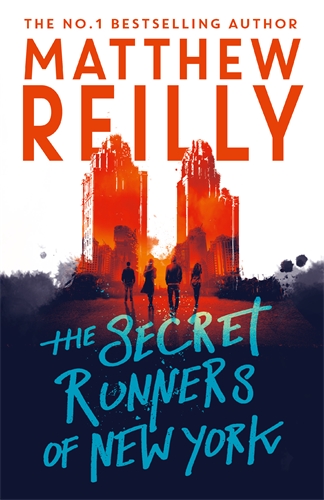 The Secret Runners of New York
THE COMING END
When Skye Rogers and her twin brother Red move to Manhattan, rumours of a coming global apocalypse are building. But this does not stop the young elite of New York from partying without a care.
CAN YOU KEEP A SECRET?
And then suddenly Skye is invited to join an exclusive gang known as the Secret Runners of New York. But this is no ordinary clique - they have access to an underground portal that can transport them into the future. And what Skye discovers in the future is horrifying...
About the Contributor
Before entering the exciting world of books, Bronwyn served in the Royal Australian Air Force, travelled extensively and worked (still does!) as a barista on the weekends. Books are her true passion. Bronwyn's debut fantasy novel Relic is coming out in 2019 with indie publishing house Talem Press. They are to publish her entire trilogy called The Relic Trilogy. In her spare time, Bronwyn writes, reads and enjoys keeping fit (which she undoes by eating loads of chocolate) with Martial Arts and personal training. She can't answer what her favourite book is but she has a soft spot for Peter Pan (J.M Barrie), Outlander (Diana Gabaldon), Stardust (Neil Gaiman), The Illuminae Files (Jay Kristoff and Amie Kaufman) and Six of Crows (Leigh Bardugo). Fantasy, sci-fi and YA make up the majority of her bookshelves.