Your to-be-read pile is about to get a whole lot bigger, because the longlist for the 2019 Man Booker International Prize has just been announced!
This prize celebrates the best works of translated fiction published in the UK and Ireland from across the globe, with the covetable £50,000 prize being split equally between the author and the translator.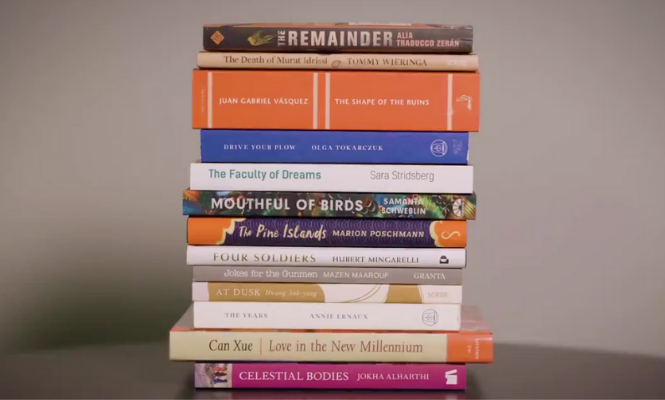 This year's longlist is a remarkable mix of books spanning nine languages, twelve countries and three continents, hailing mostly from smaller independent publishers. Eight out of the thirteen nominated authors are women, as are ten of the accompanying translators, which is an incredible achievement. Last year's winner of the International Man Booker Prize, Olga Tokarczuk (for Flights), has also been nominated again, and there is a first-time nomination for a Swedish author (Sara Stridsberg, for The Faculty of Dreams).
The chair of the 2019 Man Booker International Prize, Bettany Hughes, had this to say on the longlist:
'This was a year when writers plundered the archive, personal and political. That drive is represented in our longlist, but so too are surreal Chinese train journeys, absurdist approaches to war and suicide, and the traumas of spirit and flesh. We're thrilled to share 13 books which enrich our idea of what fiction can do.'
The shortlist will be announced on the 9th of April and the winner announced on the 21st of May in London. Until then, why not check out the longlist?
Drive Your Plow Over The Bones Of The Dead by Olga Tokarczuk
Celestial Bodies by Jokha Alharthi
Love in the New Millennium by Can Xue
The Years by Annie Ernaux
At Dusk by Hwang Sok-Yong
Jokes for the Gunmen by Mazen Maarouf
Four Soldiers by Hubert Mingarelli
The Pine Islands by Marion Poschmann
Mouthful Of Birds by Samanta Schweblin
The Faculty Of Dreams by Sara Stridsberg
The Shape of the Ruins by Juan Gabriel Vasquez
The Death Of Murat Idrissi by Tommy Wieringa
The Remainder by Alia Trabucco Zerán
About the Contributor
Olivia Fricot is Booktopia's newest Senior Content Producer and Editor of the Booktopian Blog. After finishing a soul-crushing law degree, Olivia decided that life was much better with one's nose in a book and quickly defected to the world of Austen and Woolf. You can usually find her reading (obviously), baking, writing questionable tweets, and completing a Master's degree in English literature. Just don't ask about her thesis. Olivia is on Twitter and Instagram @livfricot - follow at your own risk.
Follow Olivia: Twitter