We are made to vote, and to be on the electoral roll. It is enforced by law. This is most unusual in the world and has resulted in Australia having an extraordinarily high level of political engagement. Weirdly, we have even come to celebrate elections; holding sausage sizzles, taking the kids and the dog to the polling station, then stay up watching the tally-room on TV.

Award-winning author Judith Brett presents a fascinating and timely essay on this and the many other rituals of voting in Australia, looking at how our system of preferential voting came into being, crafted by two decades of parliamentary acts from 1901 to 1924. Why do we use pencils? When did the individual booths come into play? We have interstate and overseas voting mostly handled in an efficient way by bureaucrats, that keeps the process above board, but how did that come about? Which state has the most enthusiastic voters? Why is the vote on a Saturday? When did we extend the right to all citizens? The broad range of this book covers the history from the quirky to the contentious, the funny to the deplorable (especially the historical debates on Indigenous votes).
The mechanism of our democracy reveals much of the forming of our nation. From the pains of Federation, to the final enfranchisement of women and first Australians, Brett shows how the journey to compulsory voting defines us as a nation formed in peace (and not in reaction to invasion or autocrats). We were more obsessed with fair representation than with liberty.
Our high participation rate (always over 90% of enrolled voters turnout) is rightly envied by countries where small numbers vote and slim majorities determine the outcome. Although not perfect, our system is generally trusted, and something to be proud of. We can mobilise independent candidates and parties pretty quickly, (producing the odd weird party along the way), and upset marginal seats with sudden alternatives. We have kept refining electoral boundaries, reducing gerrymanders in a challenging continent of uneven population, making our proportional representation quite an achievement in itself. Our parties may be losing our faith but that is another matter. We are good at this election stuff.

From Secret Ballot to Democracy Sausage by Judith Brett was published on March 5th 2019 and is available to order from Booktopia.
---
BESTSELLERS OF THE WEEK

---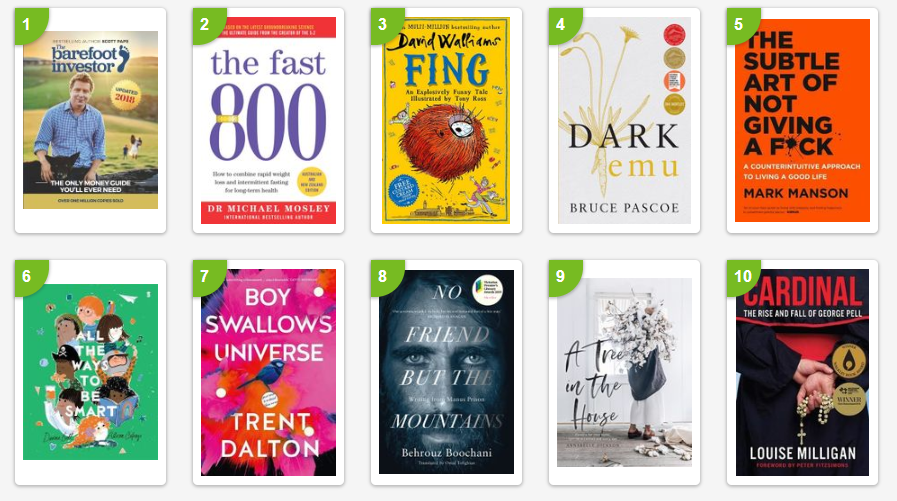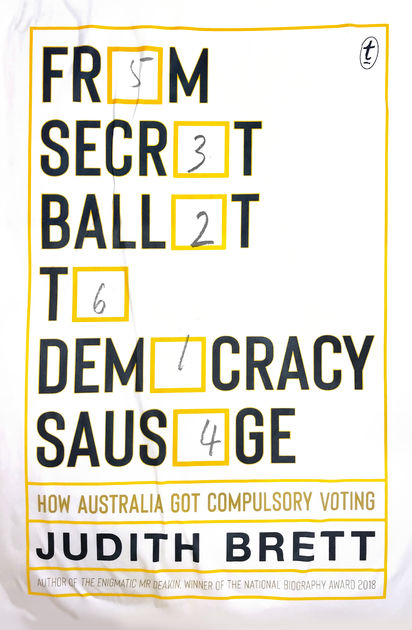 From Secret Ballot to Democracy Sausage
How Australia Got Compulsory Voting
It's compulsory to vote in Australia.
We are one of a handful of countries in the world that enforce this rule at election time, and the only English-speaking country that makes its citizens vote.
Not only that, we embrace it. We celebrate compulsory voting with barbeques and cake stalls at polling stations, and election parties that spill over into Sunday morning.
But how did this come to be: when and why was voting in Australia made compulsory? How has this affected our politics? And how else is the way we vote different from other democracies?
Lively and inspiring, From Secret Ballot to Democracy Sausage is a landmark account of the character of Australian democracy by the celebrated historian Judith Brett, the prize-winning biographer of Alfred Deakin.
About the Author
Judith Brett is the author of Robert Menzies' Forgotten People and emeritus professor of politics at La Trobe University. The Enigmatic Mr Deakin won the 2018 National Biography Award, and was shortlisted in the NSW Premier's Literary Awards, NSW Premier's History Awards and Queensland Literary Awards.
About the Contributor
Robert O'Hearn is the non-fiction specialist at Booktopia HQ. He has been a bookseller for over three decades and can't seem to stop. He is an aspiring apiarist and likes playing Joy Division songs on mandolin. He is generally harmless.
Follow Robert: Twitter