The 2019 Oscars gave us a show full of glamour, surprise wins, and some truly fantastic movies, but if this year's winners and nominees are anything to go by, it's books that give the stories on the big screen their magic.
It's wonderfully refreshing to see so many book-based films be recognised on Hollywood's golden night, and so many of our favourites are on the list. First up is BlacKkKlansman, which took home Best Adapted Screenplay for acclaimed writer and director Spike Lee (an historic first win for Lee). Based on Ron Stallworth's memoir Black Klansman, about his time spent infiltrating a Ku Klux Klan chapter, this is a powerful take on the Civil Rights Movement told from a vital perspective – totally essential viewing.

Also nominated for Best Adapted Screenplay was the excellent Can You Ever Forgive Me? Based on Lee Israel's memoir about her career as a literary forger, it starred Melissa McCarthy and Richard E. Grant, both of whom were nominated for Best Actress and Best Supporting Actor respectively.
Speaking of acting, Glenn Close was, ahem, the favourite to take home the Best Actress award for The Wife, but lost in the end to Olivia Colman's wonderful performance as Queen Anne in The Favourite. We still think Glenn's take on Joan Castleman, the brilliant but overlooked woman at the heart of Meg Wolitzer's novel The Wife, was pretty incredible and we highly recommend you give her performance a watch.

Meanwhile, over in the Best Supporting Actress category, Regina King stunned audiences with her performance in If Beale Street Could Talk. This movie is based on James Baldwin's 1974 novel of the same name that tells the story of a pregnant African-American woman seeking to clear her fiance's name of a crime he didn't commit, and it makes for highly compelling viewing.
Comic book fans should also be feeling the love from the Academy this year, as two movies based on comic books won some major prizes. Marvel's Black Panther took home 3 awards for Best Original Score, Best Costume Design and Best Production Design. While it's not based on any one book in particular, you can immerse yourself in the world of Wakanda with the Hugo Award-nominated story A Nation Under Our Feet, the first volume of the most recent series helmed by none other than Ta-Nehisi Coates! Marvel's success continued to dominate the Oscars, as crowd favourite Spider-Man: Into the Spider-Verse also won the award for Best Animated Feature. If your spidey senses are tingling for some more action, you could definitely start with 2014's Spider-Verse, a series that unites many Spider-heroes from parallel universes, or with the most recent series featuring the hero of Spider-Man: Into the Spider-Verse, Miles Morales.
Check out all the books below which inspired 2019 Oscar nominated movies this year…


If Beale Street Could Talk by James Baldwin

Black Klansman by Ron Stallworth

The Wife by Meg Wolitzer

Can You Ever Forgive Me? by Lee Israel

My Heart is My Own: The Life of Mary Queen of Scots by John Guy

First Man: The Life of Neil A. by James R. Hansen

Mary Poppins Comes Back by Pamela Lyndon Travers

Ready Player One by Ernest Cline

Spider Man: Into the Spiderverse
---
---
BESTSELLING MOVIES OF THE WEEK
---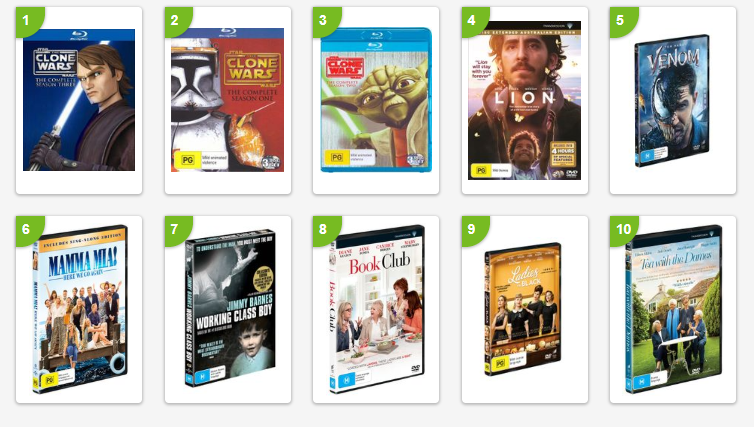 ---
About the Contributor
Olivia Fricot is Booktopia's newest Senior Content Producer and Editor of the Booktopian Blog. After finishing a soul-crushing law degree, Olivia decided that life was much better with one's nose in a book and quickly defected to the world of Austen and Woolf. You can usually find her reading (obviously), baking, writing questionable tweets, and completing a Master's degree in English literature. Just don't ask about her thesis. Olivia is on Twitter and Instagram @livfricot - follow at your own risk.
Follow Olivia: Twitter