I'll begin by addressing anyone reading this review who hasn't yet read Mark Brandi's debut novel Wimmera. To those people I say, "Go! Go now and get a copy and start reading immediately!"
And now, with that out of the way, let's talk about, The Rip.
There's a mesmerising quality to Mark Brandi's writing. I read The Rip in a single sitting and found myself lulled into a kind of trance. From the first page I was powerless to stop reading, 100% transfixed by this snapshot of a young soul struggling for survival – hypnotised, horrified and heartbroken all at once. When such terrible things are written about in such graceful, lyrical prose it has an oddly spellbinding effect.
This is not a long book and if you tried to outline the plot to someone (which I won't do I promise, no spoilers!) it would probably sound like a rather small and simple story. And yet there is nothing small or simple about the raw emotional scope of The Rip.
This is the story of a young woman caught in a powerful downward spiral – and she is so fragile and so strong at the same time. A slave to addiction and victim of violence and poverty, she is weak in a lot of ways. Her strength, however, lies in her struggle against such incredible odds. She is a lost soul fighting to stay upright in a world that seems designed to drag her down. And though she is a heartbreaking character she is, more importantly, a deeply relatable character. And that might be one of the greatest things about The Rip.
Much like Trent Dalton's Boy Swallows Universe, this is a book in which many of the central characters are criminals, ex-cons, drug addicts and sex workers. Though very different reading experiences, both Dalton and Brandi offer their own kind of nuanced and emotionally rich glimpse into a world most people never see.
Riveting, frightening, unflinchingly violent and utterly heartbreaking, The Rip is the kind of book that will etch itself permanently on your memory. With this stunning follow up to Wimmera, Mark Brandi has given us a deeply human and disturbingly realistic story that packs an incredible punch.
The Rip by Mark Brandi will be published on the 26th of February and is available to order now from Booktopia.
---
BESTSELLERS OF THE WEEK
---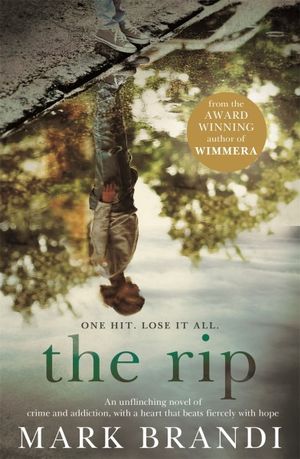 The Rip
"It's funny how quick it happens and without you really noticing. Anton said once that it's like walking out into the sea, and you think everything's fine and the water's warm, but when you turn back you're suddenly miles from shore. I've never been much of a swimmer, but I get what he means. Like, being caught in a current or something. A rip."
A young woman, living on the street has to keep her wits about her.
Or her friends. But when the drugs kick in that can be hard.
Anton has been looking out for her. She was safe with him. But then Steve came along.
He had something over Anton. Must have. But he had a flat they could crash in. And gear in his pocket. And she can't stop thinking about it. A good hit makes everything all right.
But the flat smells weird.
There's a lock on Steve's bedroom door.
And the guy is intense.
The problem is, sometimes you just don't know you are in too deep, until you are drowning.
About the Contributor
Sarah McDuling is Booktopia's Senior Content Producer and Editor of The Booktopian Blog. She has been in the bookselling game for almost a decade and a dedicated booklover since birth (potentially longer). At her happiest when reading a book, Sarah also enjoys talking/writing/tweeting about books. In her spare time, she often likes to buy a lot of books and take photographs of books. You can follow her on Twitter and Instragram @sarahmcduling
Follow Sarah: Twitter