Bohemian Rhapsody
Review by Bronwyn Eley
OH MY GOD.
I kind of just want to leave my review of Bohemian Rhapsody there but I'll expand a touch just so you know why I started my review with OMG.
Firstly, the music – such music! We all know (I hope!!) that Queen did something incredible for this world. Their songs remain, to this day, anthems that speak to the masses on a grand scale. But the best part about it is that they also speak to us individually on a really personal level.
I can't tell you the number of times I've been in my car singing "Can anybody find me SOMEBODY TO LOOOOOOOVEEE!" and believing that the power of their song (if sung loudly enough) would actually make it happen!
Every time Another Bites the Dust comes on, I feel super bad-ass and my head starts bobbing and my feet start tapping and my mouth twists into this 'I'm so cool' kind of smirk. Just to clarify – I am not cool at all but the point is that Queens' songs make us feel this way!
Now to the movie. This is such an emotional story. I knew that Freddie was an interesting character and that he died young due to an AIDS infection, but I didn't know much else. Rami Malek was so convincing as Freddie that more than once I had to ask myself if it was actually Freddie.
As expected, Queen faced a lot of ups and downs throughout their career. Ridicule, late nights, fights, break-ups, heartache – and that's all within the band! Freddie's personal story really moved me, for he faced a great challenge being a gay man in the 1970s and 80s. 
We start at the Live Aid concert in 1985 and then flip back to the beginning, to when Freddie found his place in this band who had just lost their lead vocalist. Hello, fate! 
Queen fans will adore Bohemian Rhapsody – it is so much fun, the music is absolute splendour and it will leave you with a song in your heart.
Meanwhile, if you've ever wanted to add some amazing Queen songs to your repertoire, you can get the sheet music HERE! 
Bohemian Rhapsody will be released on DVD on the 13th of February 2019 and is available to order from Booktopia.
---
DVD Bestsellers of 2018
#1 Jimmy Barnes Working Class Boy
#2 The Guernsey Literary & Potato Peel Pie Society
#3 The Crown Season 1
#4 Outlander
#5 The Handmaid's Tale
#6 Mamma Mia! : Here We Go Again
#7 The Crown Season 2
#8 Tea with the Dames
#9 A Place to Call Home
#10 Gurrumul
#11 Sweet Country
#12 David Attenborough's Tasmania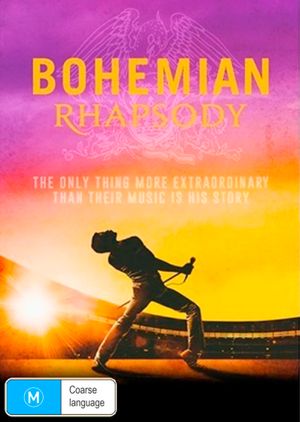 Bohemian Rhapsody
A chronicle of the years leading up to Queen's legendary appearance at the Live Aid (1985) concert.
About the Contributor
Before entering the exciting world of books, Bronwyn served in the Royal Australian Air Force, travelled extensively and worked (still does!) as a barista on the weekends. Books are her true passion. Bronwyn's debut fantasy novel Relic is coming out in 2019 with indie publishing house Talem Press. They are to publish her entire trilogy called The Relic Trilogy. In her spare time, Bronwyn writes, reads and enjoys keeping fit (which she undoes by eating loads of chocolate) with Martial Arts and personal training. She can't answer what her favourite book is but she has a soft spot for Peter Pan (J.M Barrie), Outlander (Diana Gabaldon), Stardust (Neil Gaiman), The Illuminae Files (Jay Kristoff and Amie Kaufman) and Six of Crows (Leigh Bardugo). Fantasy, sci-fi and YA make up the majority of her bookshelves.