Review by Ben Hunter
I've been recommending this book to everyone I see for a few weeks now. "You have to read this book that won't come out until 2019!" I say. It's still November at the time of writing so my endorsements have mainly frustrated people. But I can't help talking about Islands. This is a dark and understated beauty, a spellbinding novel that will knock you senseless.
Told in sparse, meditative prose, Islands draws a tragic portrait of a family falling apart in the aftermath of a marriage. Helen leaves John to try and find someone better for her disappointing and boozy life. John is paralysed by shame and hopelessness. Their two daughters are left unfulfilled; undernourished in this newly broken home. Junie struggles on while the younger, Anna becomes spiteful and rebellious. At 15 she leaves and at first Helen isn't too concerned, she's gone before and has always returned. But this time she won't.
Islands is drenched with longing and despair but Frew divvies it out to the reader with tender elegance, moving from character, to meticulously scrutinised character in an almost painterly composition. There's no effort made to evoke shock or pity, this novel is working towards something much more vital – to make you better understand the nature of loss and the lives of those who grow up in homes which aren't absent of love but for whom love comes at a deficit.
For me, Islands will sit on the shelf with Georgia Blain's Between a Wolf and a Dog and the fiction works of Helen Garner. I'm going to come back to this haunting, achingly good book again and again.
Islands by Peggy Frew will be published on the 4th of March 2019 and is available to order at Booktopia
---
Bestsellers of the Week
1. The Ice Monster by David Walliams 
2. Any Ordinary Day by Leigh Sales
4. The Barefoot Investor 2018 Update by Scott Pape
5. The Land Before Avocado by Richard Glover 
8. Nine Perfect Strangers by Liane Moriarty
9. Mothering our Boys by Maggie Dent
10. Wundersmith by Jessica Townsend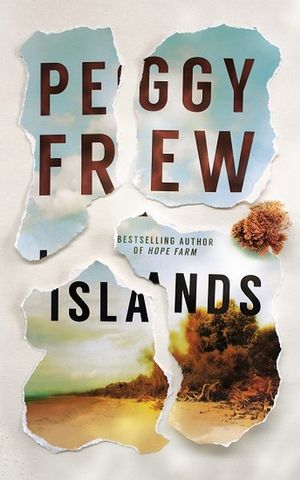 Islands
Helen and John are too preoccupied with making a mess of their marriage to notice the quiet ways in which their daughters are suffering. Junie grows up brittle and defensive, Anna difficult and rebellious.
When fifteen-year-old Anna fails to come home one night, her mother's not too worried; Anna's taken off before but always returned. Helen waits three days to report her disappearance.
But this time Anna doesn't come back ...
About the Contributor
Ben is Booktopia's dedicated fiction and children's book specialist. He spends his days painstakingly piecing together beautiful catalogue pages and gift guides for the website. At any opportunity, he loves to write warmly of the books that inspire him. If you want to talk books, find him tweeting at @itsbenhunter