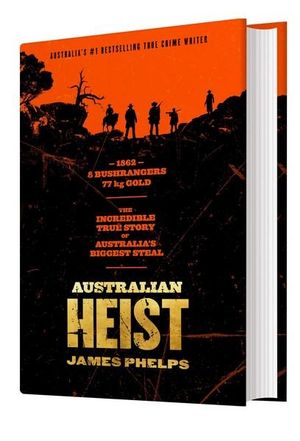 If you're a true-crime reader with a focus on Australian crime, you're aware of James Phelps' work. The man has an uncanny knack for prying information from people. The tales. The inside-job subplots, the anti heroes and the horror of what happens beyond the safety of your front door. I get excited when I get a sniff that Phelps is back on task, writing his next juicy expose.
James kindly dropped a copy of his next installment, Australian Heist into my hands during his recent Booktopia visit, and I promised to review and fast! But I was weeks out from my wedding and short on reading time, so I called in the cavalry.
I called in the someone eminently qualified to review and appreciate a bushranger tell-all – someone with a strong connection with the Australian Bush having grown up in country NSW …
My old man, Paul Rimington.
So, over to you, Paul…
(NB: Just for the record, I did manage to read Australian Heist in between all the wedding planning, and I loved it. The stories, the conversations, the hard drinking and bare-fisted bar fights took place over 150 years ago … James Phelps is a master at bringing the past to life.)
---
Australian Heist
by James Phelps
Review by Paul Rimington
I had just finished reading Rolf Boldrewood's 1882 Australian Bushranger epic Robbery Under Arms when I began reading James Phelps' tour de force Australian Heist with its central characters, the well-known Frank Gardiner and Ben Hall. Although written some 136 years apart, Phelps has demonstrated that a well-researched basis and a solid third-party writing style are timeless.
As an observer, you're transported back to 1862 to witness the largest gold robbery in this Country's history; an incredible 77 shiny kilos of gold – worth about $10 million today. The logistics of the heist are examined in detail as are the circumstances and motivations of the various participants, both robbers and police alike.
Phelps utilises an engaging story-telling style that just seems to capture the time and place in a manner that lets the reader be easily sent on a journey back to Eugowra near Forbes NSW when the gang, led by Frank Gardiner, held up the coach and escort transferring the 77 kilos of gold from the diggings around Forbes to Sydney.
The story then moves to the activities of the various gang members over the period to Frank Gardiner's capture at Apis Creek near Rockhampton in 1864 where, paradoxically, he had moved to start a new life free of crime.
Interestingly, the 1860s were an increasingly prosperous time in the development of Australia's economy from complete dependence on Britain to a totally self-sufficient entity.
According to a 2018 study in the Economic History Review, "Australian GDP per worker grew exceptionally quickly from the 1820s to the 1870s, at a rate about twice that of the US and three times that of Britain. This 2018 study revealed that this rapid growth in GDP per worker did not however lead to rising inequality but rather a revolutionary levelling in incomes up to the1870s".
These were circumstances which would have been at odds with the chosen career of bushranger!
If you're unfamiliar with Phelps' work, you're going to learn fast that he researches, checks, and checks again. But what we have here is a fantastically researched, highly charged dramatisation from a time in our Nation's past when everything was looking up – including opportunity to bag nearly 80 kilos of pure, shining Australian gold!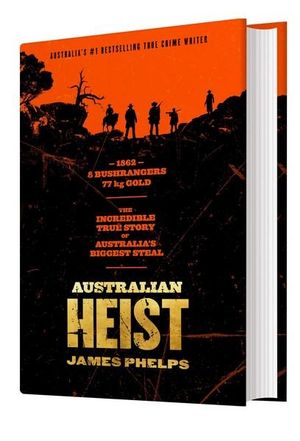 Australian Heist
Australia's Number 1 True Crime Writer on Australia's Greatest Gold Robbery.
On 15 June 1862, a gang of bushrangers held up a gold escort at Eugowra, just east of Forbes, NSW. They escaped with a pile of cash and 77 kilograms of gold, worth about $10 million today. It remains the largest gold robbery in Australian history.
In this riveting re-creation of the events, James Phelps finally tells the full story of how Frank Gardiner, Ben Hall, John O'Meally, Johnny Gilbert, Henry Manns, Alexander Fordyce, John Bow and Dan Charters planned and executed the robbery - and what happened to all that gold. Australian Heist is a thrilling, fast-paced and thoroughly modern take on one of the most extraordinary episodes in the nation's history, by Australia's number-one true-crime writer.
About the Contributor