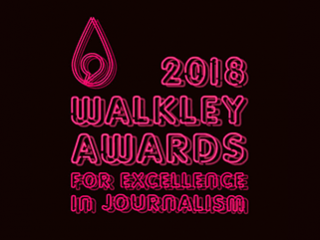 The 2018 Walkley Book Award Longlist has been announced!
Tourism Industry Development Minister Kate Jones congratulated this year's finalists and said the Walkley Awards celebrated the very best in Australian journalism.
"The Walkley Awards has been the premier celebration of journalism in Australia for the past 63 years and it's great to be able to host this event once again in Brisbane, generating great exposure for our state."- Kate Jones.
Here are the titles longlisted for the Walkley Book Award this year:
Trace: Who Killed Maria James? by Rachael Brown
 Long Way from No Go by Tjanara Goreng Goreng with Julie Szego
The First Casualty by Peter Greste
The Trauma Cleaner by Sarah Krasnostein
No Front Line: Australia's Special Forces at War in Afghanistan by Chris Masters
One Hundred Years of Dirt by Rick Morton
Waiting for Elijah by Kate Wild
Lost Copy: The Endless Wars by John Martinkus
The shortlist will be announced on 8 November.
Winners will be announced at the Walkley Awards presentation on 22 November.
About the Contributor
Sarah is the Editor of The Booktopian Blog and Senior Content Producer at Booktopia, where she enjoys unleashing the full capacity of her bookish obsession. She enjoys sword-fighting, time-travel, rare jewel collecting and competitive yodeling. She also leads a very rich fantasy life. An avid reader and book reviewer, Sarah is filled with boundless enthusiasm for the written word! She also has a slight tendency to overuse exclamation points!!!!!
Follow Sarah: Twitter