We are excited to share with you a new podcast series called Plugged and Unplanned, hosted by Booktopia's CEO Tony Nash.
This week Tony speaks with Steve Sammartino – futurist and author of The Lessons School Forgot and The Great Fragmentation.
Steve Sammartino is one of Australia's leading futurists and as an international keynote speaker Steve has spoken to his fair share of people (over 100,000 last year alone). He is an expert on disruptive technology and tech strategy and is author of two bestselling books.
"I think that often people have this false interpretation that age is a thing that matters on your ability to change. It's all attitude." – Steve Sammartino
Tony Nash is the founder and CEO of Booktopia and has extensive experience in online retailing. Most recently Tony was recognised for his contribution to online retailing in Australia winning the Industry Recognition Award at this year's ORIA's.
Join Tony and Steve as they discuss a range of topics including how to plan for the future of your business, disruption in the book industry, the changing nature of work, overcoming inertia, creating new actions without overthinking.
"Talking about people who get stuck in their situation… we end up falling in love with the infrastructure that served us… it's human nature to come back to the river where you caught fish." – Steve Sammartino
Click the link below to listen to the first episode of Plugged and Unplanned: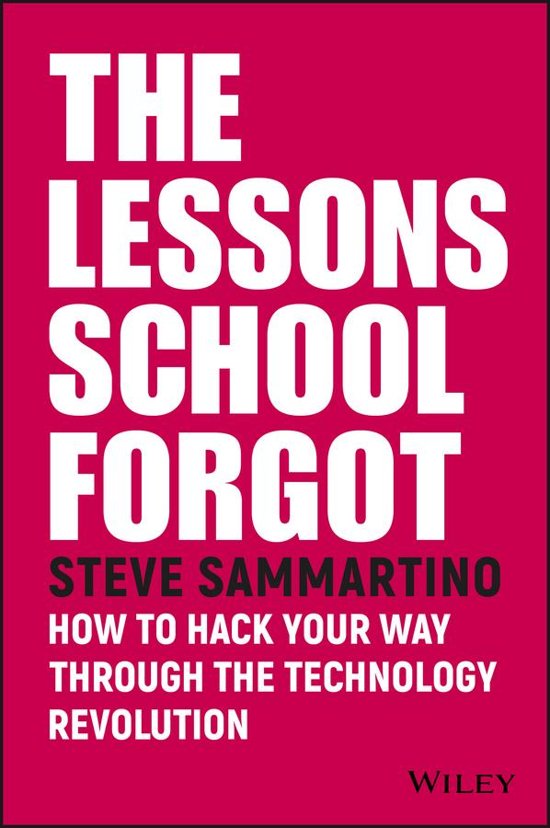 The Lessons School Forgot
How to Hack Your Way Through the Technology Revolution
Public school was literally designed by and for wealthy industrialists at the dawn of the industrial revolution. The first free public schools were even funded by them and designed for them. The core objective of school was to train illiterate farmers sons and daughters the three R's (Writing Reading & Arithmetic) so that they could become compliant industrial factory workers
Now that we have exited the Industrial age and entered the digital age, what we are learning, or learned at school leaves us entirely unprepared. The lessons school forget will drop some truth bombs about life, the stuff they didn't tell you because, let's be honest school wasn't really designed for you. It will show you how our minds have been shaped from a young age to be 'followers' at a time when we need leadership and creativty. It will teach readers the truth about the economic system we live in, in very simple terms. Terms that everyone can understand – regardless of education levels. It will introduce the readers to The new three R's
Revolution – how we got here, what's next and why the new skills you need are more human and creative. Things you can learn if you make the effort. A motivational reminder that this revolution is for everyone who can be bothered to participate.
Revenue – The truth about money. This section will go through the different types of money and how to get. Specifically there are 3 types of money: Earned, Invested & Invented.
Reinvention – Now we know what's needed, this section will teach the techniques to become a modern day expert in X. And all it takes is a personal investment of time. I'll go through the myriad of tools at our disposal to become more valuable to the market place. I'll look at the skill bases needed in the future, all of which reside on a higher human level.
About the Contributor
Sarah McDuling is Booktopia's Senior Content Producer and Editor of The Booktopian Blog. She has been in the bookselling game for almost a decade and a dedicated booklover since birth (potentially longer). At her happiest when reading a book, Sarah also enjoys talking/writing/tweeting about books. In her spare time, she often likes to buy a lot of books and take photographs of books. You can follow her on Twitter and Instragram @sarahmcduling
Follow Sarah: Twitter