While still in his twenties, John Purcell opened a second-hand bookshop – imaginatively called 'John's Bookshop' – in which he sat for ten years reading, ranting and writing. Since then he has written (under a pseudonym) a series of successful novels, interviewed hundreds of writers about their work, appeared at literary' festivals and on TV and been featured in prominent newspapers and magazines. He lives in Sydney with his wife, two children, three dogs, five cats, unnumbered gold fish and his overlarge book collection.
As Director of Books at Booktopia, John Purcell also happens to be The Booktopia Book Guru and therefore the originator of the Ten Terrifying Questions.
Now Booktopia's Book Guru, John Purcell, answers Ten Terrifying Questions from The Booktopia Book Guru, John Purcell…
---
1. To begin with why don't you tell us a little bit about yourself – where were you born? Raised? Schooled?
I was born in Sydney, Australia and raised in Sydney, Australia and, I'm afraid to say, schooled in Sydney, Australia. And if I'm going to be truly honest, I still live in Sydney, Australia. But I have been other places, I swear.
2. What did you want to be when you were twelve, eighteen and thirty? And why?
I think at twelve I would have given anything in the world not to be taller than everyone else in my class. I failed in that wish.
At eighteen I wanted to be gone. I didn't know where or why, but the urge to go was too strong to ignore, so I jumped on a plane with a friend and was gone.
At thirty I wanted for little, as I was living the dream. I was sitting in my own second-hand bookshop reading the greatest books ever written, writing my own dross and falling into long conversations with the wonderful crackpots who ventured into my shop. It was bliss.
3. What strongly held belief did you have at eighteen that you do not have now?
That the world needed saving. And it probably needed saving by me. But then I was eighteen and full of beans, so it was a burden I was willing to take on.
4. What were three works of art – book or painting or piece of music, etc – you can now say, had a great effect on you and influenced your own development as a writer?
David Bowie was the first artist to influence me. At twelve or so while listening to my sister's tape of Changesonebowie again and again and again Bowie let me in on a secret no one else was willing to share – it's okay to be weird. In fact, it's preferable.
Russell Hoban's Kleinzeit was another influence, though many years later. At that stage of my life, I knew I wanted to be a writer but I had tied myself up in knots about writing. I had developed a theory of writing without knowing I had and it was inhibiting my progress in every direction. The very first page of Kleinzeit smashed this theory to smithereens.
George Eliot's novels influenced me in a very different way. Her incomparable novels Middlemarch and Daniel Deronda in particular. That one person could know so much about all of us, could use that knowledge with such art in the form of a novel, could be as relevant on the day of publication as now – all while living as a social pariah in her own age. Astonishing.
So much is said of the genius of Shakespeare, but to my mind his genius pales in comparison to hers. How did Mary Anne Evans writing as George Eliot influence me? By being a star to focus on while lying in the gutter. Sorry Oscar.
5. Considering the innumerable artistic avenues open to you, why did you choose to write a novel?
In my teens I thought I was going to be a painter. I liked the idea of all those drugs, the gallons alcohol and the messy sex. I was obsessed with certain paintings and painters of the late nineteenth and early twentieth century. Our age seemed dull by comparison.
But I never felt comfortable with the idea of people interpreting my work. I wanted to be clear in my meaning. When I took to writing a diary to accompany my drawing and painting I fell in love with the written word. I loved how clear writing could be. I could make words do things my pencil or brush could never do. I started to write up the events of the day. Then I began embellishing them. Before long I was just making shit up. I have never stopped.
6. Please tell us about your latest novel…
The Girl on the Page is set in the publishing world and focuses on the lives of three very different people. Husband and wife, Helen and Malcolm, both literary greats in their seventies and Amy, co-writer of a very successful series of thrillers, and book editor. They are brought together because Helen has made a choice she now regrets, a choice which could have dire consequences for Malcolm, for Amy, and for Helen herself.
7. What do you hope people take away with them after reading your work?
I hope they start questioning some of their own choices in life, just as I have been while writing the novel. I hope they start reevaluating what matters to them and that they make changes which ensure they live a fuller life. Which is a bullshit hope, I admit. I can't even manage to do that myself. But nevertheless that is my hope – for me and the reader.
8. Whom do you most admire in the realm of writing and why?
I have mentioned George Eliot and some of the reasons I admire her. But I have to say that I admire any writer living today who aims to do good work regardless of the reward. This world can be thankless for the true unbending artist but there are people out there staying the course. And for what it's worth, I give them thanks.
From The Song of the Lark by Willa Cather –
'My life is full of jealousies and disappointments you know. You get to hating people who do contemptible work and still get on just as well as you do. There are many disappointments in my profession and bitter, bitter contempts!' Her face hardened, and looked much older. 'If you love the good thing vitally, enough to give up for it all that one must give up, then you must hate the cheap things just as hard. I tell you, there is such a thing as creative hate! A contempt that drives you through fire, makes you risk everything and lose everything, makes you a long sight better than you ever knew you could be.'
9. Many artists set themselves very ambitious goals. What are yours?
When I wrote this question for Kylie Ladd in February 2010 I never thought I would have to answer it myself. I am sorry Kylie. It's a tough question. And apologies to the thousand plus writers – from Lee Child to Sally Rooney – who have been faced with this question over the years. Back then Kylie's ambition was to continue being published. Not only has Kylie done that she has become one of Australia's best loved authors.
I suppose my ambition is use the lies of fiction to tell myself some hard truths.
10. What advice do you give aspiring writers?
If you're a dabbler, read your peers and do as they do. If you're serious about writing, read everything. Start with the best books and work your way down. Strive to know everything. Everything. Travel widely in body and/or in the mind. Be fearless in love. Be loud. Be silent. Watch people. Listen to others. Seek and seek. Question everything and accept it, too. Engage your mind in every aspect of the day. Never turn off.
Thank you for playing, John.
Thanks John.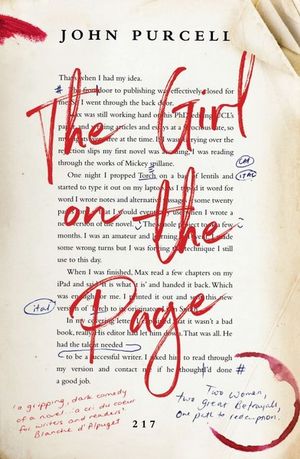 The Girl on the Page
Two women, two great betrayals, one path to redemption. A punchy, powerful and page-turning novel about the redemptive power of great literature, from industry insider, John Purcell.
Amy Winston is a hard-drinking, bed-hopping, hot-shot young book editor on a downward spiral. Having made her name and fortune by turning an average thriller writer into a Lee Child, Amy is given the unenviable task of steering literary great Helen Owen back to publication.
When Amy knocks on the door of their beautiful townhouse in north west London, Helen and her husband, the novelist Malcolm Taylor, are conducting a silent war of attrition. The townhouse was paid for with the enormous seven figure advance Helen was given for the novel she wrote to end fifty years of making ends meets on critical acclaim alone. The novel Malcolm thinks unworthy of her. The novel Helen has yet to deliver. The novel Amy has come to collect.
Amy has never faced a challenge like this one. Helen and Malcolm are brilliant, complicated writers who unsettle Amy into asking questions of herself - questions about what she values, her principles, whether she has integrity, whether she is authentic. Before she knows it, answering these questions becomes a matter of life or death.
From ultimate book industry insider, John Purcell, comes a literary page-turner, a razor-sharp, fast-paced novel that cuts to the core of what it means to balance ambition and integrity. With lashings of sex, glamour, bad behaviour and wicked publishing insider references, The Girl on the Page is a muscular, juicy and provocative novel that is all about what really matters in life, and the redemptive power of great literature.
About the Contributor
While still in his twenties, John Purcell opened a second-hand bookshop in Mosman, Sydney, in which he sat for ten years reading, ranting and writing. Since then he has written, under a pseudonym, a series of very successful novels, interviewed hundreds of writers about their work, appeared at writers' festivals, on TV (most bizarrely in comedian Luke McGregor's documentary Luke Warm Sex) and has been featured in prominent newspapers and magazines. ​Now, as the Director of Books at booktopia.com.au, Australia's largest online bookseller, he supports Australian writing in all its forms. He lives in Sydney with his wife, two children, three dogs, five cats, unnumbered gold fish and his overlarge book collection. His novel, The Girl on the Page, will be published by HarperCollins Australia in October, 2018.