The Girl on the Page
by John Purcell
Review by Sarah McDuling
This is an incredibly difficult review to write. No kidding, I've been attempting to review The Girl on the Page for literally months. I must have started this review a dozen times only to delete every word and start all over again. I have procrastinated like crazy because a) I know the author, which makes things a little bit awkward and b) I work with the author which makes things extremely awkward and c) the author happens to be my boss, which means PRESSURE!
But before you dismiss every word I have to say as biased flattery motivated by the need to stay gainfully employed, consider this:
There no real need for me to write this review. Many of my coworkers have already gone bravely into the breach. When it comes to staff reviews, Booktopia has this book covered. If I didn't really want to review The Girl on the Page, I could have avoided the task quite easily! Only I don't want to avoid the task because the truth is … this book is really quite extraordinary. I love it and I want to tell everyone about it!
The Girl on the Page gave me a lot of intense thoughts and feelings. You'll have to bear with me as I relive the trauma. Upon finishing this book (something I did very late one night, after making the monumentally stupid mistake of starting it at 9:30pm) I was filled with a burning desire to punch the author in the face. To be honest, I still sort of want to punch the author in the face. This book GUTTED me. It left me feeling betrayed, wounded, furious, bereft and questioning every book I've ever read in the past and every decision I've ever made. Even worse, it left me feeling utterly confused as to what on earth I was supposed to read next?
The answer to that last question turned out to be … nothing. At least not for a while. The Girl on the Page left me with such a severe book hangover, I didn't read anything else for weeks afterwards.
Now this all sounds very negative so let me be clear. This is a fantastic book. Yes, it broke me. But it also made me laugh. It's full of wry humour and a wicked sort of playfulness. There are lots of fun in-jokes for people familiar with the publishing industry (the title itself is an in-joke – a cute 'tip of the hat' to all the many bestselling books out there with "Girl" in the title). This is a book that offers a sneak peek behind the curtains – a backstage pass for people curious about the ins and outs of the book world.
And yet it's so much more than that!
The story follows three central characters. Amy is a wildly successful young editor who has used her considerable talent to turn a rather bland thriller writer into an international bestseller. Amy is young and beautiful and smart and charming. She is also deeply miserable, an obsessive workaholic mired in a pit of self-loathing and doing everything she can to avoid being alone with her own thoughts. Amy is awesome at everything she does. And so, naturally, when she throws herself into a destructive downward spiral she falls very fast and very hard.
Oh Amy! Such a dynamic character, so charismatic and so deeply sympathetic. She crawled right under my skin – I loved her from the moment she showed up on the first page, so bold and brash, brilliant and broken.
And then we have Malcolm and Helen, a married couple in their seventies who both happen to be highly respected and award-winning authors – literary giants who have devoted their lives to their craft above all else. I love Malcolm and Helen. I wish so much that I could read all of their books. It is a real source of pain and frustration to me that those books don't actually exist, damn it!
When Amy enters Helen and Malcolm's sphere, what follows is a mighty collision – an earth shattering clash between generations, ideologies and values. None of them will ever be the same again … and neither will the reader.
This is a book about books (the best kind of book!) but it's also a book about self-worth and integrity versus ambition and selling out. It's about old versus new, the legacy of art versus the value of entertainment. It asks important questions like, "What is the true cost of success?" and "How do we define art?" and most intriguingly, "What matters most in life?"
The Girl on the Page offers some deeply thought-provoking answers to these questions, and it does so while gleefully ripping out your heart and stomping on it. Repeatedly.
On one level, The Girl on the Page is a fast-paced and addictive pageturner full of scandal and sex, smart quips and shock twists. But this is a book that operates on more than just one level. It also happens to be an eloquent ode to literature and a brilliant satire of the publishing industry. It's incredibly funny and wonderfully clever, sharp as steel and dark as hell, it is also – perhaps more than anything else – a novel full of heart. Every page throbs with a fierce love of literature, as well as a deep respect for the art of writing.
I love The Girl on the Page. One day, hopefully soon, I might even feel mentally and emotionally strong enough to read it all over again!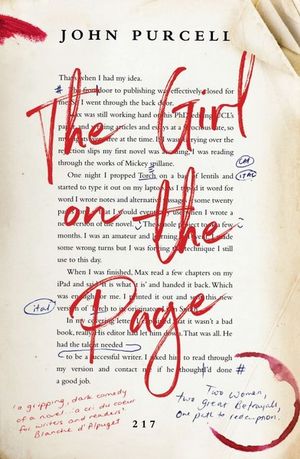 The Girl On The Page
Two women, two great betrayals, one path to redemption. A punchy, powerful and page-turning novel about the redemptive power of great literature, from industry insider, John Purcell.
Amy Winston is a hard-drinking, bed-hopping, hot-shot young book editor on a downward spiral. Having made her name and fortune by turning an average thriller writer into a Lee Child, Amy is given the unenviable task of steering literary great Helen Owen back to publication.
When Amy knocks on the door of their beautiful townhouse in north west London, Helen and her husband, the novelist Malcolm Taylor, are conducting a silent war of attrition. The townhouse was paid for with the enormous seven figure advance Helen was given for the novel she wrote to end fifty years of making ends meets on critical acclaim alone. The novel Malcolm thinks unworthy of her. The novel Helen has yet to deliver. The novel Amy has come to collect.
Amy has never faced a challenge like this one. Helen and Malcolm are brilliant, complicated writers who unsettle Amy into asking questions of herself - questions about what she values, her principles, whether she has integrity, whether she is authentic. Before she knows it, answering these questions becomes a matter of life or death.
From ultimate book industry insider, John Purcell, comes a literary page-turner, a razor-sharp, fast-paced novel that cuts to the core of what it means to balance ambition and integrity. With lashings of sex, glamour, bad behaviour and wicked publishing insider references, The Girl on the Page is a muscular, juicy and provocative novel that is all about what really matters in life, and the redemptive power of great literature.
About the Contributor
Sarah McDuling is Booktopia's Senior Content Producer and Editor of The Booktopian Blog. She has been in the bookselling game for almost a decade and a dedicated booklover since birth (potentially longer). At her happiest when reading a book, Sarah also enjoys talking/writing/tweeting about books. In her spare time, she often likes to buy a lot of books and take photographs of books. You can follow her on Twitter and Instragram @sarahmcduling
Follow Sarah: Twitter