The Illustrated Edition of The Tales of Beedle the Bard is coming out next month, and it is a gorgeous sight to behold!
With spectacular full colour illustrations by the amazing Chris Riddell, this dazzling book is an absolute must-have for any Potterhead, and especially perfect for anyone who is already collecting the Illustrated Harry Potter series.
Translated from the runes (by Hermione Granger herself!) the volume includes The Tale of the Three Brothers – a story crucial to Harry Potter lore, made famous by it's inclusion in Harry Potter and The Deathly Hallows.
There are five tales included in the book, each brought to life by  breathtaking illustrations and accompanied by some amusing commentary by Professor Albus Dumbledore.
Here is a preview of some of the illustrations. Feast your eyes on the glory – this is what happens when two phenomenally creative minds collide! Only J.K Rowling and Chris Riddell combined could possibly result in this kind of genius …
Are you not thoroughly enchanted and amazed??
According to Harry Potter history, The Tales of Beedle the Bard date back to the fifteenth century and are considered much like a collection of fairytales for young witches and wizards. Now, thanks to this exquisite illustrated edition, The Tales of Beedle the Bard can be enjoyed by muggle children (and muggle adults!) everywhere.
Due to hit shelves on the 2nd of October, this book is truly beautiful! And what with the next book in the Illustrated Harry Potter Series (Harry Potter and the Goblet of Fire) not due until next year, The Tales of Beedle the Bard is the ideal gift for Potter fans this Christmas!
In the meantime, check out this video to watch Chris Riddell in action, recreating these stunning illustrations!
And don't forget it's Kids Month at Booktopia! Buy anything from our Kids Month showcase before September 30th 2018 and you will go into the draw to win a $1000 Scholastic book pack!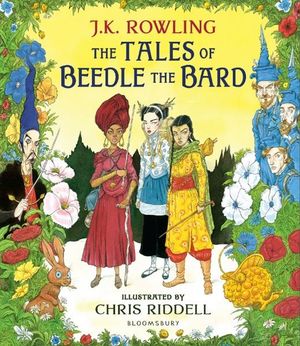 The Tales of Beedle the Bard
Illustrated Edition
The dazzlingly brilliant Chris Riddell brings his magical illustration talents to J.K. Rowling's gloriously inventive The Tales of Beedle the Bard in a fully illustrated colour edition of this essential classic for Harry Potter fans. Translated from the runes by Hermione Granger, the volume includes 'The Tale of the Three Brothers', familiar to readers of Harry Potter from the crucial role it played in Harry Potter and the Deathly Hallows.
Mischievous and witty, these five rollicking tales are a deeply satisfying read in the tradition of all great fables and fairytales. Kindnesses are rewarded and selfishness shown to be the ruin of many a wizard. Burping cauldrons, hairy hearts and cackling stumps are met along the way. Each of the tales is accompanied by a deliciously subversive and insightful commentary by Professor Albus Dumbledore, all brought vividly to life with Riddell's trademark wit and elegance.
About the Contributor
Sarah McDuling is Booktopia's Senior Content Producer and Editor of The Booktopian Blog. She has been in the bookselling game for almost a decade and a dedicated booklover since birth (potentially longer). At her happiest when reading a book, Sarah also enjoys talking/writing/tweeting about books. In her spare time, she often likes to buy a lot of books and take photographs of books. You can follow her on Twitter and Instragram @sarahmcduling
Follow Sarah: Twitter