Don't mind us, we're just sitting here drooling over Hetty McKinnon's new cookbook Family. For those of you with kids who claim to hate vegetables, they'll certainly be singing a different tune after you whip up something from this delectable creation from the creator of Arthur Street Kitchen.
Vegetarian doesn't just mean boiled broccoli, baked potato and steamed brussel sprouts. It can mean deconstructed falafel salad of crispy roasted chickpeas and fresh greens, drizzled with lemon tahini. It can mean an earthy miso brown butter sauce spiked with crispy sage and tossed through your favourite pasta. Well … it can mean all this and more if you get your hands on a copy of  Family pronto!
The struggle to cook food that the whole family will love is a world-wide phenomenon, something you often joke about with your friends and colleagues. Hetty McKinnon takes charge and shows us that family food doesn't have to be fancy or complex or difficult to make. Family food is comfort food.
On publication day, Hetty McKinnon couldn't contain her excitement on social media. "So many feelings today as this book hits stores in Australia," said Hetty. "Feeling very grateful that so many home cooks have embraced my veg-powered recipes over the years."
Once you have the book, if you don't know where to start, how about trying one of Hetty McKinnon's favourite recipes from the book? The recipe is Five-Spice Cauliflower with Mushroom 'xo' Sauce. According to Hetty, the flavours in this dish are "something else".
Happy cooking!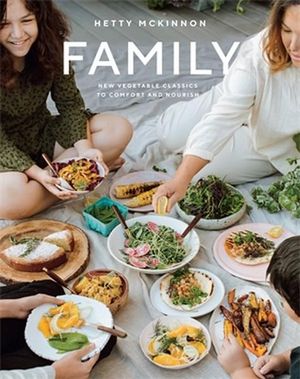 Family
New vegetable classics to comfort and nourish
Family food isn't fancy or complex. Its roots are humble, stemming from recipes passed on through generations, and food rituals born from daily cooking. Most importantly, great family recipes are ones that nurture our souls, our hearts and our tummies. Family food is comfort food.
In Family, bestselling author Hetty McKinnon shares her approach to modern, uncomplicated, hearty and healthy food that is powered by vegetables. These classic recipes are the multicultural meals she serves around her own family table. Some are heirloom recipes passed on from her mother, others are old family favourites, and many are variations on much-loved comfort food, repackaged with a healthier outlook...
About the Contributor
Before entering the exciting world of books, Bronwyn served in the Royal Australian Air Force, travelled extensively and worked (still does!) as a barista on the weekends. Books are her true passion. Bronwyn's debut fantasy novel Relic is coming out in 2019 with indie publishing house Talem Press. They are to publish her entire trilogy called The Relic Trilogy. In her spare time, Bronwyn writes, reads and enjoys keeping fit (which she undoes by eating loads of chocolate) with Martial Arts and personal training. She can't answer what her favourite book is but she has a soft spot for Peter Pan (J.M Barrie), Outlander (Diana Gabaldon), Stardust (Neil Gaiman), The Illuminae Files (Jay Kristoff and Amie Kaufman) and Six of Crows (Leigh Bardugo). Fantasy, sci-fi and YA make up the majority of her bookshelves.
Follow Bronwyn: Twitter